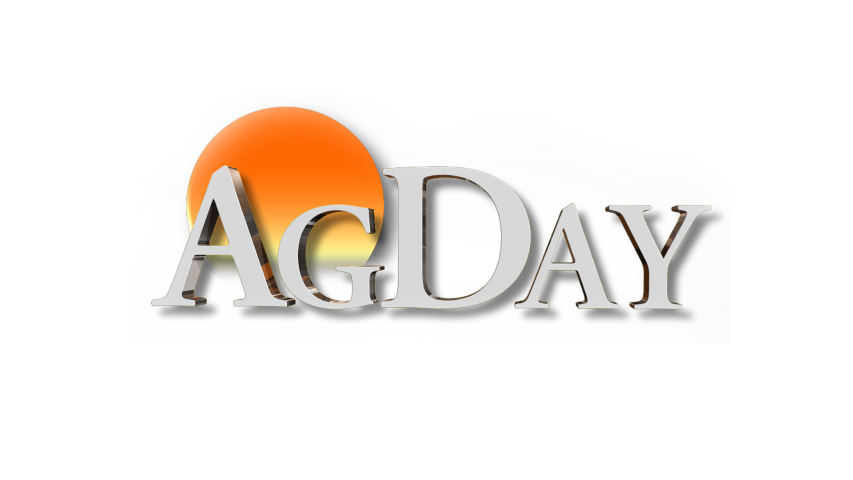 THE PRESIDENT THREATENS NEW TARIFFS IN THE TRADE WAR WITH CHINA. PLUS, SOYBEAN HARVEST ROLLS DOWN SOUTH. IN AGRIBUSINESS, PREPPING FOR THE WEEK AHEAD MACHINERY PETE HAS A COMBINE SURPRISE. AND BILLIARDS IS BRINGING PEOPLE TOGETHER FOR A HEALTHY LIFE IN  TENNESSEE. AGDAY-BROUGHT TO YOU BY THE DEPENDABLE, LONG LASTING CHEVY SILVERADO. 

READY FOR NEW TARIFFS
GOOD MORNING I'M CLINTON GRIFFITHS. PRESIDENT TRUMP APPEARS READY TO  IMPOSE STEEP, ADDITIONAL TARIFFS ON CHINA.  AND IT'S NOT JUST THE 200- BILLION DOLLARS HE HAS ALREADY THREATENED. THE WHITE HOUSE NOW  TALKING ABOUT MORE THAN DOUBLING THAT AMOUNT. AS WE HEADED TOWARDS THE WEEKEND,  THE PRESIDENT TOLD REPORTERS  THAT HE MAY IMPOSE ANOTHER 267-BILLION DOLLAR TARIFFS ON CHINESE  IMPORTS. AND THAT'S ON TOP OF THE 200-BILLION HE'S BEEN THREATENING IN  RECENT WEEKS.  THE U-S ALREADY HAS 50-BILLION DOLLARS IN TARIFFS ON CHINESE GOODS. THOSE WERE IMPOSED IN JULY. TRUMP'S LATEST TARIFFS THREATS - ASSUMING HE FOLLOWS THROUGH - WOULD  MORE THAN COVER THE VALUE OF ALL GOODS THE U.S. BUYS FROM CHINA. LAST YEAR'S GOVERNMENT DATA SHOWS THE U-S IMPORTED FIVE-HUNDRED-AND FIVE BILLION DOLLARS OF CHINESE PRODUCTS IN 2017. THE PRESIDENT TELLING REPORTERS "I HATE TO DO THIS, BUT BEHIND THAT  THERE IS ANOTHER $267 BILLION READY TO GO ON SHORT NOTICE IF I WANT." AS WE START A NEW WEEK, WE'LL BE WATCHING THE U-S TRADE  REPRESENTATIVE'S OFFICE FOR ANY ANNOUNCEMENT REGARDING THESE  ADDITIONAL TARIFFS. 

NAFTA NEGOTIATIONS
ANOTHER DEADLINE IN THE ONGOING NAFTA NEGOTIATIONS. THE U.S. AND CANADA WORKING HARD LAST WEEK TO REACH AN AGREEMENT.  HOWEVER, WHITE HOUSE ECONOMIC ADVISER LARRY KUDLOW TELLING  REPORTERS FRIDAY THAT ISSUES AROUND DAIRY CONTINUE TO BLOCK  PROGRESS.  HE SAYS THAT ISSUE STANDS IN THE WAY OF THE FINAL AGREEMENT. TELLING THE FOX BUSINESS NETWORK THAT QUOTE "MILK, DAIRY, DROP THE  BARRIERS, GIVE OUR FARMERS A BREAK AND WE CAN FIX SOME OTHER THINGS." CANADA'S FOREIGN MINISTER DESCRIBING THE HIGH-STAKES TALKS AS "CONSTRUCTIVE" "WE CONTINUE TO VERY STRONGLY MAKE THE CASE THAT THE BEST OUTCOME FOR CANADA AND FOR THE UNITED STATES IS FOR US TO LIFT THE TARIFFS ON BOTH SIDES. THAT WOULD BE THE RIGHT OUTCOME, AND  THAT'S WHY WE'RE VERY CLEAR ABOUT THAT."BLOOMBERG REPORTING THAT MOODS ARE UPBEAT BUT A DEAL WILL HAVE TO  WAIT UNTIL U.S. TRADE REPRESENTATIVE ROBERT LIGHTHIZER RETURNS FROM A TRIP TO THE E.U. 

HARVEST WEATHER CONDITIONS
FAVORABLE WEATHER EXPECTED TO HELP HARVEST RUN SMOOTHLY THIS WEEK  IN MANY PARTS OF THE  COUNTRY. LATE LAST WEEK, TEMPERATURES IN MINNESOTA DIPPED BELOW FREEZING IN  SEVERAL LOCATIONS.  KRIS FOLLAND POSTED THIS PICTURE OF FROST IN MINNESOTA. THEY SAY IT WASN'T A KILLING FREEZE...ALTHOUGH SOME PARTS OF ST LOUIS  COUNTY SAW TEMPERATURES DROP DOWN TO 24. MEANWHILE IN THE MIDSOUTH, FARMERS IN KENTUCKY ARE GETTING SERIOUS  ABOUT HARVEST. CORN IS DRYING DOWN AND COMBINES ARE RUNNING. THIS CORN NEAR OWENSBORO KENTUCKY IS RUNNING 20 TO 25 PERCENT  MOISTURE. EVERY FARM WE'VE GONE TO EVEN THOUGH SOME HOUSING OR FARM. THE AVERAGE HAS BEEN UP  THERE. RECORD SETTING. SO I DON'T WANT TO GREENMARKET TO KNOW ABOUT IT BUT I THINK WE GOT A  GOOD YIELD THAT THEIR GOOD CROP.AS OF LAST WEEK, USDA SAID NEARLY 60 PERCENT OF KENTUCKY CORN IS  MATURE--THAT'S NEARLY 20 POINTS AHEAD OF AVERAGE. 

LOUISIANA HARVEST
A FRESH CROP PROGRESS REPORT IS DUE OUT LATER TODAY AND IS EXPECTED  TO INCLUDE HOW MUCH CORN HAS BEEN HARVESTED NATIONALLY FOR THE  FIRST TIME THIS YEAR. IN LOUISIANA, SOYBEAN FARMERS ARE NEARLY HALFWAY THROUGH WITH THEIR  HARVEST AND SO FAR RESULTS HAVE BEEN ENCOURAGING.  AS LSU AGCENTER CORRESPONDENT CRAIG GAUTREAUX TELLS US, YIELDS HAVE  BEEN GOOD, AND THE QUALITY OF THE BEANS IS MUCH BETTER THAN LAST YEAR.   FARMERS ACROSS LOUISIANA ARE BUSY HARVESTING THE STATE'S SOYBEAN CROP WHILE KEEPING A WATCHFUL EYE ON THE REMNANTS OF TROPICAL STORM GORDON. THE CROP HAS BEEN A GOOD ONE SO FAR, BOTH IN TERMS OF YIELD AND QUALITY. TODD SPIVEY: I'VE BEEN TALKING TO A LOT OF GROWERS WHO ARE AVERAGING AS MUCH AS 70 TO 75 BUSHELS TO THE ACRE ACROSS THE FARM. THE BIGGEST THING THIS YEAR AGAINST LAST YEAR IS OUR QUALITY HAS BEEN REALLY GOOD SO FAR. WE'VE CUT A LOT OF CLEAN BEANS. VERY LITTLE DAMAGE DUE TO INSECTS AND DISEASES, SO WE'VE BEEN VERY FORTUNATE SO FAR. SPIVEY SAYS THIS PAST WINTER'S SEVERE COLD HELPED THE CROP BY REDUCING THE POPULATION OF THE RED-BANDED STINK BUG, THE STATE'S NO. 1 INSECT PEST OF SOYBEANS. TODD SPIVEY: I BELIEVE THAT'S PART OF WHAT LED TO OUR INCREASED QUALITY THAT WE'VE HAD THIS YEAR. THE INCREASED STINK BUG PRESSURE OF 2017 THAT WE FACED REALLY REDUCED OUR QUALITY, AND THAT'S SOMETHING WE HAVEN'T HAD TO FACE THIS YEAR. SPIVEY SAID SOYBEANS WERE PLANTED IN THREE DIFFERENT STAGES ACROSS THE STATE BECAUSE OF THE WEATHER, AND BEANS ARE IN VARIOUS STAGES OF DEVELOPMENT. HE SAYS THE LATE-PLANTED BEANS ARE MOST AT RISK. PLANTING LATE IS GOING TO EXTEND THAT SEASON FOR US, AND IT'S GOING TO EXTEND THAT POTENTIAL FOR TROPICAL SYSTEM ISSUES LATER IN THE YEAR. MOST OF THE LATE-PLANTED BEANS ARE A RESULT OF DRY CONDITIONS THAT FORCED FARMERS TO DELAY PLANTING UNTIL MOISTURE LEVELS WERE SUFFICIENT. SPIVEY: WE DO SACRIFICE A LITTLE YIELD THERE. BUT IT'S BETTER TO LOSE A LITTLE YIELD BY PLANTING LATE RATHER THAN HAVING TO REPLANT A COUPLE OF TIMES BECAUSE OF PLANTING INTO COMPLETELY DRY SOIL. FARMERS ARE EXPECTED TO HARVEST NEARLY 1.4 MILLION ACRES OF SOYBEANS THIS YEAR. WITH THE LSU AGCENTER, THIS IS CRAIG GAUTREAUX REPORTING. 

CROP COMMENTS
MIKE HOFFMAN CONTINUES OUR LOOK AT CROP CONDITIONS AND WEATHER. HE  JOINS WITH TODAY'S CROP COMMENTS. GOOD MORNING CLINTON. WE HEARD FROM A FARMER IN CRAWFORD COUNTY PENNSYLVANIA WHO SAYS  IT'S BEEN A GREAT YEAR FOR GROWING IN NORTHWEST P-A. THE COMMENTS  INDICATE CORN, SOYBEANS, AND HAY ARE APPROACHING RECORD YIELD  POTENTIAL. CORN SILAGE HARVESTING WILL START VERY SOON. SOYBEAN  LEAVES ARE STARTING TO CHANGE COLOR AND DROP. AND ACROSS COUNTRY IN KLICKITAT COUNTY, WASHINGTON, A FARMER SAYS  WHEAT AND HAY CROPS ARE AVERAGE IN HIS COUNTY. THEY HAD JUST ENOUGH MOISTURE TO FINISH FOR THE MOST PART. WE HAVEN'T SEEN RAIN IN MONTHS. AND TAKING A LOOK AT THE DROUGHT MONITOR IT'S GETTING BETTER ACROSS THE MIDDLE OF THE COUNTRY  BUT THERE ARE STILL SOME POCKETS THAT ARE EXTREMELY DRY AND THE FOUR CORNER REGION CONTINUES  DRY AS WELL AS MUCH OF OREGON GETTING DRIER AND DRIER. WE'LL TALK ABOUT YOUR FORECAST COMING  UP BUT FIRST HERE ARE SOME HOMETOWN. TEMPS.  

TEASE
WHEN WE COME BACK, WE'LL TALK MARKETS, HARVEST, WEATHER AND  EVERYTHING ELSE YOU'LL NEED TO KNOW TO BE PREPARED THIS WEEK. AND LATER, COMBINING THE BENEFITS OF SPORT AND FUN WITH STAYING  HEALTHY. WE'RE OFF TO TENNESEE TODAY ON IN THE COUNTRY. 

FLOOR OF THE CME
IN AGRIBUSINESS LETS SEE HOW MARKETS CLOSED FROM THE FLOOR OF THE  CME IN CHICAGO. SO IF THESE WERE FIRM THAT WAS THE REPORT IS COMING UP NEXT WEEK WEDNESDAY AND  EVERYONE'S LOOKING FORWARD TO THAT. THE MARKET KIND OF FIRMED UP A LITTLE BIT EVEN THOUGH THE  RANGE WAS A LITTLE BIT TIGHT THERE IS SOME CONCERNS ABOUT THAT VIRUS IN CHINA. IT WILL DEFINITELY  HAVE SOME EFFECTS ON OUR MARKETS AND I THINK THAT THAT COULD POSSIBLY BE PUTTING A LITTLE BIT OF  A LID ON THE MARKET HERE. BUT WHAT WE'RE REALLY STARTING TO COME BACK AND IS STILL TRADED IN A  SMALL RANGE CORN WAS VERY STEADY TODAY THE CROP YIELD ESTIMATES ARE EXPECTED REALLY TO BE HIGHER WITH THAT. IT'S REALLY KEEPING THE MARKET FROM RALLYING AT ALL AND WE'VE STAYED IN THE IN A  VERY TIGHT RANGE OVER THE PAST NUMBER OF DAYS. NOW THE WHEAT WAS A LITTLE BIT LOWER THE  PRICES REALLY NEED TO FALL TO KIND OF COMPETE WITH. THE GLOBAL NUMBERS. WE HAVE BEEN ABLE  WE HAVE NOT BEEN ABLE TO BE COMPETITIVE AND THE EXPORTS HAVE REALLY SHOWED IT. AND SO THE MARKET IS JUST KEEPS MARCHING A LITTLE BIT LOWER SO THAT WE CAN FIND A WAY TO START MOVING  SOME OF OUR SUPPLIES WITH THE WINTER WHEAT PLANTING COMING UP AND IT LOOKS LIKE IT'S GOING TO  BE GREAT. AND CERTAINLY NOTHING LIKE IT WAS LAST YEAR. THAT'S DEFINITELY GOING AWAY AND THE FUTURES PRICES THE CATTLE WAS RISING THAT SWINE FEVER OUT OF CHINA IS DEFINITELY AFFECTING THE  MARKET. ALL THE LIVESTOCK MARKETS REALLY ACROSS THE BOARD THERE'S SOME CONCERN THAT THAT VIRUS  IS GOING TO LIVE IN OTHER MEAT PRODUCTS WHICH DEFINITELY SHOULD GIVE OUR OUR BEEF PRODUCTION  AND BEEF EXPORTS A LITTLE BIT OF A BOOST. WE'RE HOPING TO REALLY MOVE THAT SOMEWHAT HIGHER  AND I'LL TELL YOU THAT WHAT'S REALLY SHOWING US THAT MORE OF AN INDICATION OF THAT IS THE FEEDERS  THE THEATERS HAVE BEEN HIGHER AS WELL. THAT OUTBREAK IS EXPECTED TO BE A LOT LONGER LASTING.  THAN I THINK PEOPLE ARE SEEING I KNOW THAT CERTAINLY IN CHINA OR PERHAPS THE NEWS IS KIND OF  KEEPING QUIET. THIS SWINE VIRUS BUT I THINK THAT IT'S GOING TO AFFECT CHINA A LOT MORE THAN THEY  EXPECT. THAT'S ALL FROM THE FLOOR AT THE CME GROUP HERE IN CHICAGO. VIRGINIA MCGATHEY. 

AGRIBUSINESS
HERE AGRIBUSINESS DESTINED TO KICK OFF THE WEEK WE'VE GOT JEFF FRENCH TOP THRID  AGMARKETING AND ANGIE SETZER WITH CITIZENS GRAIN. THANK YOU BOTH FOR BEING HERE. ALL RIGHT  LET'S TALK ABOUT WHAT DID WE LEARN LAST WEEK AND WE'LL START WITH YOU. WE LEARNED THAT THE MARKET RIGHT NOW IS KIND OF IN A BIT OF A HOLDING PATTERN OTHER THAN WHEAT. HOPEFULLY WE ARE  ABLE TO ESTABLISH A BIT OF A SHORT TERM LOW END WHEAT MARKET FOR WHEAT. IT DEFINITELY. YEAH IT  WAS A TOUGH WEEK FOR WHEAT SAY THAT FIVE TIMES FAST. SO WE'LL DEFINITELY WANT TO SEE WHAT  HAPPENS THERE BECAUSE NOT ONLY CORN HAS SOMEWHAT OF A STRONG STORY BEHIND IT BUT IT'S MARKETABLE SOYBEANS AND WHEAT WHO OBVIOUSLY DON'T WANT TO GET THEIR LIVES TOGETHER ANYTIME  SOON. SO WE'RE JUST KIND OF WATCHING TO SEE WHAT HAPPENS WE'LL BE LOOKING AHEAD TO THE  WEDNESDAY USDA REPORT. WE'RE GOING TO BE WATCHING TRADE NEWS DO WE SEE SOME SOME  HARD HITTING TALK COME TOWARDS JAPAN. SURE. I MEAN OBVIOUSLY WE FINALLY HOPEFULLY CROSS THE  NAFTA HURDLE WHICH WE DO HAVE SOME TIME TO SOLVE THE CANADIAN ISSUE THERE AS WELL. BUT  HOPEFULLY WE'LL GET THAT PROCESS WE GET TO CELEBRATE JUST IN TIME TO FIGURE OUT THAT AT THE END OF  THE TUNNEL IS IN FACT A JAPANESE TRAIN. SO WE'RE GOING TO SEE WHAT HAPPENS THERE. FROM A POLITICAL STANDPOINT AND THEN WE'LL BE WATCHING WHAT TAKES PLACE WITH THE DISEASE  DEVELOPMENT AND HOGS THERE IN CHINA. YEAH ABSOLUTELY. JEFF AS WE LOOK. FORWARD TOWARD THE  WEEK AHEAD WHAT'S ON YOUR RADAR WHAT'S COMING THAT WE NEED TO BE AWARE OF. OTHER THAN THAT JAPANESE. WELL THE THE BIG USDA WEDNESDAY WAS THE REPORT RIGHT. ALL EYES WILL BE ON  THAT AND AS PRODUCERS. YOU SHOULD BE GETTING POSITIONS IN PLACE IF YOU HAVE UNPRICED BUSHELS  TO PROTECT AGAINST A POTENTIALLY BEARISH REPORT. YOU KNOW LAST. FIVE YEARS IN A ROW CONSECUTIVELY THE TRADERS UNDERESTIMATED THE SOYBEAN YIELD FOR THE SEPTEMBER REPORT. AND  YOU KNOW THE OLD ADAGE BIG CROPS GET BIGGER. WE MIGHT SEE IT WINDS IT COULD BE EXPLOSIVE.  DO YOU BELIEVE THE YIELDS THAT THEY HAD IN AUGUST DO YOU THINK WILL CHANGE. I DON'T KNOW. I  MEAN HONESTLY WHEN IT COMES TO SOYBEANS THERE ARE A LOT OF FOLKS WILL JOKE THAT GUESSING SOYBEAN YIELDS IS HARD JUST GUESSING WHEAT. WELL YOU CAN SEE WHAT WHEAT LOOKS LIKE WHEN  YOU'RE YOU KNOW EXPECTING THE CROP TO COME OFF SO. SO YOU DIDN'T SEE THE WEATHER WAS  CONDUCIVE TO REASONABLE CROP. OBVIOUSLY I STRUGGLE WITH THE IDEA THAT WE'RE UP FIVE BUSHELS  TO THE ACRE VERSUS A YEAR AGO. BUT OBVIOUSLY EVERYONE IS IN THE CONSENSUS THAT WE'RE OVER 52 AT THIS POINT IN TIME. SO I'LL JUST GO SIT IN THE CORNER AND THINK ABOUT WHAT I'VE DONE. SO  WE'LL HAVE TO SEE. BUT AT THIS POINT IN TIME HERE WHAT I REALLY LOOK FORWARD TO IN THE SEPTEMBER  REPORT FROM THE USDA IS THEIR ACTUAL BOOTS ON THE GROUND SORT OF NUMBERS VERSUS A LOT OF THE  SURVEY BASED INDICATIONS THAT THEY USE IN AUGUST FOR THEIR PRODUCTION SO IT'LL BE AN INTERESTING  WEEK. AS ALWAYS APPRECIATE YOU BOTH FOR BEING THERE. WE'LL BE BACK AND WE'RE JUST MINUTE MINUTE. 

WEATHER
WELCOME BACK TO AGDAY THIS MONDAY MORNING METEOROLOGIST MIKE HOFMAN HERE LOOK AT THAT  RAINFALL OVER THE PAST WEEK AND A LOT OF PLACES GOT RAIN AND IT'S NOT EVEN ALL ON THIS MAP. NO  BECAUSE THIS ONLY GOES THROUGH THIS PAST FRIDAY WHICH DOESN'T TAKE INTO ACCOUNT MOST OF THE  REMNANTS OF GORDON AND OF COURSE THAT OCCURRED OVER THE WEEKEND FROM PARTS OF SOUTHEASTERN PENNSYLVANIA RIGHT THROUGH THE OHIO RIVER VALLEY INTO PARTS OF THE EASTERN  GREAT LAKES. BUT THIS IS FROM A WEEK AGO SATURDAY THROUGH THIS PAST FRIDAY. YOU CAN SEE  SOME DECENT AMOUNTS OF RAIN IN PLACES PLACES THAT NEEDED IT CENTRAL TEXAS LOTS OF PLACES ENDED UP WITH THAT TWO TO THREE INCHES OF RAIN EVEN MORE IN SPOTS SOUTHEASTERN PORTIONS OF  TEXAS A LITTLE MORE SAME THING OVER IN THE PANHANDLE OF FLORIDA INTO SOUTHWESTERN ALABAMA  PARTS OF THAT AREA ENDED UP WITH EIGHT INCHES OR MORE OF RAIN DURING THE WEEK PERIOD. AND OF COURSE THAT AREA FROM CENTRAL KANSAS THROUGH SOUTHERN IOWA EASTERN IOWA EVEN PARTS OF  NORTHERN MISSOURI WHICH ARE IN A REALLY BAD DROUGHT OR HAVE BEEN MUCH OF THE SUMMER INTO  THE WESTERN GREAT LAKES JUST LOTS OF RAIN AROUND THE AREA. WE'VE BEEN FORECASTING THAT INCREASE IN RAIN AND IT LOOKS LIKE THAT'S GOING TO CONTINUE IN PLACES ANYWAY. WE'LL GET TO THAT IN  A MOMENT. THERE IS THE JET STREAM AND WE STILL SEE A LITTLE BIT OF THE REMNANT TROUGH FROM  GORDON MOVING OFF TO THE NORTHEAST. AND OTHER THAN THAT WE START TO SEE A RIDGE COME INTO  THE EASTERN AND SOUTH SOUTHERN PLAINS AREA AND THAT WILL KEEP THINGS ON THE WARM SIDE. BUT THIS TROUGH COMING INTO THE NORTHWEST GOING TO BRING SOME COOL AIR ESPECIALLY FOR THE MIDDLE  AND LATTER PARTS OF THE WEEK FOR THE WESTERN STATES. AND OF COURSE WE'RE GOING TO BE  WATCHING ON HURRICANE WATCH I SHOULD SAY FOR THE EAST COAST BECAUSE WE ARE GOING TO SEE SYSTEM COMING IN OUT THERE AND THAT COULD PUT DOWN A WHOLE BUNCH OF RAIN THERE IS NO DOUBT  ABOUT THAT. SO THAT'S ONE THAT WE'LL JUST HAVE TO WATCH BY MONDAY AND KIND OF SEE A BIG ZONAL  FLOW ACROSS THE NORTHERN TIER A STATE. SO TEMPERATURES THIS WEEK ABOVE NORMAL SOUTHEAST THROUGH THE EAST COAST ALL THE WAY BACK ACROSS THE GREAT LAKES MOST OF THE NORTHERN  MISSISSIPPI VALLEY INTO THE SOUTHWEST GO BELOW NORMAL IN THE NORTHERN ROCKIES WEST COAST  AREA BELOW NORMAL ALSO IN MUCH OF CENTRAL TEXAS BECAUSE OF ALL THE RAIN YOU'VE HAD LATELY PRECIPITATION THIS WEEK ABOVE NORMAL UP AND DOWN THE EAST COAST DEPENDING ON THE TRACK OF  THE HURRICANE. WE'LL MAYBE SEE WAY ABOVE NORMAL IN PLACES. SO KEEP THAT IN MIND FROM THE  GREAT LAKES THROUGH MOST OF THE WEST. BELOW NORMAL EXPECTED THURSDAY THE OUTLOOK FOR TEMPERATURES ABOVE NORMAL THE EASTERN THIRD OF THE COUNTRY THAT IS KOTAS PARTS OF MINNESOTA  BELOW NORMAL ALSO ABOVE NORMAL IN MUCH OF THE WEST. THE OUTLOOK FOR PRECIPITATION FROM THE  MID-ATLANTIC BACK THROUGH THE CENTRAL AND SOUTHERN PLAINS ABOVE NORMAL BELOW NORMAL IN THE  NORTHWEST. THAT'S A LOOK ACROSS THE COUNTRY. NOW LET'S TAKE A LOOK AT SOME LOCAL FORECASTS. WE HEAD TO EL PASO TEXAS. FIRST OF ALL LOTS OF SUNSHINE VERY HOT HIGH OF 96 DECATUR ILLINOIS A  MIX OF CLOUDS AND SUNSHINE HIGH OF 75 AND WE'LL GO TO RALEIGH NORTH CAROLINA NEXT PARTLY  SUNNY AND HUMID TODAY MAYBE A THUNDERSTORM HIGH AROUND 87. 

TEASE
COMBINE SALES HAVE BEEN TURNING HEADS LATELY. MACHINERY PETE HAS DETAILS COMING UP. AND LATER, FRIENDSHIP AND FUN CAN HELP KEEP YOU HEALTHY. WE'LL SHOW YOU HOW THE VOLUNTEER STATE IS MAKING THAT WORK COMING UP  ON IN THE COUNTRY. 

MACHINERY PETE
EVEN AS HARVEST FIRES UP, INTEREST IN GOOD QUALITY USED COMBINES HAS  BEEN TURNING HEADS. MACHINERY PETE JOINS US TO EXPLAIN. 'HEY FOLKS REPORTING ON THE ROAD FOR YOU THIS WEEK FROM WOONSOCKET SOUTH DAKOTA WERE OUT  HERE FILMING. KIND OF AN AMAZING AUCTION. ONE DOG LOW OUR PRE DEF STUFF THIS IS AMAZING. BY  THE TIME YOU WATCH THIS THE SALE WILL ALREADY BE IN THE BOOKS SALES ON FRIDAY SEPTEMBER 7TH. BUT I TELL YOU WHAT A 2012. JOHN YOU'RE S 550 COMBINE NINETY FIVE POINT TWO SEPARATOR HOURS  ON IT. NOW TO ME THIS IS REALLY INTERESTING BECAUSE JUST A WEEK AGO OUT IN WEST CENTRAL  MINNESOTA ON A FARM AUCTION BY ZILLES DORF AUCTION WE SAW 2000 10. JOHN YOU'RE 96 70. YES 317 SET HOURS ON IT. SO OVER 150000 BUCKS SECOND HIGHEST ONE THIS YEAR. AND I THINK THERE  HAVE BEEN SOME PRETTY GOOD BUYS ON THESE KIND OF FOUR TO SIX YEAR OLD COMBINE. BUT  OBVIOUSLY 2012 TODAY OWNING NINETY FIVE POINT TWO SEPARATE HOURS ON IT. SO HOW HIGH IS IT GOING TO GO. WE'LL GO TO MACHINERYB.COM WE'LL HAVE ALL THE YOUTUBE VIDEO FROM THIS AUCTION  POSTED AND THERE'S ALSO FOLKS OF 2010. JOHN YOU'RE 78 30 WITH 254 ACTUAL HOURS ON. " 

TEASE
WHEN WE COME BACK - WE "BREAK" WITH TENNESSEE'S CHARLES DENNEY. "GRAB A CUE STICK. WE'RE PLAYING POOL AND TALKING GOOD HEALTH WITH  BILLIARD BUDDIES IN LOUDON COUNTY, TENNESSEE, THAT STORY COMING UP ON AGDAY."  

IN THE COUNTRY
A GAME OF POOL CAN BE A FUN WAY TO SPEND TIME WITH FRIENDS, AND EVEN LEARN HOW TO IMPROVE YOUR HEALTH. UT EXTENSION IN ONE TENNESSEE COUNTY FOUND A UNIQUE WAY TO CONNECT WITH MEN – AND ENCOURAGE THEM TO TAKE PART IN A DIABETES AWARENESS PROGRAM. CHARLES DENNEY CUES UP THIS STORY WITH "THE BILLIARD BUDDIES." RACK EM' AND BREAK EM.' CHALK UP A CUE STICK, AND TAKE YOUR AIM. MORNINGS AT THE LOUDON COUNTY SENIOR CENTER INCLUDE SOME SPIRITED GAMES OF POOL WITH THIS GROUP OF REGULARS, DUBBED THE BILLIARD BUDDIES.IT'S COMPETITIVE, BUT FRIENDLY, WITH ABUNDANT, GOOD-NATURED TRASH-TALKING. BOBBY PASS COMES HERE SEVERAL DAYS A WEEK, AND ENJOYS THE FRIENDSHIPS. "IT'S JUST GOOD COMPANIONSHIP, PLAYING POOL, PASSING THE TIME, GET A LITTLE EXERCISE WALKING AROUND. I'VE PLAYED POOL ALL MY LIFE, SINCE I WAS ABOUT FOURTEEN YEARS OLD, OFF AND ON. IT'S ONE  THING WE LIKE DOING DOWN HERE." BUT BOBBY ISN'T JUST HERE FOR A GAME OF EIGHT BALL. A TYPE TWO DIABETIC FOR MANY YEARS, HE'S ONE OF THE BILLIARD BUDDIES ALSO RECRUITED FOR THIS DIABETES CARE CLASS, TAUGHT BY UT EXTENSION JUST A ROOM AWAY FROM THE POOL TABLE. "UT EXTENSION HAS TAUGHT THIS DIABETES CLASS FOR YEARS, BUT MOSTLY IT'S BEEN WOMEN WHO  SHOW UP. AGENTS WANTED A WAY TO CONNECT WITH MEN, AND THIS POOL TABLE WAS A WAY TO REACH A NEW  AUDIENCE WITH A SERIOUS MESSAGE." SHEILA BORDERS WITH UT EXTENSION LEADS THE GROUP, THIS DAY TALKING ABOUT DEPRESSION AND ITS  TIE-IN WITH A CHRONIC DISEASE LIKE DIABETES. BORDERS SAYS THE POOL TABLE PROVIDES SOCIAL CONNECTEDNESS FOR THESE MEN, AND WAS HER "IN"  TO GET THEM TO TAKE PART. "THEY WOULDN'T COME TO MY PROGRAMS ON THEIR OWN, SO I JUST SPENT SOME TIME IN THERE, GOT TO KNOW THEM, HAD SOME OF THEM TEACH ME HOW TO PLAY POOL. I'M STILL NOWHERE NEAR THEIR SKILL  LEVEL, BUT I HAVE FUN WITH THEM. BUT IT HELPED ME BUILD RELATIONSHIPS WITH THEM, GET TO KNOW THEM, GET TO  KNOW THEIR NEEDS." BORDERS SAYS SOME OF THE MEN ARE WIDOWERS, AND IF THEY'RE DEALING WITH TYPE TWO DIABETES,  IT'S IMPORTANT FOR THEM TO EAT WELL, EXERCISE AND TAKE THEIR MEDICATION. IF A GAME OF POOL DRAWS THEM TO THE CENTER, SHE CAN THEN DELIVER INFORMATION ABOUT HEALTHY LIVING. "USUALLY IT'S THE WIFE TAKING CARE OF THE HUSBAND JUST LIKE SHE DOES THE KIDS, BUT WHEN THE  WIFE IS GONE, THEY'VE GOT TO HAVE THAT INFORMATION TO BE ABLE TO DO IT FOR THEMSELVES." THE POOL TABLE STAYS BUSY JUST ABOUT ALL DAY AT THE LOUDON SENIOR CENTER, SO WHY NOT USE IT  TO GET SOMEONE'S ATTENTION. PUT SOME ENGLISH ON YOUR INFORMATION DELIVERY, AND RUN THE TABLE FOR GOOD HEALTH. THIS IS CHARLES DENNEY REPORTING. 

CLOSE
THAT'S ALL THE TIME WE HAVE THIS MORNING. WE'RE GLAD YOU TUNED IN.  FOR ALL OF US AT AGDAY I'M CLINTON GRIFFITHS. HAVE A GREAT DAY.