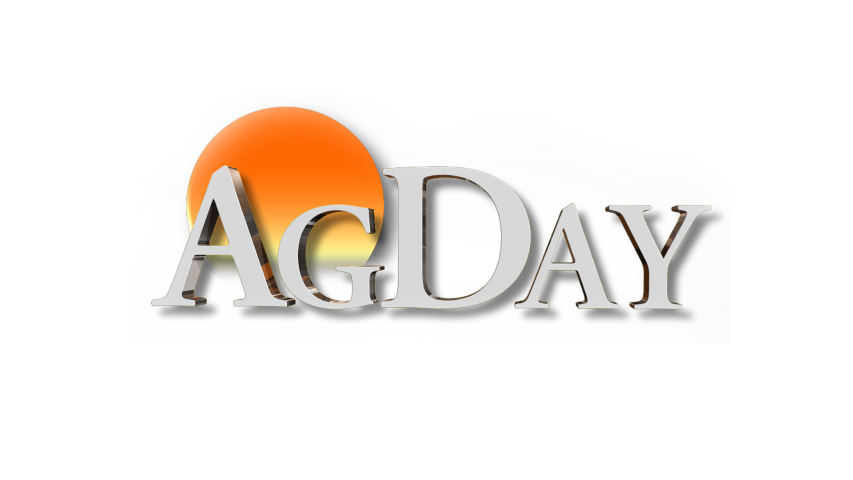 TODAY ON AGDAY
SEPTEMBER 22, 2017

HEADLINES
THE RURAL FARM ECONOMY CONTINUES TO CHUG-- THE LATEST NUMBERS HAVE  ECONOMISTS CONCERNED. WILL ARKANSAS SET THE PACE FOR DICAMBA REGULATIONS--THE STATE PLANT  BOARD DECIDES. IN AGRIBUSINESS...WATCHING OPTIONS. STARTER FERTILIZER AND FULL SEASON NUTRIENT MANAGMENT TIPS ON FARM  JOURNAL COLLEGE. AND SEASONS ARE CHANGING....BEWARE OF THE PUMPKIN SPICE. AGDAY - PRESENTED BY CHEVY SILVERADO. HIGH-STRENGTH STEEL FOR HIGH-STRENGTH DEPENDABILITY.

RURAL MAINSTREET INDEX RELEASED
GOOD MORNING I'M CLINTON GRIFFITHS. WHILE USDA EXPECTS IMPROVEMENTS  TO THE FARMERS INCOME PICTURE...BANKERS SAY THE RURAL ECONOMY IN  AUGUST HAD A SERIOUS SLUMP. WITH JUST THREE MONTHS LEFT IN THE YEAR, THE CREIGHTON UNIVERSITY  RURAL MAINSTREET INDEX FELL TO ITS LOWEST LEVEL FOR 2017. THE MONTHLY R-M-I IS BASED ON SURVEYS WITH BANK C-E-O'S IN FARMING  COMMUNITIES OF A TEN-STATE REGION. BASED ON A SCALE WHERE 50 REFLECTS NEUTRAL GROWTH, THE INDEX SLID TO  39-POINT-SIX. THAT'S ABOUT 3 POINT DROP FROM LAST MONTH. HERE ARE THE KEY RESULTS - FARMLAND PRICES DECLINED FOR THE 46TH STRAIGHT MONTH - NEARLY FOUR YEARS. AG EQUIPMENT SALES HAVE BEEN BELOW GROWTH NEUTRAL FOR 49 STRAIGHT  MONTHS. BECAUSE OF FALLING FARM INCOME, ABOUT HALF OF THE BANKERS SURVEYED  SAID THEY WERE RESTRUCTURING FARM LOANS. AND ABOUT 20-PERCENT WERE  INCREASING COLLATERAL REQUIREMENTS. TYNE MORGAN TALKED WITH THE ECONOMIST WHO DEVELOPED THE R-M-I ABOUT  CURRENT CONDITIONS. THE LATEST RURAL MINSTREET INDEX RELEVALING A DROP IN  FARMERS' FINANICAL CONDITIONS.. SINKING TO THE LOWEST LEVEL SINCE  DECEMBER 2016.  "YOU LOOK AT WHEAT YOU LOOK AT SOYBEAN LOOK AT CORN. ALL THREE OF THEM PRIMARY GRAINS FOR THIS PART OF THAT ARE FOR THE FARMERS IN OUR SURVEY REGION. NOT GOOD OF COURSE AND OF  COURSE THE DROUGHT IS COMPOUNDING THAT DEPENDING ON WHAT PART OF THE REGION THE SURVEY  PARTICIPANTS ARE IN."THE LATEST DROUGHT MONITOR SHOWING SLIGHT IMPROVEMENTS ACROSS  STATES SUFFERING THE MOST, LIKE MONTANA AND NORTH DAKOTA., BUT IT'S TOO  LITTLE TOO LATE.  "WE'VE SEEN AS YET IT'S FAILED TO INCREASE AG COMMODITY PRICES IN  OTHER WORDS YOU EXPECT A DROUGHT LIMITING SUPPLY TO PUSH UP PRICES. IT HAS NOT."AS FARMERS SIT ON HEFTY SUPPLIES LEFTOVER FROM LAST YEAR, THIS YEAR'S  HARVEST IS PROJECTED TO BRING IN THE THIRD HIGHEST CORN YIELD EVER.  GOSSS SAYS THAT'S CREATING A VICIOUS CYCLE  WEIGHING ON PRICES.  "WE CALL IN ECONOMICS THE COBWEB THEORY YOU TEND TO OVER WHEN PRICES ARE  HIGH IN CORN YOU OVER PRODUCE CORN. AND SO YOU SORT OF CIRCULAR DO YOU FINALLY GET SOME  EQUILIBRIUM." AND HE SAYS GETTING TO THAT EQUALIBRIUM IS TAKING TOO LONG.  THE LATEST RMI ALSO SHOWING BANK CEOS REPORTED A 2 POINT 1 PERCENT  INCREASE IN FARM LOAN DEFAULTS OVER THE PAST YEAR.  "THAT'S THE SURPRISING FACTOR IN THERE, THAT DELINQUENCIES ARE UP, BUT  BANKRUPTCIES FORECLOSURES ARE UP BUT NOT WHAT YOU'D EXPECT. WE'VE HAD FOUR STRAIGHT YEARS OF  DECLINING FARM INCOME." BUT THE REALITY IS SOME FARMERS ARE FACING BELOW BREAKEVEN PRICES  AGAIN THIS YEAR. SO LOOKING FORWARD, GOSS DOESN'T THINKTHE WORST IS  BEHIND THE INDUSTRY, EXPECTING THOSE RATES TO CONTINUE TO RISE.  "I DON'T THINK THE BOTTOM IS IN IN TERMS OF FOR EXAMPLE FORECLOSURES AND  DELINQUENCIES AND BANKRUPTCIES. I THINK STILL WE'VE GOT A BOTTOM THERE AHEAD OF US. BUT THE  OVERALL TREND IS THAT WE'VE STABILIZED AT A NOT SUCH A GOOD A VERY IT'S NOT A GOOD POSITION. AND  THOSE WHEN IT DOESN'T MAKE YOU FEEL GOOD IT'S JUST THE NEGATIVES ARE LESS NEGATIVE." THAT'S WHY HE GIVES THE OVERALL AG ECONOMY A C GRADE.  "WHEN YOU PUT LIVESTOCK IN WITH GRAINS IT GETS BETTER. AND SO I GIVE IT A C AND  THAT C I EXPECT TO MOVE UP TO B BY QUARTER ONE OF 2018." BUT WHEN LOOKING SOLELY AT THE FARM FINCNAICL PICTURE, HE'S LESS  OPTIMISIC."THE BAD NEWS IS LIQUIDITY POSITIONS. THAT'S LOANS AND THE LOANS INCREASING, THE  DELINQUENCIES ARE INCREASING. THE FORECLOSURES ARE INCREASING, BUT NOT AT A FAST CLIP. THERE  WERE MOVING INSTEAD OF WE'RE MOVING FROM C PLUS, C MINUS MAYBE INTO THE CATEGORY NOT AN  F." A GLIMMER OF HOPE IN A BLEEK FARM FINANCIAL PICTURE… WITH FARMERS  HOPING HIGHER THAN EXPECTED YIELDS THIS FALL CAN HOLD THEM OVER INTO  THE NEW YEAR. REPORTING FOR AGDAY, I'M TYNE MORGAN.  THANKS TYNE,

ARKANSAS DICAMBA RULING
IN THE DEBATE OVER DICAMBA, THE STATE OF ARKANSAS TAKING THE LEAD IN  CONTROLLING HOW AND WHEN THE HERBICIDE IS USED, THAT DECISION COULD  SET THE COURSE FOR OTHER STATES WHICH ARE DEALING WITH CASES OF  DICAMBA DRIFT. YOU MAY REMEMBER ITS PESTICIDE COMMITTEE ADOPTED A RECOMMENDATION TWO  WEEKS AGO TO ALLOW THE USE OF THE WEED KILLER FROM JANUARY FIRST TO  APRIL  15TH NEXT GROWING SEASON. THE COMMITTEE SENT ITS RECOMMENDATION TO THE FULL PLANT BOARD. IF APPOVED THERE, IT WOULD THEN NEED FOLLOW THE LEGISLATIVE PROCESS  UP TO THE GOVERNOR'S DESK. AS THIS STORY CONTINUES TO DEVELOP LOOK FOR COVERAGE ON AGWEB-DOT- COM.

DICAMBA DEBATE
ON WEDNESDAY FARMERS IN ARKANSAS - WHO SUPPORT THE USE OF DICAMBA - FILED A PETITION IN RESPONSE TO THE ARKANSAS BAN.   THE GROUP  REPRESENTS ABOUT A THIRD OF THE STATE'S SOYBEAN ACRES. THE FARMERS SAY THEY WANT TO BE ABLE TO USE THE TECHNOLOGY IN  SEASON. IN A JOINT STATEMENT THE FARMERS SAID - QUOTING NOW - THEY'VE "SEEN  FIRST-HAND THE SUCCESSES OF DICAMBA TECHNOLOGY IN CONTROLLING THE  PRESENCE OF PIGWEED" AND "BEEN IMPRESSED BY SIGNIFICANT  IMPROVEMENTS IN YIELD." THE FARMERS SAY THERE SHOULD BE A MAY 25TH CUT-OFF DATE TO USE  DICAMBA AND A ONE MILE BUFFER TO REDUCE THE RISK OF DRIFT ONTO OTHER  FIELDS. FARMERS IN AT LEAST TEN STATES HAVE FILED COMPLAINTS AGAINST MONSANTO AND BASF CLAIMING VARIOUS LEVELS OF LOSS AND CROP DAMAGE DUE TO  DICAMBA-TOLERANT TECHNOLOGY. FARMERS SAY THE CHEMISTRY CAUSED DAMAGE BY DRIFTING AWAY FROM WHERE IT WAS INTENDED TO GO...AND DAMAGED CROPS AND TREES THAT  COULD NOT TOLERATE IT. THE NUMBER OF LAWSUITS IS EXPECTED TO CLIMB AS FARMERS ACCUSE THE  COMPANIES OF NEGLIGENCE. BUT INDIANA AG ATTORNEY TODD JANZEN SAYS IT CAN BE DIFFICULT TO PROVE. TODD JANZEN/AG ATTORNEY: "THERE WILL SOME CHALLENGES PROVING THE NEGLEGENCE ACTION  BECAUSE THE LAWSUITS ARE AGAINST MONSANTO AND BASF. NORMALLY IN A LAWSUIT OVER NEGLIGENCE,  YOU WOULD SUE THE PERSON WHO CAUSES THE NEGLIGENCE. IN THIS CASE, THAT WOULD BE THE  APPLICATOR. BUT HERE, THE LAWSUIT IS AGAINST THE COMPANY THAT PUT THE PRODUCT WHICH IS  DICAMBA INTO THE STREAM OF COMMERCE. "JANZEN - WHO DOES NOT REPRSENT ANY OF THE PLAINTIFFS - SAYS HE EXPECTS  DICAMBA WILL REMAIN ON THE MARKET BUT THERE'LL BE ADDITIONAL  RESTRICTIONS. MONSANTO AND BASF - WHO DEVELOPED DICAMBA PRODUCTS - HAVE BEEN  VOCAL TO THEIR OPPOSITION TO THE BAN CALLING IT A "MAJOR STEP  BACKWARDS" FOR FARMERS..

ORGANIC DEBATE
ACROSS THE ROAD, USDA RELEASING ITS ANNUAL CERTIFIED ORGANIC SURVEY.  IT FOUND THAT SALES OF ORGANIC AG PRODUCTS INCREASED 23 PERCENT IN  2016, COMPARED TO THE YEAR BEFORE.  U.S. FARMS PRODUCED AND SOLD $7.6 BILLION IN CERTIFIED ORGANIC  COMMODITIES. AND THE NUMBER OF CERTIFIED FARMERS CLIMBED ABOVE 14-THOUSAND UP 11  PERCENT. CALIFORNIA LED THE NATION--SELLING NEARLY 40 PERCENT OF THE U.S. TOTAL.

CROP COMMENTS
MIKE HOFFMAN JOINING US FOR THIS FIRST DAY OF FALL. AND IN MANY PLACES, MIKE, IT DOESN'T FEEL LIKE FALL YET. GOOD MORNING, CLINTON. YOU'RE RIGHT, EVEN IN NORTHERN INDIANA IT'S NEAR  90 DEGREES THIS WEEK.  OVER IN GRABILL, INDIANA.  JIM SMITH IS A FARMER IN THE AREA AND SHOWED US AROUND SOME FIELDS.  HE SAYS CORN IS BEHIND - HERE ARE SOME EARS FROM ONE ROW - SOME ARE  DENTING WHILE OTHERS ARE STILL IN THE MILK STAGE. USDA SAYS INDIANA'S CORN CROP IS RATED  39 PERCENT WHEN IT COMES TO  MATURITY, 7 POINTS BEHIND THE 5 YEAR AVERAGE.  AND THIS NEXT PICTURE WAS SENT IN FROM A VIEWER TO AGWEB.COM A GROWER IN MCLENNAN COUNTY, TEXAS SAYS HE WORKED HARD TO GET  COTTON PLANTED ONP  HIS THIS YEAR, WHICH COVERED 650 ACRES. THIS  PRODUCER SAYS IT'S ONE OF HTE BEST YEARS FOR COTTON IN CENTRAL TEXAS.  AND NOW HERE ARE SOME HOMETOWN TEMPS.  THIS IS MACHINERY PETE - INVITING YOU TO CHECK OUT MY NEW WEBSITE - MACHINERYPETE.COM - OFFERING FARMERS TENS OF THOUSANDS OF USED EQUIPMENT LISTINGS TO SEARCH.  LET MACHINERY  PETE HELP YOU FIND AND VALUE YOUR NEXT PIECE OF USED EQUIPMENT.

TEASE
WHEN WE COME BACK WE'LL TALK ABOUT MARKETING TOOLS LIKE OPTIONS AND  HOW PRICE VOLATILITY SHOULD INFLUENCE HOW THEY'RE USED. AND LATER, TALKING STARTER FERTILIZER AND FULL SEASON NUTRIENT  MANGEMENT ON FARM JOURNAL COLLEGE TV. PLUS..THIS NEAR HALF BILLION DOLLAR INDUSTRY IS IN FULL SWING.

AGRIBUSINESS
HERE AT THE AGRIBUSINESS DESK I HAVE JOE VACLAVIK OF STANDARD GRAIN JOE. AS WE TALK ABOUT  SOME OF THE TOOLS AND MARKETING TOOL BOX ONE OF THOSE OPTIONS AS WE KNOW TALK TO US ABOUT  PRICING AND PRICING OPTIONS AND WHAT WE'VE SEEN LATELY. SO OPTIONS ARE A TOOL THAT A LOT OF  FARMERS USE TO OFFSET RISK. MAYBE NOT WHAT EVERYBODY IS FULLY AWARE OF IS HOW WE GAUGE THE  THE RELATIVE COST OF AN OPTION. OKAY. VOLATILITY IS A WAY TO MEASURE THE RELATIVE COST WHEN  VOLATILITY IS LOW. THAT MEANS THAT OPTIONS ARE CHEAP ON A RELATIVE BASIS TO WHAT WE'VE SEEN IN  THE PAST WHEN VOLATILITY IS HIGH. THAT MEANS THAT OPTIONS ARE A LITTLE BIT MORE EXPENSIVE RIGHT  NOW. WE'VE GOT LITTLE MARKETS AND WE'VE GOT LOW VOLATILITY IN THE MARKETS MEANING THAT TRADING  RANGES ARE A LITTLE BIT TIGHTER. SO WE'RE NOT SEEING THE BIG UPS AND DOWNS LIKE WE HAVE DURING  THE LAST SEVERAL YEARS RIGHT NOW DUE EAST. SO OPTION VOLATILITY RIGHT NOW IS VERY VERY LOW. TELL  ME TELL ME TWO THINGS ONE IS THAT IF YOU'RE SOMEBODY THAT NEEDS TO BUY OPTIONS IF YOU'VE GOT  AN EXCESSIVE AMOUNT OF RISK IN ONE DIRECTION YOU CAN BUY THE OPTIONS A LITTLE BIT MORE  AFFORDABLY AGAIN ON A RELATIVE BASIS. AGAIN IT'S PROBABLY A TIME TO STAY AWAY FROM BEING SHORT  IN THE OPTIONS. I THINK THAT THERE IS A TIME FOR PHARMA TO SELL OPTIONS OR FOR AN END USER TO SELL  PUT OPTIONS. BUT IT'S NOT WHEN VOLATILITY IS LOW. SO THIS IS PROBABLY A TIME TO STAY AWAY FROM  THAT SOURCE STRATEGY. YEAH IT IS WE KIND OF BUILD THAT PLAN. HOW FAR OUT ARE YOU LOOKING AT  THESE TOOLS. I'D SAY IF WE WERE TO SAY HAVE A NICE POST-HARVEST RALLY AND A SPIKE IN VOLATILITY  I'D BE FULLY COMFORTABLE SEEING A PRODUCER SELL SOME CALL OPTIONS AS FAR AS YOU KNOW  DECEMBER 2008 EVEN OUT TO SAY JULY 2019 ON THE 18 KROP SURE IF THE PRICE IS RIGHT IF THE  STRIKE PRICE IS RIGHT IF IT'S ABOVE COST OF PRODUCTION AND IF THE VOLATILITY IS GIVING YOU ENOUGH OF A REWARD TO TAKE THAT RISK. SO I'M COMFORTABLE DOING IT PRETTY FAR OUT IF IT MAKES SENSE TO ME  FROM A MARKETING STANDPOINT. SO REALLY IT'S JUST ABOUT KIND OF TAKING THESE THESE CHOICES AND  THESE TOOLS THAT WE HAVE AT OUR DISPOSAL AND REALLY PUT IT TO WORK. YEAH I MEAN THERE'S A LOT OF  STATISTICS INVOLVED IN THAT YOU WANT TO KIND OF HAVE AN IDEA AS TO WHAT OPTION VOLATILITY HAS  DONE HISTORICALLY WHAT IT'S DONE RECENTLY AND WHERE IT'S AT CURRENTLY BEFORE YOU MAKE THOSE  KIND OF DECISIONS. ALL RIGHT. APPRECIATE IT JOE. THANKS. WE'LL BE BACK WHERE I GET JUST A  MINUTE. 

WEATHER
AGDAY WEATHER - BROUGHT TO YOU BY KAWASAKI AND THE NEW MULE PRO-FXR™ SIDE X  SIDE. RIDE LIKE A BOSS WITH HIGH-END STYLING AND RUGGED CAPABILITY. WELCOME BACK TO AGDAY HERE METEOROLOGIST MIKE HOFFMAN MIKE HEAT INDEXES OF 90 DEGREES  IN THE NORTHERN PART OF THE COUNTRY AND THEN SNOW IN THE PACIFIC NORTHWEST. YEAH. KIND OF THE  EXTREMES THAT WE WE SEE OF COURSE REHEATS THE BIGGER EXTREME FOR THIS TIME OF THE YEAR  BECAUSE IT'S NOT OVERLY UNUSUAL TO GET THE SNOW IN THE NORTHERN PORTIONS OF THE ROCKIES  DURING LATE SEPTEMBER. BUT IT IS UNUSUAL TO SEE HEAT INDEX VALUES WELL INTO THE 90S EVEN  TRIPLE DIGITS IN MANY PARTS OF THE CENTRAL PLAINS OHIO VALLEY. AND THAT'S WHAT'S BEEN  HAPPENING. WE'LL SEE JOSE JUST CONTINUE TO SPIN ITS WHEELS OFF THE NORTHEAST COAST OR CONTINUE  TO BE SOME HIGH SURF AND SOME WINDS BUT NOTHING NOTHING TOO EXTREME. MARIA WE'LL BE  WATCHING AS IT COMES EAST OF THE BAHAMAS OVER THE NEXT COUPLE OF DAYS AND SEE THE NEXT  SYSTEM OUT WEST KIND OF STAY IN WHERE IT IS. THIS WILL BE MORE LIKE A STATIONARY FRONT FROM  COLORADO TO THE NORTHERN GREAT LAKES STAYS VERY HOT FOR THIS TIME OF YEAR SOUTH OF THAT FRONT.  MUCH COLDER THAN THAT NORTH WEST OF IT. AND WE WILL CONTINUE TO SEE SOME SNOW IN THE HIGHER  ELEVATIONS BUT GENERALLY SHOWERS FROM EASTERN NEW MEXICO UP INTO EASTERN MONTANA AND  EASTWARD INTO THE GREAT LAKES. MOST OF THESE WILL BE VERY VERY HIT AND MISS IN THE SOUTHEAST  WITH THE VAST MAJORITY OF THIS WARM SECTOR OF THESE SYSTEMS STAYING DRY OVER THE NEXT FEW  DAYS OR THE PAST 24 HOURS ADDING IN THE NEXT 36 THINGS. MOST OF THE ACTIVITY GOING TO HAPPEN  LIKE WE SAID IN THE ROCKIES NORTHERN PLAINS OVER INTO THE FAR NORTHERN PORTIONS OF THE GREAT  LAKES. PARTS OF SOUTHERN FLORIDA PARTS OF SOUTHEAST TEXAS WILL GET SOME AREAS OF DECENT RAIN  IN SOME THUNDERSTORMS ALL THE SNOW WILL CONTINUE TO FLY IN THE NORTHERN PORTIONS OF THE  ROCKIES ALTHOUGH IT'S GOING TO SNOW INTO SOME OF THE SIERRA NEVADA PARTS OF NEVADA AS WELL.  IN SOME OF THOSE HIGHER ELEVATIONS THERE IS THE HEAT. LOTS OF 90S. AND THEN THERE'S THE CHILLY  AIR LOTS OF 40S AND THE HIGHER ELEVATIONS OF THE ROCKIES AS WE HEAD THROUGH TONIGHT. THEN  WE'RE GOING TO SEE IT REMAINING QUITE MUGGY THROUGH THE MIDDLE OF THE COUNTRY 70S FOR LOWS  ALL THE WAY FROM MINNEAPOLIS TO BROWNSVILLE AND IT WILL BE PRETTY MUGGY FARTHER EAST AS WELL  BUT THE HEAT WILL CONTINUE DURING THE DAY TOMORROW. LOTS OF 80S AND BE MORE 90S AND OUR  COMPUTER MODEL IS SHOWING THERE'S NO REAL CHANGE IN THE AIR MASS WAS JUST GOING TO STAY  HIGH ALL BECAUSE OF THIS RIDGE IT'S GOING TO HOLD TOMORROW OR TODAY TOMORROW THE NEXT DAY AND  ON INTO THE EARLY PART OF NEXT WEEK THEN BY TUESDAY AND WEDNESDAY IT'LL START TO GIVE WAY TO  A BIG TROUGH AND IT'S GOING TO BE A BIG TIME COOLDOWN FOR THE NORTHERN PLAINS AND GREAT LAKES AS WE HEAD THROUGH THE END OF NEXT WEEK. THAT'S A LOOK ACROSS THE COUNTRY. NOW LET'S  TAKE A LOOK AT SOME LOCAL FORECASTS HEADING TO BOZEMAN MONTANA. FIRST OF ALL CLOUDY AND  CHILLY OCCASIONAL RAIN. HIGH TEMPERATURE OF 43 DEGREES. KANSAS CITY MISSOURI MOSTLY SUNNY  HOT AND HUMID HIGH OF 92. CHARLESTON SOUTH CAROLINA. WARM AND MUGGY. A THUNDERSTORM OR  TWO AROUND HIGH AROUND 86. 

TEASE
WHEN WE COME BACK IT'S FARM JOURNAL COLLEGE TV INCLUDING A LOOK AT  STARTER FERTILIZER AND SEASON LONG NUTRIENT MANAGEMENT. AND LATER, FALL IS HERE ALONG WITH A NATIONAL OBSESSION OR IS IT AN  ADDICTION-- I'LL SHARE MY THOUGHTS ON PUMPKIN SPICE EVERYTHING.

FARM JOURNAL COLLEGE TV
AGRONOMICALY, IT'S BEEN A ROLLERCOASTER YEAR.  AND THAT MAKES PLANNING FOR NUTRIENT MANAGEMENT A CHALLENGE. I ASKED A COUPLE AGRONOMISTS ABOUT THAT RECENTLY DURING A DISCUSSION  AT THE FARM PROGRESS SHOW.  GENERALLY I'VE SEEN THE RESPONSE WOULD BE BETTER. SOME IS BETTER THAN NOTHING IN JUST HOW  YOU CAN REALLY WHAT YOU CAN DO JUST GETTING OFF TO ITS BEST START. YOU KNOW I THINK ULTIMATELY SPREADING YOUR APPLICATIONS OUT THROUGHOUT THE YEAR IS ALSO WE TALK ABOUT MINIMIZING RISK IT IS  REALLY GOING TO BE A KEY FACTOR THAT AS WELL WHERE WE TALK ABOUT THIS YEAR SIDE DRESSING  MAYBE IN SOME AREAS WHERE IT WAS DRIER IT TOOK A LITTLE BIT LONGER TO SEE THE EFFECTS OF THAT IF  WE SAW THE EFFECTS OF THAT. SO YOU KNOW IF WE HAD IT IF WE HAD A GOOD AMOUNT DOWN EARLY THIS  YEAR WE GOT OFF TO A GOOD START AND THAT'S PROBABLY WHAT SOME OF THIS THE STORM THAT WAS JUST  A LITTLE BIT MORE IS SURVIVING OFF OF IT. AND REALLY WHAT IT DID TO GET A GOOD START THIS YEAR. DANIEL  WHAT DO YOU THINK. WHEN I TALK ABOUT NUTRIENTS WE TALK NUMBER ONE ABOUT PH MANAGEMENT  SURE HOW TO MANAGE YOUR PH'S AND DO APPROPRIATE TESTING AND KEEP THOSE IN LINE TO HAVE  GOOD NUTRIENT UPTAKE NEEDLES ZATION. NOW SECONDLY JUST TALKING IN GENERAL ABOUT NITROGEN  AND I CHALLENGE A LOT OF GROWERS TO THAT HAVE IF THEY'RE NOT SPLIT APPLYING NITROGEN THEY NEED  THEY NEED TO GO BECAUSE IT'S GOING TO LIMIT RISK OF LOSS AND LIMIT WHAT YOU TALKED ABOUT OF  RUNNING OUT OF RUNNING OUT OF NUTRIENTS LATE SEASON SO THE CLOSER YOU CAN APPLY NITROGEN TO  THE. UPTAKE POTENTIAL IN CORN WHICH IS TYPICALLY MASS UPTAKE IN JUNE YOU'RE GOING TO BE BETTER  OFF IN THE LONG TERM FOR USING NITROGEN MOST EFFICIENTLY. SO YOU KNOW TO ME THOSE TWO THINGS  CAN GO HAND-IN-HAND PH MANAGEMENT AND THEN SPREADING OUT NITROGEN APPLICATIONS. 

TEASE
WHEN WE COME BACK... A LITTLE FUN COMMENTARY ON THIS FIRST DAY OF FALL. AGDAY - BROUGHT TO YOU BY JOHN DEERE.  WHERE CAN YOU FIND THE MOST COMPREHENSIVE  INVENTORY OF JOHN DEERE CERTIFIED PRE-OWNED TRACTORS, COMBINES AND SPRAYERS?   MACHINEFINDER DOT COM.  SOMETIMES THE BEST NEW ADDITION TO YOUR FLEET ISN'T NEW."

IN THE COUNTRY
IN THE COUNTRY - BROUGHT TO YOU BY KUBOTA.  LEARN MORE ABOUT  KUBOTA SSV SERIES SKID STEERS AT KUBOTA.COM. OR DEMO ONE AT YOUR  LOCAL KUBOTA DEALER TODAY.  AS FALL ARRIVES HERE IN 2017, IT'S TIME WE GET REAL ABOUT A SERIOUS  TOPIC…AMERICA'S ADDICTION TO PUMPKIN SPICE!  LOOK AT THIS..THIS IS JUST FROM THE LAST COUPLE OF WEEK'S WORTH OF  SHOPPING AT MY HOUSE. IN MY FREEZER BAGS OF PUMPKIN SPICE COFFEE— APPARENTLY WE GOT A DEAL. BUT THAT'S NOT ENOUGH. HOW ABOUT PUMPKIN  SPICE CREAMER, PUMPKIN SPICE BAGELS AND PUMPKIN SPICE CREAM CHEESE  TO GO ON IT.  OUT OF THE CABINENTS THIS WHAT I GATHERED UP---FROM PUMPKIN SPICE  TWINKIES TO   THESE LITTLE PUMPKIN SPICE WAX CUBEY THINGS THAT ARE MELTING ALL OVER  MY HOUSE YOU KNOW WHEN I WAS KID, MY MOM NEVER BOUGHT PUMPKIN SPICE ANYTHING  EXCEPT PUMPKIN SPICE WHICH SHE USED IN THE PUMPKIN PIE! . THIS OBSESSION WITH PUMPKIN SPICE HAS GONE FROM THE  COFFEE LINES OF STARBUCKS WHERE EVERY TRI-DELT IN TOWN STOOD IN THEIR  UGG BOOTS CUDDLED IN A SCARF WAITING FOR FALL TO KICK OFF A SEASON  LONG OBSESSION OF VENTI P-S-L'S TO THIS---BUILD YOUR OWN PUMPKIN SPICE  HOTDOG.  YES THAT'S RIGHT—PUMKIN SPICED GRILLING MEAT.  FRANKLY (GET IT)  I'M WORRIED. DID YOU KNOW THERE ARE EVEN PUMPKIN SPICED COUGH DROPS. THEY SAY THIS OBSESSION IS NOW WORTH A NEAR HALF BILLION DOLLARS A  YEAR. THE USE OF THE SPICE IN FOOD IS UP TEN FOLD SINCE 2004. WHAT IS IT ANYWAY—WELL PUMPKIN SPICE IS MADE OF CINNAMON, GINGER,  NUTMEG, CLOVES AND ALL SPICE. IT DOES NOT INCLUDE PUMPKIN! DON'T BE LIKE  THE SHOCKED KIDS IN TOWN WHO THOUGHT IT DID— IT'S THE SPICE THAT GOES  IN THE PIE NOT THE PUMPKIN ITSELF. ALTHOUGH THIS LITTLE SEASONAL GUILTY  PLEASURE IS HELPING MOVE FRESH PUMPKIN AS WELL. ACCORDING TO NIELSON  FRESH PUMPKIN SALES HIT 121 MILLION DOLLARS LAST YEAR UP 5 PERCENT  YEAR OVER YEAR. NIELSON SAYS IT LOOKS LIKE GROWTH IN THIS CATEGORY IS SLOWING DOWN  AND THEY'RE EVEN ASKING WHETHER 2017 WILL BE THE YEAR WE SEE PEAK  PUMPKIN.   THAT REMAINS TO BE SEEN—BUT IF MY HOUSE IS ANY INDICATION—(TAKES SIP) 

CLOSE
THIS LITTLE ADDICTION HAS ROOM TO RUN.   AS THEY SAY IN MY HOME COUNTRY—HAPPY FALL YA'LL .  HAVE A GREAT WEEK ON  YOUR FARM. AGDAY IS POWERED BY RAM TRUCKS - AMERICA'S LONGEST LASTING PICKUPS.