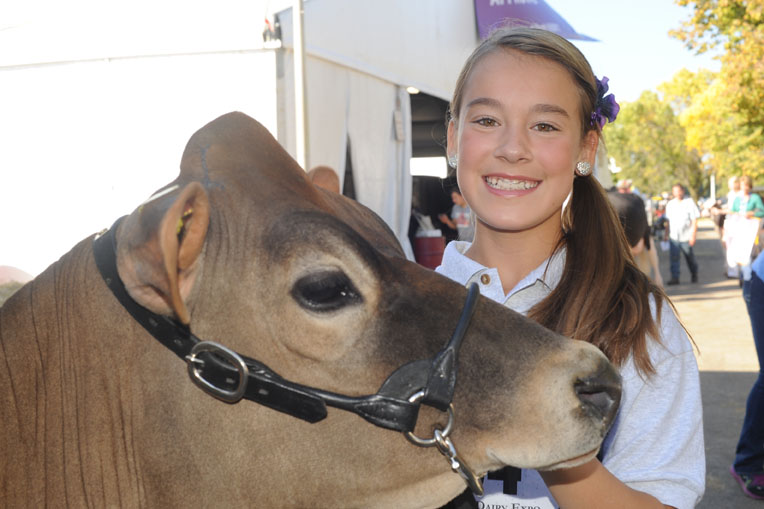 From bright-eyed youngsters to seasoned show-ring veterans, World Dairy Expo's dairy cattle shows appeal to exhibitors of all ages.
For Gracie Krahn, of Albany, Ore., taking part in the 2013 Central National Jersey Show at World Dairy Expo was an "amazing" experience.
"The cows at Expo were unbelievable," says 12-year-old Gracie. "I was able to see how other people do things and I learned so much from watching them. I had a lot of fun, and I met a lot of nice people."
Showing dairy cattle has a strong tradition in Gracie's family. Her parents, Ben and Amy Krahn, showed cattle as youngsters. They met while showing at the Oregon State Fair. Her grandfather, Jim Krahn, the former executive director of the Oregon Dairy Farmer's Association, captured Junior Champion honors in the International Holstein Show at Expo in the 1970s with a fall yearling heifer. Ben has also shown at WDE numerous times.
Gracie started competing in local cattle shows at age four.
"We decided to start our girls out with Jerseys," says Amy. "We thought that because of their smaller size they'd be less intimidating and easier to handle."
To say that Gracie took to the activity is an understatement, according to her mom. "It's a passion for her," says Amy. "When other kids are playing video games, she's thinking about her tack box and what to pack for the next show."
Or she's working with her animals. During a show season running from April through October, Gracie and her 9-year old sister, Clancey, spend an average of 1-2 hours, twice-a-day, on a variety of chores related to showing. "There's a lot to do like washing, walking and feeding them," Gracie says. "It is a lot of work. But it's what I love to do."
The idea of having Gracie compete at Expo began to germinate when the Krahns purchased a Jersey winter calf named Miss Nastias Tequila Nutcracker ("Nutty") in early 2013. Nutcracker, according to Gracie, is "really deep-bodied, has a strong front end, and she has really good feet and legs. She's hard over the top and she's very dairy."
Gracie showed the calf at a number of shows through the spring and early summer. "In July, it occurred to us that Nutcracker had done very well everywhere we had taken her and that there was a lot of interest in her," says Amy. "A lot of people with a great deal of show experience encouraged us to take her to World Dairy Expo. Then we went to the Western National Jersey Show in Washington. When she won there, we decided that maybe Nutcracker really was something special. It looked like a fantastic opportunity."
Not all of the decision to have Gracie compete at Expo was based on her calf's prior performance in the showring. "One day, I went to my granddad's office and he showed me a picture of the heifer he had won with at Expo and told me her name was Nutty," says Gracie. "And I thought that would be a great nickname for my calf. We've been calling her that ever since. And it seemed like it might be a sign that we could do well at Expo."
The fact that Ben's birthday would fall during Expo Week also entered into the family's decision. "We thought what better place to all get together and celebrate," says Amy.
Gracie admits to being nervous when she arrived at the Alliant Energy Center with Nutcracker in late September. "I could definitely feel the butterflies floating around in my stomach," she says. "I knew this was really the big time. I also knew I would be competing against older people who had lots of experience. I kept telling myself over and over that this was just another show and all I could do was try my best."
Nutcracker ended up placing fifth in the open show's Winter Heifer Calf class. She also notched second place honors in the Junior Show. Gracie was more than satisfied with the results. "I knew when I stepped onto those colored shavings in the Coliseum that I was a winner just by being at World Dairy Expo. I wasn't expecting to come in first. I was just hoping to finish in the top five. So overall, I felt pretty good about how everything turned out."
Looking ahead, Gracie says how her animals are doing and how much time she can take off from school will determine when she gets back to Expo again. "One thing I do know is that I will definitely be back someday. Some kids my age talk about going to exciting places like Mexico or the Bahamas on vacation. I'd rather come back here and show cows at World Dairy Expo any day."

61 Years in the Show Ring
Richard Lattire,  71, of Lattire's Twilite Farm in Lawrenceburg, Ind., has shown cattle at the local, state and international level for 61 years. "It's what I'm passionate about," he says.
---
Seventy-one year old Richard Lattire, of Lattire's Twilite Farm in Lawrenceburg, Ind., finds it easy to relate to the enthusiasm displayed by young dairy cattle exhibitors like Gracie Krahn. He stepped into the show ring for the first time, at a county fair in Dearborn County, Ind., when he was nine years old. Over the next 61 years, he has shown at the local, state and international level at least once a year. "It's what I'm passionate about," says Lattire.
He made his first appearance at WDE in 1983 and has only missed two Expos since. He's racked up an impressive listing of accomplishments in Expo's International Milking Shorthorn Show including several grand champion bulls, a three-year old winner of the International Futurity, a Reserve Intermediate Champion and a unanimous All-American summer yearling.
It's the sheer size and scope of the show, Lattire says, that makes Expo so special. "This is the Cadillac of all the dairy shows. You have all those great cows from all over the U.S. and Canada in one place. And you have people with an interest in the dairy business from all over the world coming to look at those cows. It's just a great atmosphere. There's nothing else like it."
Along with the opportunity to be around great cattle, he says what really has made Expo memorable over the years are the friendships he's formed. "It's great to come back every year and see what's going on with everybody. You won't find better people anywhere."
His family's involvement in showing has also been personally rewarding for Lattire. "My sons Billy and David have worked with me over the years and played a big part in the successes we've had. And now the grandkids are getting involved too. It's hard to explain, but it's a good feeling to know that they've taken an interest in something that's important to you."
Billy Lattire, (a national director with the American Milking Shorthorn Society, who now lives in Lacey, WA) appreciates having had the opportunity to work along side his father. "I've learned so much from him," says Billy, who shows cattle of his own and also works as a fitter for other exhibitors at major shows. "He instilled in me a love for the Milking Shorthorn breed. He taught me that if you treat your animals right, they'll treat you right."
Richard Lattire's advice to youngsters just getting started in the showing: "Look at your cattle compared to everybody else's and see how you can improve to get more of the desired animal you're wanting."
Being willing to learn from everybody you come into contact with is equally important. "That's another great thing about this show. There are so many people here who really know cattle. I learn something new every day. You're never too old to learn. "