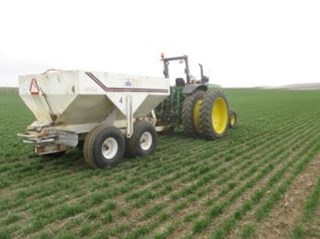 In the midst of another growing season, income is top-of-mind for most farmers.
"From a financial standpoint, it's a 'ho-hum' year because it doesn't look like we're going to make a whole lot of money this year," says Brad Dircks, who farms in Lowden, Iowa.
Statements like that are reflected in Creighton University's March Rural Mainstreet Index, which surveys bank CEOs in rural towns across 10 states each month. The index remains below growth-neutral for the seventh straight month, showing the struggles the rural economy is facing.
"Our survey that was completed for March shows a rural economy that's at least stabilizing now. It's still weak, but we're poised for growth. However, we're not going to get that growth right now. I think 2016 is still going to be a little bit challenging," says Ernie Gross, Creighton University economics professor and the Jack A. MacAllister Endowed Chair in Regional Economics.
Rural Economy Includes Energy, Manufacturing
Goss says a lot of factors make up the economy, including currencies, interest rates and Asian economies. Here at home, downturns in the rural economy can come from the energy and manufacturing markets too.

"The rural economy is not all agricultural," says Goss. "It is other things like manufacturing (and energy). Manufacturing has had a tough six months to a year, and energy is a sector that's doing worse than agriculture." 
Trends in Machinery, Farmland
Farm equipment took the biggest hit in March's survey, declining to record low levels. That's something that's already echoing throughout the farming community.

"When we had good prices, we were trading quite often for some newer equipment," says Bob Bartek, farmer in Ithaca, Neb. "Also, the value of used equipment in those good years was very good. Now, no one is in a buying mood with used or new equipment."

Goss says the survey's farmland price index fell below growth neutral for the twenty-eighth straight month. "Land prices are probably going to come down another 6% or 7% this year," he predicts, based on the survey's responses.
Lenders Watch, Wait
Goss says bank CEOs are expecting more loan restructuring and defaults in 2016 and beyond.
"The banks are now restructuring" loans, Goss says. "The banks are estimating an increase of 5% (in) defaults" in the next 12 months. 
While those worries hover in every cab, farmers also know another season brings hope.
"You have to expect (the financial ups and downs)," says Brent Judisch, farmer in Cedar Falls, Iowa. "That's why you save up in the good years so you can weather a couple of years of bad. They're always going to come. It just matters when they come."
Watch the AgDay story here: