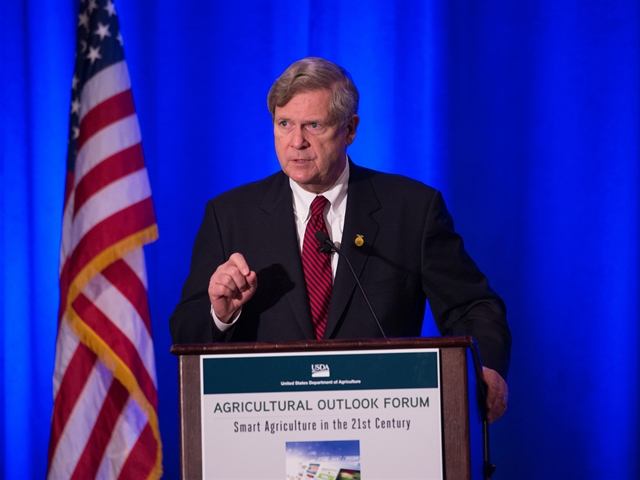 Few can resist the lure of farm technology in nearly any form. "For us, in the last 50 years at Deere, it's been about bigger, faster, stronger machines. That was the 20th century," said Cory Reed, a senior vice president with Deere & Co., speaking at the USDA Agricultural Outlook Forum in Arlington, Va.
But the 21st century is different, thanks to the growing presence of technology on the farm and in people's lives. "In addition to bigger, faster, stronger … our producers have expectations about easier, smarter, more precise," Reed said. "Precision is being driven through the technologies available to move from [data] averages at the farm or field level to the square meter."
That represents just one of the many possibilities of biotechnology and big data in agriculture, based on a roundtable discussion Thursday. Agriculture Secretary Tom Vilsack led the conversation, which included Reed; Mary Kay Thatcher, senior director for Congressional relations at the American Farm Bureau Federation, and Robert T. Fraley, chief technology officer at Monsanto Co., the St. Louis-based biotechnology firm.
To Fraley, the combination of big data and biotech offers tremendous potential for farmers to customize their operation for ideal performance. He pointed to the example of nitrogen, which is an essential input—and cost—for corn growers.
"One of the real opportunities as we think about the use of the new knowledge in soil and data science is how more precisely we can use nitrogen," Fraley said. Think about "the ability to know exactly the nitrogen level in the field, to be able to track that on a daily basis during the growth of the crop, [and] to be able to make a very rational and economic decision on any additional nitrogen is needed or not. I think there is going to be a real boom in using these data science tools to be both better stewards and better economic managers."
Thatcher agreed—to a point.  As California implements its new groundwater regulations, she said, those farmers will need the power of big data to make sure they are complying with the rules.
But she also noted the ongoing concerns about data ownership in this emerging area.
"Every company will tell a farmer, 'the farmer owns the data,' but the fact is, that if I'm the landlord and Cory's the tenant, who owns the data? If it's a crop-share agreement, who owns the data?" Thatcher said. "It's just a little bit misleading. You own the data if you own it, but farmers have to go out and make sure they know who has that and put it in place."  
The growing volume and portability of digital farm data also raises privacy questions for farmers who prefer to maintain control over their information. "We do have companies where you send your data off and they write you a little prescription [for planting and fertilizing]," Thatcher said. "But unfortunately, they don't send that data back to me—they send it to my local seed dealer or my local equipment dealer and if that guy happens to be competing against me for cash rent, then he's got a lot more information than I want him to have. There's a whole lot of issues like that which still haunt us."
Is government regulation the answer? Maybe, maybe not. "This is an area of science and data science that needs appropriate regulation. We just need to avoid overregulation," Fraley cautioned.
Instead, when Vilsack asked the panelists what role government should play in big data, he received a number of answers: better technology infrastructure in rural America; greater emphasis on science, technology, math, and engineering education, particularly for girls and minorities; and more involvement by the cooperative extension services across the country.
What role do you think government can or should play in big data in the agriculture industry? Do you agree with the panelists' ideas? Let us know on the AgWeb discussion boards.
Keep tabs on hot topics at the 2015 Agricultural Outlook Forum by following #AgOutlook on Twitter.