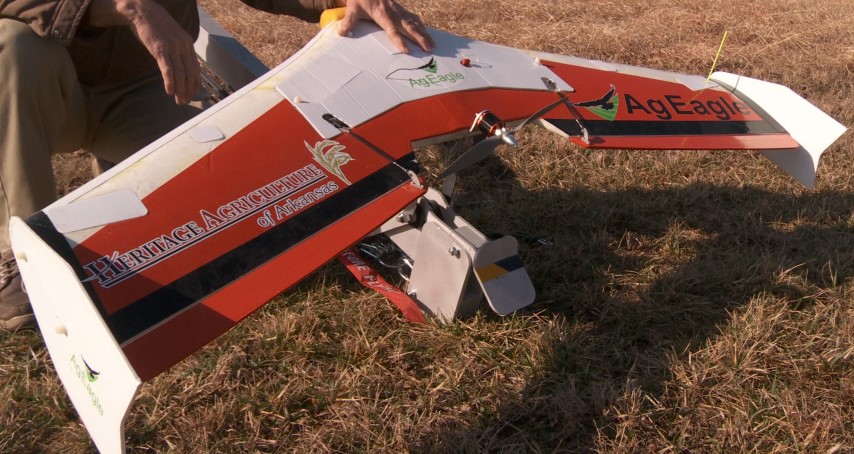 Eyes in the sky. Already unmanned aerial systems are catching on, and gaining momentum in agriculture.
"Think of it as a cell phone, think of it as a personal computer, where it started off small, early adopters, then the technology advanced and it became more user-friendly," says Tom Nichol, Business Development Lead for AgEagle, a Kansas based business building agricultural drones.
Today, the founders are breaking ground in new aerial technology.
Watch the full story on U.S. Farm Report:
"The biggest advantage of what we provide to farmers is a chance, for the first time ever, to have an overall view of their field like they are the personal airplane, up to this point it was an expensive proposition," he says.
Unlike an actual plane, he says these aircrafts are easy to use. The brain behind the AgEagle is Brett Chilcott. He says the AgEagle comes as a package deal with three pieces of software.
"One that flies the aircraft and two that stitches the images together," says Chilcott.
He says it's a very complex system, but the complexity is what makes the UAV so easy to use.
"The easy part of flying the aircraft is simply you pull it up on your computer, a map, an overview of the field, you outline that field, and the computer automatically develops a scan pattern and tells that aircraft where to fly," Chilcott explains.
"It's all Google earth," says Jerry Fynaardt, a central Iowa farmer and AgEagle Dealer. "So you pull up your field, plot out a course and you tell the plane to fly that course and it does its thing."
When we visited AgEagle, the reliable Kansas wind prevailed, bringing 35 mile per hour gusts while they flew the UAV. Despite the winds, the AgEagle not only took off, but flew and landed seamlessly; Nichols says it was designed to be durable.
"We use fiberglass, carbon fiber, and other composites to make this aircraft tough, strong, so they can use this aircraft without being concerned they are going to damage it," he says.
Their UAV can fly a square mile in 30 minutes, while capturing images and churning out data. The team says this is just a start.
"It has exploded," says Nichols. "We were out in California flying almond groves two weeks ago, we've been over cotton fields down in Texas and Iowa over the corn fields."
They say as more sensors are added, the more tricks this aircraft will be able to do.
"Right now we're taking photos," he says. "Later on we'll do thermal sensing. We can find lost cattle. We can track animals so that livestock owners with large pastures don't lose their livestock.
While the excitement is high, there's also some controversy surrounding using UAVs in agriculture. Some fear it will breech privacy rights, or cause more harm than good. Also, the rules and regulations around the systems are still cloudy. Later this year, the Federal Aviation Administration is expected to propose rules on drones that weigh less than 55 pounds. Despite that uncertainty, the drone makers say business is booming. AgEagle hoped to sell 100 ag drones their first year. Already, the company has more than doubled that goal, meaning demand is outpacing supply.
Just like a smartphone, these founders say they hope to have new add-ons come out each week. With more on the horizon, AgEagle says the sky is the limit for the future of agricultural drones.