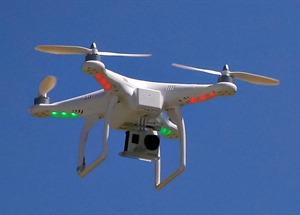 An Arkansas agriculture professor is flying kites to snap aerial photos of soybean fields after a federal agency ruled he couldn't use remote-controlled aircraft to capture the images.
University of Arkansas Professor Larry Purcell is using kites to get around the Federal Aviation Administration's regulations, the Southwest Times Record reported. His research involves developing plants that can better tolerate drought.
Purcell's research, which is supported by a grant from the Arkansas Soybean Promotion Board, uses aerial photos of soybean crops captured with a camera that shoots infrared images. Purcell originally wanted to use a remote-controlled aircraft to take the images, which show drought stress before soybeans display any physical signs of it.
Purcell turned to using kites for his studies after the FAA deemed Purcell's research had a commercial purpose and sent a cease-and-desist letter in 2011.
"It's been a steep learning curve," Purcell said. "Most of the equipment has been hand-made."
Research has shown that soybean plants remain cooler than others under drought conditions. Purcell said genes from those plants could be bred into other plants.
What do you think about Purcell's research and his workaround? How are you using drones on your farm? Click here to join the conversation on practical applications for drone technology with other AgWeb readers.