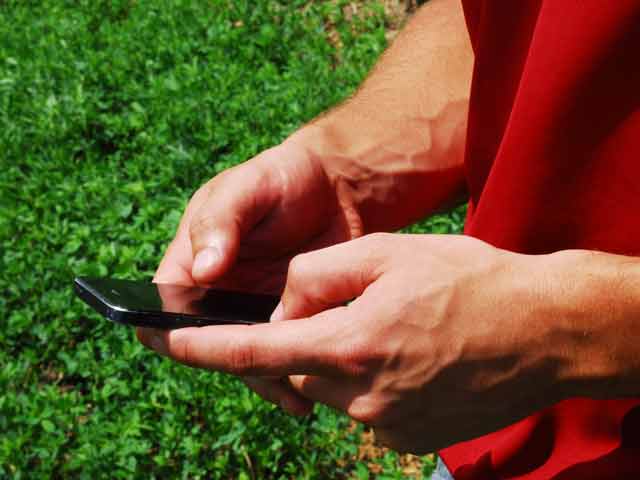 Whether you're looking at an agronomic problem in your field or a warning light in your combine's cab, there are few things more frustrating than trying to describe your problem on the phone to a consultant in an attempt to fix it and fast. Unless, of course, it's the crop adviser or precision ag dealer who is valiantly—and unsuccessfully—attempting to determine what in the world is happening on your farm right now.
Enter AgriSync, a new app that seeks to quickly and easily close that gap between producers and their advisers when something is going wrong on the farm by providing live, video-based remote support.
"We essentially are putting a lot more technology around farmers today, and most of those things are visual. We could solve the problems if we could see them," explains Casey Niemann, the leader of AgriSync, a startup is based in Dallas Center, Iowa.
Here's how it works, which is a bit like a farmer-focused version of FaceTime, Apple's popular video chat offering.
 A farmer downloads the AgriSync app, which is available for Apple and Android, and invites his professional advisers to join. While they all might be affiliated with different organizations, they can provide support to the farmer though the single AgriSync app.
(The app is free to farmers; advisers can either pay monthly or annually for access. For example, an organization such as a co-op or equipment dealer would pay a yearly fee of $500 if it wanted employees to use AgriSync as a remote support tool to improve service to its farmer customers, according to Niemann. Advisors who support farmers also have access to a service dashboard where track and collaborate on all of their farmer requests.)
When the farmer encounters a problem such as pest damage or a machinery breakdown, he then can contact his preferred adviser via the app and describe the situation via a live video call.
"We are focused on the human element and helping farmers when they need it most," says Niemann, who has drawn on his past experience at seed company Syngenta and technology giant Microsoft in the creation of AgriSync.
If a  farmer can't get a strong enough cell signal at that moment, he can leave a photo and video message that will be uploaded to the adviser once the connection improves. They can even suggest a time for solving the problem, whether it's urgent or can wait for a specific window of time.
Of course, when you're in the middle of harvest and trying to beat the weather, time might be a luxury you can't afford. "The early word is that most farmer issues are urgent," Niemann says.
But even if a farmer has to wait a few minutes for his adviser's return video call via AgriSync, it's still far less time than it would take to drive out to the farm and see the problem in person. "Many issues can be solved remotely in 10 minutes," saving farmers downtime and frustration, according to Niemann.
AgriSync's promise of a simple mobile support app for growers is already attracting attention. On Wednesday, AgriSync was named one of four finalists in the American Farm Bureau Federation's 2016 Rural Entrepreneurship Challenge. Only in its second year, the competition received 165 entries, selecting just four to compete in January 2016 for the Rural Entrepreneur of the Year award and the People's Choice award, which provide winners with $15,000 and $10,000, respectively, in startup funds.
"Rural entrepreneurs typically face unique challenges, including limited options for support with resources such as startup funding, which we aim to address through the challenge," said AFBF President Bob Stallman.