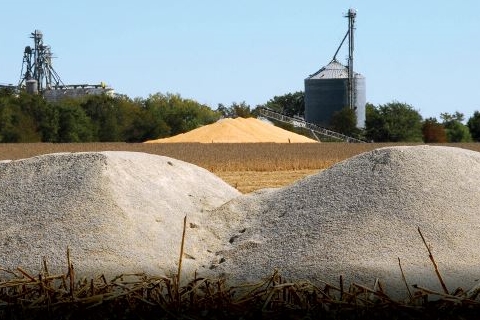 Agrium Inc., the largest agricultural retailer to U.S. farmers, posted better-than-expected fourth-quarter profit after it implemented cost cuts at its fertilizer unit.
Net income rose to $1.45 a share from 33 cents a year earlier, the Calgary-based company said Tuesday in a statement. Profit excluding one-time items was $1.52 a share, beating the $1.38 average of 22 analysts' estimates compiled by Bloomberg.
Agrium's sales disappointed, declining to $2.41 billion from $2.71 billion, compared with the $2.83 billion average estimate. Its full-year earnings forecast also fell short of expectations. Agrium expects net income of $5.50 to $7.00 a share in 2016, compared with the average $7.01 estimate.
The company reported lower production costs and higher sales volumes in the fourth quarter for nitrogen and potash fertilizer. Demand for crop nutrients is expected to be robust this year, with growers in the U.S. projected to boost overall crop acres while also catching up with the application of fertilizers after weather-related delays in the fall, Agrium said.
While North American crop nutrient demand is expected to increase by 1 to 3 percent, phosphate and potash demand may fall below that range as volumes lost due to the poor fall season may not be fully made up in the first half of 2016, the company said.
The shares were almost unchanged at $84 at 8:23 a.m. before the start of regular trading in New York.
To contact the reporter on this story: Jen Skerritt in Winnipeg at jskerritt1@bloomberg.net. To contact the editors responsible for this story: Simon Casey at scasey4@bloomberg.net, Joe Richter
©2016 Bloomberg L.P.