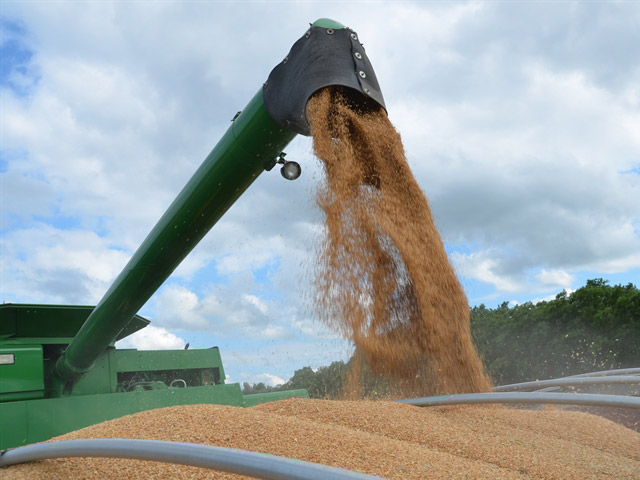 Agrium Inc., Canada's largest agricultural company, isn't fighting its latest activist investor. And shareholders are cheering.
Agrium has jumped 15 percent since ValueAct Capital Management LLC said almost two weeks ago it amassed a 5.7 percent stake. When activist investor Jana Partners LLC began a campaign to break up the company in August 2012, Agrium shares were little changed by the time Jana's attempt to shake up the board was defeated eight months later.

While Calgary-based Agrium engaged in a public war of words with Jana, its relationship with ValueAct is different. Agrium Chief Executive Officer Chuck Magro said Nov. 4 that talks between the two have been "friendly." ValueAct CEO Jeffrey Ubben said his San Francisco-based firm likes the Agrium boss and the Canadian fertilizer maker and farm retailer has already begun to make "operating improvements."
"The clash of cultures when Jana engaged Agrium was not too successful," Alexander Roose, a Brussels-based portfolio manager who helps oversee more than $15 billion, including Agrium shares, at Petercam SA, said Nov. 4 by phone. "The chances of success for this newest activist are much higher."
The dynamic between Agrium and ValueAct could still change, Roose said. Other Canadian companies are under pressure right now. For example, Daniel Loeb's Third Point LLC and other hedge funds have amassed stakes in TransCanada Corp. amid speculation the pipeline company could be broken up, people familiar with the situation said in September.
More Receptive
Spokesmen for ValueAct, Jana and Third Point declined to comment. No one from TransCanada responded to requests seeking comment. Agrium's relationship with ValueAct has been positive from the outset, Richard Downey, a spokesman for the Canadian company, said yesterday in an interview.
---
Will Strong Dollar Hurt Ag Exports?
---
Unlike some activists, ValueAct has a reputation for treading softly when engaging with target companies. Canadian boards are also becoming more receptive to investors with ideas in the wake of high-profile campaigns such as those carried out by Bill Ackman's Pershing Square Capital Management LP, Kingsdale Shareholder Services Inc. said in a September report. Canadian Pacific Railway Ltd. replaced its CEO in 2012 after a proxy fight with Pershing.
"There appears to be more negotiations going on, either behind the scenes with the board or management, and that's the result of the success these so-called dissidents have had," said Roy Shanks, chief operating officer of Toronto-based proxy advisory firm Georgeson Inc.
Fertilizer Bet
Globally, hedge funds with activist agendas returned more than 16 percent on average to their investors in 2013 compared with about 9 percent for the broader hedge-fund industry, data from Chicago-based Hedge Fund Research Inc. shows.
The goal of activists "is not necessarily control of the company or even representation on the board," said Riyaz Lalani, CEO of Bayfield Strategy Inc., a Toronto-based financial communications firm. "Their goal is to make money."
ValueAct is betting Agrium will benefit in 2016 from a rebound in wheat, corn and soybean prices after it invested to expand its fertilizer production. While Jana argued for the separation of the farm-retail business from the fertilizer operations, ValueAct has said retail provides stability.
Ubben said last week he expects Agrium's earnings before taxes, depreciation and amortization to rise as much as 20 percent over the next two years and for the dividend to increase to $5 to $6 a share. Agrium said Nov. 4 it will raise its payout to an annual rate of C$3.12 a share, from C$3.
'Really Moves'
"Culturally and strategically as a company, we're going to do more things right, but less of them," Magro said yesterday in Toronto at Agrium's investor day. "We're going to focus on what really moves the needle."
Agrium, the largest publicly traded agriculture company in Canada ranked by sales, advanced 15 percent in Toronto this year through yesterday, compared with a 6.8 percent gain in the S&P/Toronto Stock Exchange Composite Index.
The company is trading at about 18 times trailing 12-month earnings per share, a lower multiple than fertilizer producers Mosaic Co. of the U.S. and Canada's Potash Corp. of Saskatchewan Inc., according to data compiled by Bloomberg.
Agrium said Nov. 3 its fourth-quarter earnings will be less than what it had forecast a month earlier, amid what it described as "challenging agricultural market conditions."
'Still Evolving'
The relationship with ValueAct "is still evolving," Magro said on a Nov. 4 conference call. "We've had very good two-way dialogue back and forth."
"We see substantial upside potential if ValueAct gains a board seat but no reason to be involved if it doesn't," Mark Connelly, an analyst at CLSA in New York who rates Agrium a sell, said in a note yesterday.
While Jana failed to get its board nominees elected last year, Agrium's then-CEO Mike Wilson retired at the end of 2013, to be replaced by Magro. Agrium says that since the Jana fight it has returned more cash to shareholders and cut costs.
Jana "made some great points for the company, they got new management in place, but I think they got confused about what winning is," Ubben said last week, noting the management changes were a victory. "It's not about winning or losing a proxy contest, it's about creating long-term value in your company."