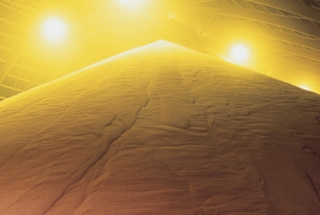 Agrium Inc., the largest agricultural retailer to U.S. farmers, is poised for its biggest two-day loss since January after Bank of Nova Scotia analyst Ben Isaacson dropped the company from his focus list, citing its valuation.
Isaacson now has a sector outperform rating for Agrium, or buy, albeit with less conviction because of lower nitrogen prices and a weaker agricultural outlook beyond 2016, according to a note.
A rout in crop prices is taking its toll on fertilizer makers. Three straight years of declining corn, wheat and soybean futures have shrunk farmer income and lowered demand for growing supplies.
Agrium shares tumbled 3.8 percent to $84.79 at 11:33 a.m. in New York, after a 1.3 percent drop on Wednesday.
In the agriculture-chemical industry, "company forecasts have driven concern that new capacity and changing farm purchase patterns may prolong weak sales, despite the decline having slowed," Jason Miner, senior industry analyst for Bloomberg Intelligence, said this week in a report.