From tip to tip, Missy Bauer demonstrates the importance of sprayer calibration and settings in episode 10 of Corn College TV.
"Farmers need to think about what nozzle they need in the operation of the day and the product they are applying," Bauer says. "With a contact product you need good coverage with finer droplets. With a systemic herbicide, you don't want off-target issues so we want bigger droplet size."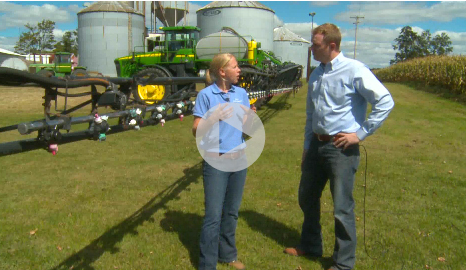 Consider your droplet size and nozzle configuration.
"For example, when applying some fungicides or insecticides, think about a twin nozzle to penetrate crop canopy with a nozzle that sprays at different angels," she says.
In the field, check boom height, and set it properly to the nozzle and the crop canopy.
With precision ag components, know the opportunities for their use and their limitations.
"A lot of people are looking at automated swath control," Bauer says. "Those systems track if we have already covered an area, and traveling across that area will have the nozzles shut off. In some cases this technology can pay for itself in one year."
But even with high-tech products installed on your sprayer, remember the calibration fundamentals.  
"Flow controllers in the cab only indicate the right rate of products is brought back to the boom, but nothing tells us how uniform it is across the boom at each nozzle," Bauer says. "It's key to calibrate your sprayer to determine rates and observe patterns to double check for plugging."
Sprayer calibration will help ensure uniformity across your sprayer boom. See a step-by-step calibration process in episode 10 of Corn College TV.