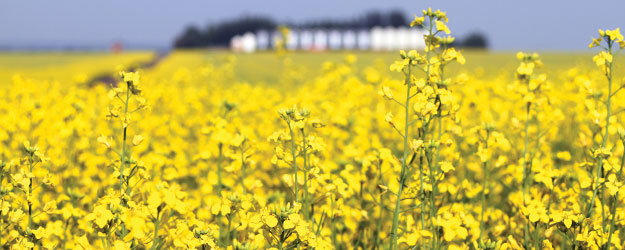 Tom Borgen speaks wistfully of the brilliant yellow flowers waving across fields in the northeast corner of North Dakota.
"They used to call canola the Cinderella crop because it was a niche crop that yielded surprisingly well and offered great returns," says Borgen, who grows canola and wheat in Cavalier County, N.D.
"You can't call it a niche around here anymore because everyone loves canola," Borgen says. "It's barely even a rotation crop; now growers plant it continuously." Cavalier County planted 240,000 acres of canola this year, up from 170,000 acres in 2009.
Demand for canola oil in the U.S. has increased as consumers have become more health-conscious and hungry to eliminate trans fat from their diets (see "Good Oils Drive Canola Demand" below). Meanwhile, canola prices have risen from domestic demand and a fivefold jump in canola purchases by China.
Production Surge. Farmers are happily responding to the market signals to grow canola. This year, more than 1.2 million acres of canola were planted in the U.S., up 45% from 2009. North Dakota farmers planted more than 1 million acres, a whopping 85% increase from this past year, according to USDA's acreage survey. In Minnesota, growers planted 31,000 acres of canola, up from 13,000 acres. Even in Georgia, growers are planting spring canola as a winter crop.
Barry Coleman, executive director of the Northern Canola Growers Association, says the increase stems from good yields and strong prices. "We've seen a lot of money invested into research in new canola hybrids that perform well," Coleman says. "We are now seeing the results of that research, with a lot of new hybrids producing good yields."
As growers become more comfortable with the crop, canola is moving out of the traditional growing region of the Dakotas and into pockets across the country, says John Kalthoff, oil seeds marketing specialist, Mycogen Seeds.
The Pacific Northwest is an area with immediate potential, thanks to nearby Canadian processors. Kalthoff says his company is conducting research there and in the Dakotas, Montana and Minnesota.
In Michigan and as far northeast as Maine, the crop is being studied as a possible rotation crop, Kalthoff says. "Canola is the kind of crop that gives fringe geographies some opportunity. Today, in the primary Corn Belt, we do not have canola hybrids that can withstand the climate and compete with corn and soybeans," he says.
One obstacle to further canola development is ready access to crushing facilities. "There just isn't a facility on every corner that wants to take canola, especially identity-preserved canola," Kalthoff says.
Canola producers in southern Illinois, for example, consistently report high yields. Yet they are limited in market potential due to a lack of nearby locations where they can sell canola, according to Michael Schmidt, associate professor of plant breeding and genetics at Southern Illinois University Carbondale. Also of concern is a lack of varieties suited to Midwestern growing conditions.
Canola does have rotational benefits that Midwestern producers should consider, Schmidt says. From 2005 to 2008, Midwestern researchers studied the profitability of winter canola com-pared with winter wheat following corn and soybeans in reduced-till and no-till systems. Results indicate that the difference in canola yields following a crop of corn versus soybean is insignificant and that canola can be grown profitably after either crop.
Researchers also have found in recent years that canola provides an opportunity for about 25% greater revenue per acre than wheat, despite higher input costs.
"If you can average 1,800 lb. per acre and it's a 50 lb. per bushel product with a market price of about 19¢ per lb., that will beat wheat around here," says North Dakota farmer Borgen.
This year, the price Borgen received for wheat was down due to discounts on protein and because basis rose in his area. "We weren't making as much on wheat as we could with canola," he says. "Our inputs are slightly more than wheat, but canola is an excellent rotation crop for wheat and it just makes sense to grow it."

Canada Still Tops. The 1.5 million acres of canola now planted annually in the U.S. still amount to less than one-third of total domestic consumption; Canada supplies the rest as the world's largest canola exporter.
Canada's canola production has increased as well during the past several years. Harvested area averaged 11 million acres from 1997 to 2006 but averaged 15 million in the past three years. With the adoption of hybrid canola seed, Canada's canola production has surged from 6.55 million tons to 10.51 million tons.
Canadian prairie farmers had planned to plant the largest canola crop in history this season; however, continuous rainfall through the end of the planting window limited opportunities. USDA's Foreign Agricultural Service estimates that Canada's canola planted area came in at around 14 million acres, just 80% of Canada's June estimate.
Borgen hopes adoption of canola by U.S. producers will take off, especially as consumers learn more about the value of canola oil for healthy cooking and if research continues to prove that canola can be good feedstock for biofuels.
"Every bushel of canola we produce in the U.S. is one less we have to buy from Canada," Borgen says. "It's about producing a homegrown product and responding to our own domestic demand.
"It's a good time to be a canola grower," he adds.
Good Oils Drive Canola Demand
A 2006 article in the New England Journal of Medicine found that trans fat substantially increases the risk of heart disease, even in small amounts. Since then, a growing number of studies have linked "bad fats," including trans fat, to risk of heart disease and pushed consumers and the food service industry to switch to healthier oils.
States such as California and cities such as New York and Boston have passed legislation to ban trans fat in restaurants. The Food and Drug Administration now requires all food labels to include the amount of trans fat.
In response to demand for healthier food, specialty canola oils have been developed for the restaurant and food service industries. Growers receive a few cents more per pound to grow specialty canolas for fast-food chains.
Omega-9 Canola Oil from Nexera canola seed, developed by Dow AgroSciences, has zero trans fat and a uniquely high level of heart-healthy monounsaturated fat. In the past five years, Omega-9 Oils have removed nearly 1 billion pounds of trans and saturated fats from the American diet, according to Dow AgroSciences.
Another hybrid delivering healthier oil is InVigor Health hybrid canola, developed by Cargill and Bayer CropScience.
 
---
Top Producer, September 2010