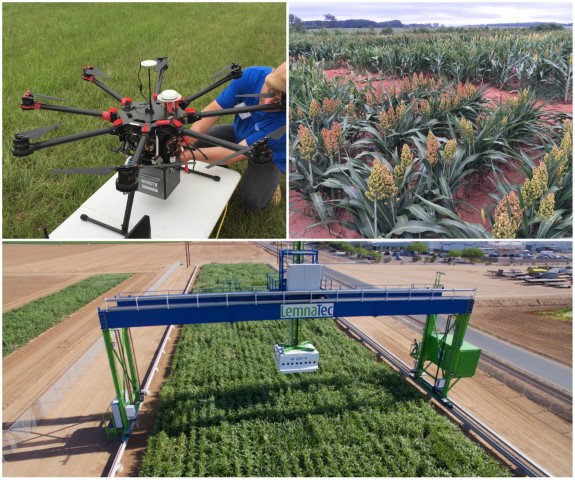 At the very heart of agriculture is the drive to feed the world. AgTech is enabling farmers to do this more efficiently and effectively than ever, and major investors are watching closely.
Case in point – the Donald Danforth Plant Science Center just secured a three-year, $6.1 million grant from the Bill & Melinda Gates Foundation to develop new sorghum varieties better suited for drought-stricken conditions.
"This grant will help increase the productivity of a crop that can, in a sustainable and effective way, reduce hunger and poverty and make communities economically stronger and more stable over the long term," according to James Carrington, president of the Danforth Center.
Researcher Todd Mockler says sorghum doesn't always receive as much attention as other grain crops, but it nonetheless serves a vital role in global food and biofuel production.
"It's a critical staple crop in many parts of the world," he says. "Many people don't realize it's also the No. 2 biofuel crop in the U.S."
Mockler and his colleagues will use a high-tech blend of plant genotyping and phenotyping, along with sensor and imagery technology, to rapidly accelerate breeding advancements. Researchers will test sorghum varieties in a variety of geographies – from Arizona to St. Louis to Senegal to Ethiopia to India – to match genetic performance to environment.
Additionally, researchers are developing a smartphone app for African sorghum farmers and breeders that allows them to phenotype plants simply by taking a photo of them.
"That kind of tool will be useful for anyone growing sorghum in the world," Mockler notes, adding that the underlying technology could also be used to develop similar tools for other crops.
Collectively, this project requires a level of computing power that would've made it impossible – or at least prohibitively expensive – even just a few years ago, according to Mockler.
"Even five years ago, a lot of remote sensing technology and the computation needed to back it up wasn't there yet," he says. "Now is the right time to apply these technologies."
Mockler says this project does a good job highlighting the Danforth Center's ongoing humanitarian efforts, and sorghum is a natural fit for this type of project. That's because its water use efficiency gives it an advantage over some other grain crops in drought-stressed growing regions. Also, the combination of sorghum's genetic diversity, coupled with the relative lack of investment, means there's a lot of potential upside for yield advancements, he says.
"This project will generate basic scientific information that can help humanity and our international outreach," he says.
For more information, visit www.DanforthCenter.org.