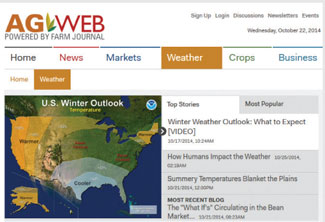 AgWeb is sporting a new look—and a new weather section. Here are three reasons to check it out:
1. Award-winning coverage. Catch up with the national forecast each day provided by "AgDay," and learn how long-term climate trends are shaping agriculture.
2. Interactivity. National forecasts are important, but local forecasts matter more. Enter your ZIP code to 
access your current conditions, including temperature and humidity, and a 10-day local forecast.
3. One-stop map source. Start with a classic radar map, then move to precipitation maps, including observed, seasonal, cumulative and long-term rainfall outlook. Dive into temperature maps for daily ranges and long-term outlooks. New soil maps detail soil temperature, soil moisture, crop moisture and watering needs. Farmers can see frost/freeze outlooks as well as growing degree days.
To explore the new AgWeb weather section, visit www.AgWeb.com/weather