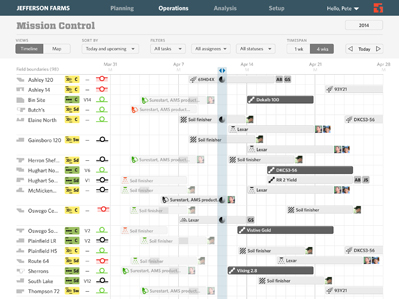 Strong business practices are integral to daily life on the largest U.S. farms. These operations—roughly 40,000 in all according to USDA—manage more than a third of the country's cropland by closely analyzing field work and inputs along with commodity prices and the cost of production.

There's just one problem: Much of that information is stored separately in Microsoft Excel spreadsheets, accounting software and in paper form. That makes it difficult to get a full picture of a complex operation, share information across a team or to compare historical data to improve efficiencies year-to-year.

To that end, a new company called Granular Inc. has developed a cloud-based software platform that producers can use to manage work assignments while storing and analyzing an array of farm data for planning, operations, marketing and accounting.

"Farmers have the same need to build a really detailed plan and schedule, and then execute that plan efficiently in the growing cycle," says Sid Gorham, CEO, Granular. "Coming out the back, they need to use all of that information to make the right decisions around grain marketing, business expansion and future crop cycles."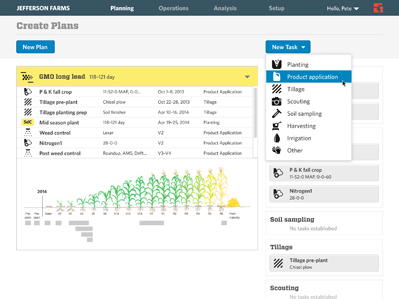 The system will enable Tom Farms LLC of Leesburg, Ind., to dispatch, send work orders and allocate resources to operators in the field, while tracking associated cost, says managing member Kip Tom. His operation is one of seven in the Midwest that will beta test the software during spring planting.

"This is going to give us the ability to understand our cost of operations real time, as well as benchmarking, and forecasting to make better financial decisions," Tom explains. The equipment operator with a few clicks on his smart phone or tablet will share with his team his or her progress and as well the back office the cost associated with a field process.

The subscription service will be made available for purchase starting this summer at an annual per-acre cost. Additional business tools and functionality for smaller operations are planned in the future.

From soil to software. Work on the software began at Solum Inc., a soil testing and fertility analysis company founded in 2009. This month, Solum was acquired by The Climate Corporation and will maintain operations in Ames, Iowa, where its soil lab operates.

Meanwhile, the software portion of the business operating under a new name—Granular—is headquartered in San Francisco with a growing employee base in the central Corn Belt. Gorham, whose previous projects include the restaurant reservation platform OpenTable, says Granular appealed to him because of agriculture's global importance and the challenge of learning a new industry

"I am really excited to serve this customer base and develop technology that farming businesses, which are vitally important to the world, can use to be as successful as possible," he says.

Development of the farm business software is being funded in part with proceeds from the sale of Solum along with $4.2 million from the venture capital firms Andreessen Horowitz, Google Ventures and Khosla Ventures.

An Industry Advisory Board will guide the company's strategy and is chaired by Tom. Other members include David Hughes, president, TraulenCo S.A.; Danny Klinefelter, professor and Extension economist with Texas AgriLife Extension and Texas A&M University; and Lance Woodbury, an adviser to family-owned and closely-held businesses.

"We wanted a representation of folks who are producers themselves but also people like Danny and Lance who are business advisers and business teachers to the industry," Gorham explains.

Spring testing. In Indiana, Tom is working with between 15 and 20 farm employees to train on the new business platform. He and his son, Chris, had been seeking an enterprise resource planning (ERP) solution, which most manufacturers use to understand the inner workings of their business.

He says Granular is an exciting development because it will limit duplication of work and allow for earlier analysis of business practices. Previously, the farm used Excel files with hundreds of tabs and CenterPoint accounting software to manage its information. Eventually, he expects, Granular will handle all of it.

"Looking into the future, we'll be considering weather data and how prior data in similar years affected our ability to plant our crop by a certain date," Tom says.

The farm management team will access the Granular platform through a web application. "For everyone else on the team, there is a Granular mobile application that will be installed on their smartphone, either Android or Apple, and that is focused on work orders and collaboration tools," Gorham explains.This year, Tom will use the software to keep track of the operational cost of equipment, daily activities, and the number of acres that can be planted per planter per day.

The system will also benefit farmer peer-to-peer networks, Gorham adds.

"One of the challenges they have is getting their data organized in an apples-to-apples way so you can start drawing real conclusions around which farms are doing something potentially better than what others are doing," he says.

Although Granular has been focused on corn and soybean growers in the Midwest, Gorham says the software isn't specific to any cropping system. That means farmers throughout the U.S. will be able to use the service.

The company intends to deliver accounting functionality either through a partnership or by building its own tools. Additionally, Granular plans to partner or integrate with manufacturers of various precision ag and machine-control software.

"There are lots of different precision ag packages on the market that, to varying degrees, people are happy with," Gorham says. "That is one we probably won't need to tackle."

Further, Granular's functionality means the company could take the software to places such as Latin America and the former Soviet Union in the future.

"Those are very attractive markets," he says.

The company has taken steps to encrypt data and secure it against hacking and other misuse. While there might be opportunities to market anonymized and aggregated data in the distant future, Granular pledges to only do so with the full buy-in of its customer base, Gorham says.

"If and when we pursue it, we will do it in such a way that our customers share in the profit of that data-sharing," he notes

For now, the company is concentrating on its initial testing and rollout of the business software to charter customers, but prospecting for customers is underway ahead of the post-planting official launch.

"I think this is going to be something that clearly will help farmers differentiate themselves from, quote end quote, their competition because they're going to have access to more information to give themselves the ability to make better decisions," Tom says. "Granular should be broadly accepted."

For more information, visit http://www.granular.ag/.
Solving three limitations

The cloud-based software platform Granular aims to help farm operators by providing:
Better information collection: Measurement is the key to process improvement. Until producers know how long it took them to do something, they can't do it faster. By planning and monitoring their operations via the Granular system, growers will collect the statistics they need to drive efficiency both within and across crop cycles.

 

Information integration: Because Excel, paper and accounting records are disconnected, it is hard for growers to get an end-to-end understanding of their process or their profitability. This, in turn, makes it hard to make the best business decisions or improve efficiency quickly.

 

Information sharing: Farm businesses can have 20 or more team members dispersed over a wide geographic area performing complex work. By using the Granular app on their mobile devices, these teams can share information, stay coordinated and get their work done faster and easier.