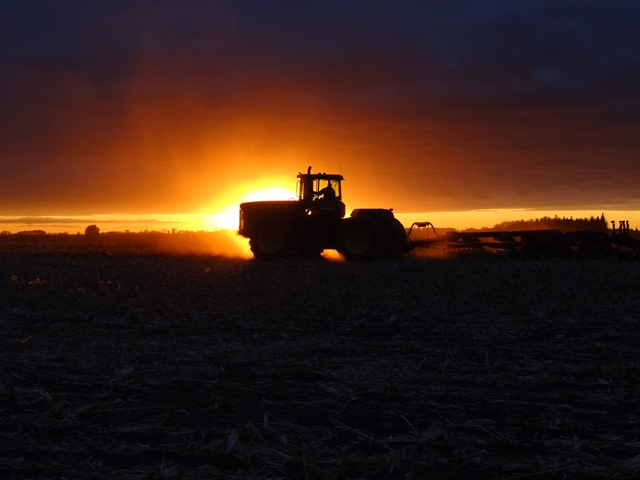 As the sun sets on 2014, it's easy to look back and see that it was a year of ups and downs. A new farm bill was passed, record crops caused white-knuckle grain prices, and the livestock industry regained its footing.
But what stories and issues really captured your attention? Here, we look back on AgWeb's top stories of the year.
Posted: July 8
Greg Peterson, also known as Machinery Pete, has seen more than 1,700 John Deere 4020s sold at auction over the last 18 years, but four of the six highest-ever sale prices he's seen came from one auction in southwest Iowa this year. Of course, Pete covered the auction, and of course, he took video. And those of you who light up at the color green just couldn't resist.
 
Posted: Sept. 12

When USDA released its annual cash rent survey this year, some of the results were pretty astounding, and really brought to light where the competition for quality farm ground is highest. The good news? "Farmland rents will likely be $10/acre lower in 2015 to start a three-year adjustment process," says Gary Schnitkey, University of Illinois ag economist.
 
Posted: July 4

After USDA released its annual Acreage report on June 30, grain and oilseed prices plunged. And with little hope of any price action over the Independence Day weekend, Jerry Gulke, president of The Gulke Group, shared his thoughts on grain price potential: "We may have to light our own real fireworks."
Posted: Sept. 8

The corn crop was still maturing and harvest hadn't quite begun yet when Mother Nature decided to play hard ball. During the second week of September, a cold front threatened the Great Plains and Upper Midwest with an early frost. However, with a record crop expected, meteorologists assured us the impact would be minimal.
 
Posted: Jan. 31

We had barely started 2014 when Congress finally agreed upon a new farm bill, to the relief of many. However, the changes and additions made to crop insurance and other safety net provisions were confusing, to say the least. Fortunately, Carl Zulauf of the University of Illinois did his best to outline the key differences in the new provisions.
 
Posted: Aug. 21

AgWeb readers showed their love of big green machines once again when John Deere unveiled its 9R/9RT series of tractors, including the 9620R. At 620 hp, it's the largest John Deere tractor ever built.
Posted: Sept. 6

As prices continued to tumble in the wake of growing yield projections, Jerry Gulke, president of The Gulke Group, advised farmers to stash their grain and ride out the storm. "You don't have to sell it just because everyone wants to give you a dollar a bushel less than you think it might be worth, just because you have 10 percent too much," he said. "It's a cat and mouse game, and it's going to be decided by who's going to blink first."
Posted: Sept. 23

As tragic as this story is, it serves as a reminder of the dangers of farming—and the importance of farm safety.
Posted: July 29

That's roughly $235,000 per acre. Seriously, why? Well, it turns out that this is kind of a sad story. The Johndahl family in Minnetonka, Minn., had farmed the 25.5-acre parcel for the past 60 years, while the suburbs grew up around it. Finally, a housing developer made them an offer they couldn't refuse. So what's the sad part? There is now no more farmland in Minnetonka.
 
Posted: July 11

By mid-summer, many were wondering if grain prices had hit bottom yet—and whether or not they would stay there. But even among all the doom and gloom, Jerry Gulke still said there was four ways the markets could turn around.
What do you think the biggest story of the year was? Share your thoughts in the comments section below!