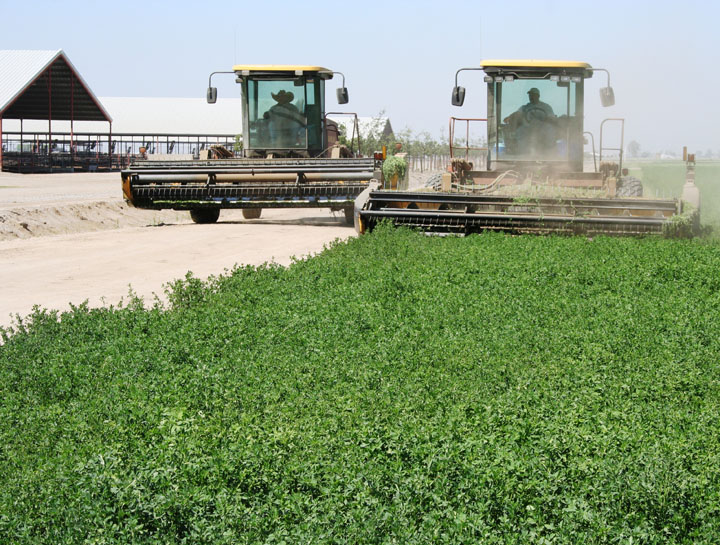 Global demand for high-quality forage will continue to increase, keeping alfalfa hay prices near historically high levels.
Alfalfa hay prices in 2015 are likely to fall below last year's levels as demand from China and California dairies declines, hay market expert Seth Hoyt said today at World Ag Expo in Tulare, Calif.
Speaking to a standing-room-only crowd, Hoyt said prices for alfalfa hay have already dropped to the $250-$290 per-ton range, down from last year's peak of $339 for supreme quality hay delivered in Central California.
Several factors are pressuring prices lower. Among them: weaker demand from dairies, who are watching milk prices sink. "It doesn't appear there will be the aggressive buying from dairies like a year ago," Hoyt said.
Last year's sky-high alfalfa prices sent dairy producers looking for feed replacements, causing demand for alfalfa hay to decline. The average amount of alfalfa hay fed to California milk cows dropped to about 7 lb. per cow per day in 2014, down from about 12.5 lb. in 2004, Hoyt said. California dairies are typically the largest market for the West's alfalfa hay. Many dairies are feeding the more economical wheat straw in place of higher-cost alfalfa hay.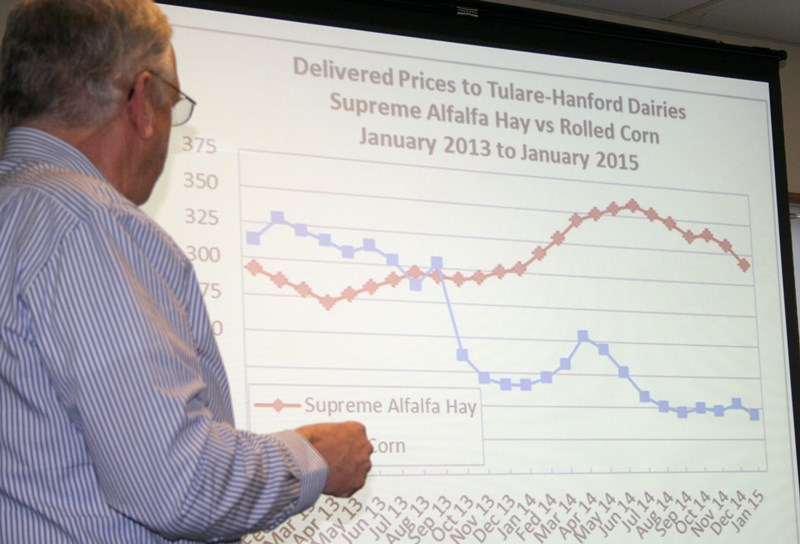 Seth Hoyt compares alfalfa and corn prices during his presentation Tuesday at World Ag Expo.
Also pushing alfalfa hay prices lower are a labor dispute at West Coast ports that's causing inventory to back up; a stronger dollar making U.S. products more expensive to export; and declining demand from China and the United Arab Emirates.
Alfalfa production in the West, especially California, will likely drop due to the drought and the uncertainty of water supplies.  "But as long as growers in other states are producing alfalfa hay, the drought won't have as big an influence," Hoyt said.
Alfalfa prices could rebound if rain damages crop yields and quality. But, unlike last year, "alfalfa producers are not going to go for tonnage early," Hoyt said. "This year, they're going to go for quality. That's where the demand is."
Despite the softened near-term price outlook, alfalfa hay prices are expected to remain near historically high levels as global demand for high-quality forage continues to increase, Rabobank's Food & Agribusiness Research and Advisory group (FAR) reported today.
Driven primarily by global demand, Western U.S. hay prices have nearly doubled in the last 10 years,  up from an average of $100 per ton, Rabobank said in its newest report, "Western U.S. Forage –What the Hay is Happening to Prices!" This new 10-year average for prices is expected to hold, despite potential challenges with shipping, product testing, and the ongoing drought in California.
China's rapid development is a primary price influencer, said Rabobank-FAR analysts Vernon Crowder and James Williamson.
"When feeding one-seventh of the world's population, minor changes have big effects," said Williamson. "Following the melamine scandal in 2008, China started importing large amount of Western U.S. forage, subsequently growing to account for 20% of total U.S. hay exports today."
The report also noted that in 2008 the United Arab Emirate banned production of hay, driving the global market to seek added supply from other sources, such as the U.S.
While high prices typically tend to be the biggest influence on planted acres, Rabobank said, Western U.S. hay producers are facing a severe and prolonged drought, forcing many to fallow good production ground. Others are selling their limited water supplies to growers of permanent, less drought-tolerant crops. Rabobank reported that an estimated 300,000 acres of hay-producing ground – most of it in California – has been pulled from production.
"Hay producers are concerned about prices reflecting falling milk prices, but the continued drought may pull even more hay out of production," Crowder said today at the Rabobank booth at World Ag Expo.
Rabobank expects demand for high quality, Western U.S. forage to remain strong, although the short-term challenges will add increased volatility and ultimately upward pressure on prices.
"What that means for dairies is that hay prices are not going back to the 10-year average of $100 per ton," Crowder said.
World Ag Expo, taking place Feb. 10-12, is billed as the world's largest annual agricultural show. Held at the International Agri-Center in Tulare, Calif., it's expected to draw 100,000 attendees this week.