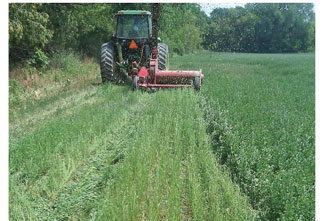 Advanced technology gives an old crop new use
Over time, government programs and farm economics have honed the Corn Belt's comparative advantage for corn and soybeans into what some call "a cash grain desert." That could be changing with a concerted effort by the USDA-Agricultural Research Service (ARS) to reintroduce alfalfa production into traditional corn–soybean rotations. In fact, the development of new alfalfa harvesting technology could open up several lucrative markets and animal feeding options, while reducing labor.

Leaves and stems. A prototype leaf-stripper harvester is being developed at the University of Wisconsin to separate harvested alfalfa into two product streams. The leaves can be used as feed or extracted for protein and other co-products, while the stems can be used for animal roughage or feedstock for bioenergy and other bio-products. This process uncouples alfalfa harvest from the forage quality demands of today's harvest schedule and the inevitable weather-related problems of managing high-quality alfalfa.

"By separating the leaves and stems, a cattle feeder can then mix appropriate amounts of each for any number of animal feeding scenarios," says Doug Karlen, research soil scientist at the USDA–ARS National Laboratory for Agriculture and the Environment in Ames, Iowa. "Also, having the products separated and stored allows for the development of other markets for both plant components."

The new stripper technology and an experimental biomass alfalfa variety provided by JoAnn Lamb, a USDA-ARS research geneticist at Minnesota's Plant Science Research Unit in St. Paul, are being used in research plots in Minnesota and Iowa to explore the agronomic advantages of adding alfalfa into corn–soybean rotations.

"We looked at similar alfalfa-in-rotation cropping plans for about nine years in western Iowa in the 1990s," Karlen says. "Once our cooperators were accustomed to handling the forage, we found substantial reductions in nitrogen requirements for corn. If there was an excess of nitrogen in the soil profile, we found the alfalfa was a good scavenger for that nutrient.

"This offers an environmental advantage for putting alfalfa in modern cropping schemes because it addresses concerns for excess nutrient leaching and runoff, as well as provides new organic matter to the soil in the form of alfalfa's deep and fibrous root system," Karlen adds. "Couple those factors with a profitable rotation crop that fixes nitrogen, stores carbon, holds soil in place and disrupts weed and pest cycles, and the benefits compound."

Moving forward, the researchers plan to scale up the study to examine harvesting techniques and the impact on farming and the environment.

Steps forward. At the U.S. Dairy Forage Research Center in Madison, Wis., USDA-ARS plant physiologist Ronald Hatfield says preliminary results of this summer's test of leaf-stripped alfalfa versus a typical early bud-stage harvest shows similar results when the forage was fed to 44 dairy cows.

"We were looking for anything we might be doing by separating the leaf and stem harvest that would cause a problem for cows, Hatfield says. "In short, we found the same milk production on a kilogram-per-day basis, and the same milk parameters. There was a small difference in protein and fat, but in most cases it wasn't significantly different. 

A second test this summer will check the effects of a cool, wet spring and the tall lodging-prone alfalfa it produced. 

Afterward, researchers will determine if further development is needed on the stripper harvester and look at using the 25% to 30% protein alfalfa leaves as a building block for poultry or other animal feeds.

"There are valuable agronomic and environmental reasons to put alfalfa back in our corn and bean rotation," Hatfield says, "but we're interested in providing opportunities for the products alfalfa can support. That way growers can maximize the value of alfalfa."