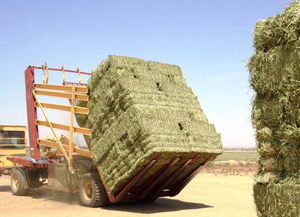 Alfalfa prices soared in many western states in the past year, but the higher prices aren't likely to pull acreage back from corn.
"At $6 to $7 corn, it's hard to get anybody's attention" to grow other crops, said Dean Batie, a manager with United Farm and Ranch Management, Kearney, Neb.
Central Nebraska was historically a center of alfalfa hay production and home to a thriving alfalfa dehydrating industry. Energy costs drove many dehydrators out of business, and growers have continued to shift their crops toward corn. The state's alfalfa hay acreage dropped by 460,000 acres since 2000 while corn area rose 650,000 acres.
In the Columbia Basin of Washington and Oregon, alfalfa has long been a major crop but corn is eating into alfalfa area there, too.
"We are losing some acreage to corn," said Shannon Neibergs, a Washington State University economist who tracks alfalfa markets in the West. Ethanol producers in the Midwest are buying corn and shipping distillers dried grains to the West. "We need corn to mix in rations," said Neibergs. "In the Midwest, it's taken. So we have more demand for corn that is locally grown."
Supply, price changes vary widely
The national average alfalfa price in May hit $186/ton, up more than half from a year ago, even though May 1 U.S. stocks also were up 6 percent. Changes in alfalfa hay supplies and prices vary greatly from state to state.
In Corn Belt states from Nebraska to Ohio and up to Minnesota and Wisconsin, May 1 stocks rose from a year ago. The increases ranged from 3 percent in Illinois to as much as 45 percent in Iowa and 49 percent in Wisconsin. But stocks were down in the big producing states of Kansas and South Dakota. May average alfalfa hay prices in Corn Belt states varied from down 17 percent in Wisconsin to up 15 percent in Illinois.
Among big dairy alfalfa demand states, stocks plunged from a year ago by 63 percent in California, 64 percent in Idaho, 32 percent in New York, and 50 percent in Pennsylvania. Compared with a year ago, average alfalfa hay prices during May soared by 98 percent in Idaho, 94 percent in California, and 77 percent in Nevada. Prices gained 19 percent in Pennsylvania and 25 percent in New York.
Across many western and northern states, the cool, wet spring delayed alfalfa growth and will curb the season's yields. Neibergs said some Columbia Basin growers delayed cutting as they waited for fair weather. They took their first cutting when alfalfa had matured beyond optimum, so its quality was not as good as if weather had favored more timely cutting.
Acreage trending lower
U.S. alfalfa acreage harvested for hay has trended down from nearly 30 million acres in 1965 to just under 20 million in 2010. Last year's 6 percent drop in harvested acres was the second biggest loss of alfalfa hay acres since 1965. The biggest percentage decline was nearly 8 percent in 2004.
Alfalfa acreage likely is down again this year. Fresh estimates will be part of USDA's June 30 Acreage report. The March Prospective Plantings report didn't specify land to be cut for alfalfa hay, but it projected the country's area of all hay harvested this year will be down 1 percent from last year. The report showed acreage this year falling 5 percent or more in states including Arizona, California, Idaho, New Mexico, and Washington.
Curbing costs, getting paid
Alfalfa yields in Idaho may drop 15 percent this year because of the cool, wet spring, and acreage likely is lower because of strong corn and wheat prices, said C. Wilson Gray, University of Idaho economist.
"Several factors play into that," said Gray of the acreage competition. "With wheat, your cost is going to be less when harvesting. You can take it off in August and be done with it, compared to the higher cost with hay production" to harvest multiple cuttings.
Growers also have worried in recent years about whether they get paid promptly or at all for their alfalfa.
"For a number of dairies, the cash flow has been really tight so they haven't been able to put a lot of money down for future delivery," said Gray. Better financial condition for dairies may boost interest in growing alfalfa as a cash crop. "If we can get to where there is more assurance that they can be paid when they bring the hay in, that will help a lot," said Gray.
.............................................
Western Alfalfa Hay Prices Strong as Baling Progresses
Alfalfa hay production started late this year in many western and northern states because of cool, wet spring weather. Even as harvest advanced, prices for premium-grade alfalfa stayed strong.
Here's how first-cutting progress and prices looked last week, based on USDA's Crop Progress reports issued June 20 and Market News reports through June 24:
California, which produces more alfalfa in terms of crop value than any other state, was harvesting the first to fourth cutting. In Tulare and nearby markets, premium alfalfa sold for about $298/ton in the week ended June 24, up from $285 a month earlier and $150 a year ago. "Demand for high-quality dairy hay remains very good," said Market News, while export demand increased in Northern California. Soaring alfalfa seed prices pulled "quite a few acres out of hay production for the summer to add to the lighter than normal supply."
Idaho, where alfalfa is the No. 2 cash crop behind potatoes, reported just 36 percent of its first cutting complete, down from 46 percent a year ago and the five-year average 58 percent by the same date. Hay and roughage supplies were reported 54 percent very short, 19 percent short, and 27 percent adequate, with no surplus. In the week to June 24, good to premium large square bales with some rain damage were selling for $195/ton. A year ago, prices were about $92 for good quality and $135 for premium to supreme quality.
In Washington, the first cutting is about three weeks behind normal. Rain delayed cutting and damaged cut hay. As of June 19, growers had finished 60 percent of the first cutting, off from the five-year average 79 percent by the same date. In the Columbia Basin last week, premium large squares sold for $225/ton, up from $130 a year ago. The export premium last week was $10/ton, down from $20 a year ago.
In Texas, "Summer hay stockpiles were short in most areas of the state due to drought conditions," reported the Texas ag statistics office. Last week, large square bales of premium to supreme alfalfa were selling for $250 to $275/ton, up from $150 to $165 a year ago.
Nebraska's first-cutting progress lagged normal in the first week of June, but as of June 19 was running ahead of normal. Growers had finished 83 percent of their first cutting. Crop condition was similar to last year and higher than average. In northeast Nebraska, premium large squares sold last week for $185/ton, up from $140 to $160 a year ago.
---