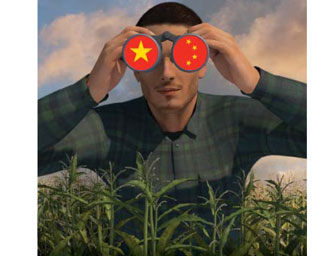 Food security an issue as country expands
The world has been watching China for some time now as the developing country struggles to sustain its blossoming middle class. China aims to move 250 million people from rural areas into cities by 2025, according to The World Bank. The question for the U.S. and other commodity trading partners is whether China should be viewed as a peril or a partner.

"China is here to stay," says Mark Lyons, vice president of corporate affairs for Alltech, a global animal nutrition and feed product company. Lyons is based in Beijing and leads the company's "China Now" initiative, which is working to deepen support of the livestock industry through research and education. "The Chinese believe they are the leaders of the 21st century, replacing superpowers such as the United States," he says.

The country boasts the second-largest economy in the world and is a market that highly influences global business. "We see China as a major partner," Lyons says. "Today, it's our third largest market ... one day, it will be our largest market."

Lyons notes six megatrends in China driving some of the changes there: urbanization; an increase in manufacturing scale; the rise of Chinese consumers; the infusion of more money; high levels of education spending; and the rapid growth of Chinese Internet usage. With these trends come challenges, including a greater push for environmental protection and "green growth," Lyons says. Other concerns are changing demographics including an aging population, limited arable land, polluted water and air, shadow banking, food security and a young urban population that is disillusioned by rising costs and job scarcity despite high education levels.
The Big Transition. China has emerged as a leader economically and socially. More than 600 million people have transitioned out of poverty, making China the first developing country with such a large number of people living on more than $1.25 a day, The World Bank says. 

In addition, China's rapid growth has enabled it to invest billions of dollars in countries throughout Africa. Yet China's progress is not without its challenges. Its urban development and growing economy (the middle class expands 21% each year) has led to a widening gap between food supply and changing dietary preferences. The country's food demand is projected to grow threefold by 2030, and consumption patterns have shifted from grain-based diets to those with more animal-based protein. Meanwhile, China has the second-highest number of the world's poor.

Food security is top of mind for the nation's leaders. This past spring, China's Ministry of Agriculture held a conference in Gongan County, Huibei Province, to showcase a mechanized high-efficiency production method for canola. 

It exemplifies the Ministry's recent efforts to encourage the adoption of modern farming machinery in lieu of traditional farming practices. The overall aim of China's plan for rural development is to ensure national food security by strengthening domestic agricultural production and closing developmental gaps between rural and urban regions, notes a recent report from Dezan Shira & Associates, a specialist foreign direct investment practice providing business advisory to multinationals investing in Asia.
On a broader level, the Chinese government aims to ensure national food security by dedicating a certain portion of the country's land to agriculture (especially grain), improving the pricing and monitoring system for food and increasing safety standards. The government also is planning to increase participation in international trade while strengthening cooperation with bordering countries in farming and agricultural development to augment China's domestic food supply.

"China wants to further modernize and industrialize the country's rural areas," the report notes. 

Many farmers in China's rural areas rely on small plots and lack high-tech equipment. The government is encouraging farmers, businesses and research institutes to develop innovative science and technology. It also plans to improve communication and transportation systems to connect farms to market. 

The focus on food is positive news for foreign firms that can provide machinery and technology to China, which relies heavily on foreign imports for high-tech equipment. In the coming decades, China will serve as a guidepost for the challenges and opportunities available to emerging markets in domestic production, global market participation and support of a new urban population.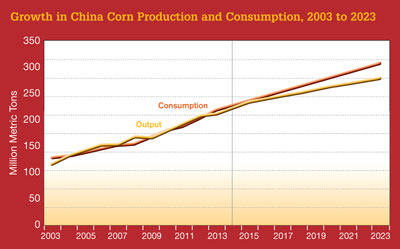 China's demand for imported corn depends on how much domestic production can be expanded. Yield gains alone will not be enough to keep up with the expected consumption. 
---
Six Megatrends Driving Change in China's Economy
1. Urbanization: People are moving in massive numbers into cities. Young people plan to stay and enjoy the city life.
2. Increase in Manufacturing: The manufacturing base has vastly increased. The meaning of "Made in China" will change.
3. Rise of Consumers: An additional 200 million people will enter the Chinese middle class by 2026.
4. More Money: China has more than $15 trillion in bank deposits, and the figure is growing by 
$2 trillion per year.
5. Brainpower Behemoth: The country's investment in education spending has doubled since 1998.
6. Internet Usage: China boasts more users than any other country at 550 million. Penetration is comparatively low, but it is exploding.
---
By Ed Clark 
Corn Demand Set to Rise 41% By 2023
If future corn demand in China is in the ballpark of what some experts predict, import growth—mostly from the U.S.—will be explosive.  

China's corn demand will increase 41% by 2023-24, according to a new report from USDA—Economic Research Service (ERS). Department economists say while China, the world's No. 2 producer, will increase production with acreage and yield gains, its consumption will rise even more quickly. It will need to import 866 million bushels, nearly half of this year's estimated U.S. corn exports of 1.9 billion bushels.

Import needs could far eclipse this rosy forecast. Even though USDA has pegged Chinese yields to increase yearly by 1.86 bushels per acre over 10 years—in line with projected U.S. yield gains of 2 bushels per acre and up from earlier projections of 1.2 bushels per acre—those yields comparatively are far lower than those found in the U.S. on roughly the same area of production. By 2023, the divide between corn production and consumption in China could double if output growth comes exclusively from yield gains. Yield growth at historical rates would result in an even wider gap.

Yet dramatic increases in imports are not automatic, USDA—ERS economists caution. Slowing income growth, rising prices and livestock disease could temper demand. Additionally, policy changes are needed for a substantial uptick in corn imports. USDA's projected corn exports exceed the nation's annual 7.2 million metric ton tariff rate quota, a figure set when China joined the WTO. Imports within the quota are subject to a low 1% tariff, and over-quota corn imports are assessed a prohibitive 65% tariff. Bullish USDA projections presume China would expand the quota or introduce a sliding scale tariff mechanism.

In reality, China is likely to buy more corn. From 2010-12, the U.S. accounted for 97% of China corn imports. "As China's demand for corn imports grows, the U.S. and other exporting countries will need to boost production to prevent world prices from rising sharply," USDA—ERS says.
---

---
China's Pork Obsession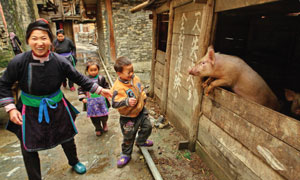 More than half the world's hogs now live in China. The Institute for Agriculture and Trade Policy (IATP) has released a report showing how China developed the world's largest pork industry to feed a rising middle class. As China's hog population grows, the country's total meat production is expected to reach 93 million tons by the end of the decade. Higher growth rates of chicken and beef will drive much of the increase, but by 2022 pork will remain emperor of China, accounting for 63% of production in terms of retail weight.

A quickly rising appetite for pork in China has fueled the sudden jump in production. In the mid-1970s, in the midst of the country's Green Revolution, an average Chinese citizen ate an average of 8 kilograms of pork per year. Today, each person in China eats about 39 kilograms of pork a year, while Americans eat about 27 kilograms.

Yet there are problems with pork production in China, notes Defa Li, Dean of the China Agriculture University, China. Challenges faced by pork producers include disease control, low production, feeding and management knowledge, environmental pollution and food safety. 

"The number of pigs produced per sow per year is 14 pigs," Li says. "That is 10 piglets behind major countries.The average mortality rate is 12%."

Li says farmer control is key. "We need vaccine programs and clean breeding stock to remove viruses. Secondly, we need a good feed supply. Third, we need better management on the farm."

If China can meet those challenges and develop farm waste treatment systems to reduce environmental pollution, the country might become sustainable in pork production. "Our genetics are really pretty good," Li adds.