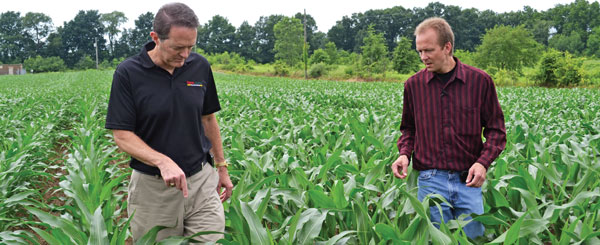 The most hyped weather event? Or most overhyped?
The boy is back in town. More specifically, meteorologists are predicting with a 70% to 80% certainty that El Niño ("the boy" in Spanish) conditions will arrive later this summer. An El Niño event occurs when warm ocean water temperatures develop off the Pacific coast of South America.

What could happen. It's a practical question to ask: "What growing conditions could I reasonably expect during El Niño?" For the U.S., the effects are relatively benign.

Specifically, the West and Southwest could see drought relief, according to Tony Lupo, chair of atmospheric sciences at the University of Missouri College of Agriculture, Food and Natural Resources. A return to an El Niño state would bring much-needed rainfall across large portions of the West.

From a seed production standpoint, favorable growing conditions are possible in the eastern Corn Belt, adds Chris Anderson, the assistant director of Iowa State University's Climate Science Program. 

South America, though, might have a tougher road to harvest [it is now winter in the Southern Hemisphere]. Added up, it might make for an interesting seed production year, he says.

"Seed production fields, especially Iowa eastward, could have a big production year," Anderson says. "El Niño could act like a supply enhancer, so to speak. The specific South American impacts of El Niño are a wet Argentina and warm Brazil. Heat poses more problems for soybeans than it does for corn in South America during El Niño. The big thing this year is they're coming off a dry period, and the soil may be too dry to be supportive should a hot period emerge this winter under the influence of El Niño."

No two are alike? The best year with a summer El Niño was 1994 when yields tipped the scales at 120% of the five-year average, Anderson says. Unfortunately, that's not the best year to compare to 2014, he says, because 1994 was an extension of already existing El Niño conditions, not a "ramp up" of a new occurrence.

USDA meteorologist Brad Rippey says it might make better sense to look back to 2009, another strong production year. 

In 2009, it was a "cool, wet summer for the Midwest, and it was record production and yield," he explains.

AgDay meteorologist Mike Hoffman says it's difficult to make any lockdown predictions based on similarities to prior El Niño events.

"Every El Niño is different, and the effects are different as well," he adds.

Strength, duration and other weather factors also have to be considered. During this past year, for example, a persistent pocket of very warm water in the northeastern Pacific Ocean was the biggest factor in the extremely cold winter across the heartland. It also contributed to a cooler than normal spring and an increase in moisture from the Rockies eastward. It had absolutely nothing to do with El Niño.

The likelihood of a strong El Niño is actually relatively rare, Rippey adds. This also makes the system more difficult for meteorologists to predict. 

"The stronger the El Niño, the more I can look like a soothsayer," Rippey says. "The weaker the event and anything goes."