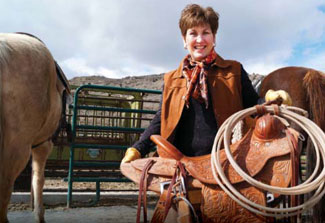 On the corner of LuAnn Adams' desk sits a silver saddle stirrup inscribed with the words "Always Circle The Herd." The memento is a gift Adams received from a colleague when she was named Utah's seventh commissioner of agriculture and food and became the first woman to hold the job. It is a reminder of the advice she often gives new people joining the commission when they "act like they could change the world," Adams says. "I love enthusiasm, but I always tell people to take the time to circle the herd, get to know your team, talk to the people you serve and really listen before implementing big change," she says. Not that Adams is afraid of change; she's heavily involved in the state's contentious water and environmental issues, including invasive species laws and highly contested grazing rules. Adams helped shepherd new state programs such as "Utah's Own," which reconnects consumers with their food supply and promotes the benefits of the state's locally grown and processed foods, which represent 14% of Utah's economy. And she stands firm in her opinion that the federal government needs to completely overhaul the guest worker program. "The paperwork and rules today are ridiculous for a working farmer or rancher to manage," she says. 

A self-described cowgirl who loves to ride horses and cook dinner for her 12 grandchildren, Adams still carries the work ethic of the ranches she grew up on and the 1,000-cow operation she and her husband operate outside of Salt Lake City. Adams takes over the ag department at a time when Utah's farm income—up 28% since 2007—is rising. With more small farms in niche markets, the number of farms is also growing. Adams embraces new players in her state's ag market, such as hydroponic tomato growers and the growing demographics of young and female producers. After all, she knows it's important to circle her herd—whether they be cows, farmers or fellow lawmakers.
Appointed as the first female commissioner of the Utah Department of Agriculture and Food in 2014, LuAnn Adams has worked to build consensus among ranchers, environmentalists, crop producers and small urban farmers. She feels most at home, though, on her family's ranch.