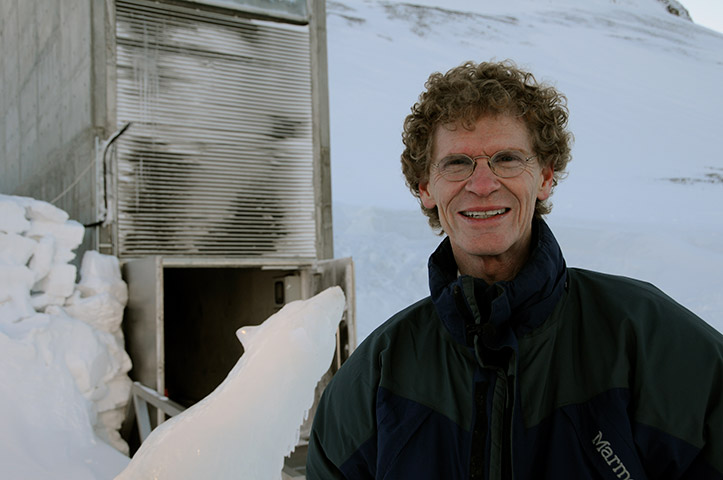 A concrete bunker on the Norwegian island of Spitsbergen, 800 miles from the North Pole, is agriculture's library of life, and Cary Fowler is the force that brought it to fruition. In 2008, the Svalbard Global Seed Vault officially opened, representing the past, present and future of global agriculture.
 
Bucking convention, Fowler, an American agriculturalist born in Memphis, Tenn., recognized the dangers that ag research faced before Svalbard's construction. "We were seeing losses because some seed bank facilities were ill-funded, stricken with equipment problems, improperly managed, and there was sometimes a natural disaster or even war. Agriculture was experiencing loss and unique varieties of crops were simply lost."
Fowler (former executive director of the Global Crop Diversity Trust and currently a senior advisor) was chosen by the Norwegian government to steer the Svalbard seed bank project aimed at preserving the world's seed and making it available for plant researchers and breeders. Construction took eight months, and pared down, the vault is a roughly 450' tunnel with three carved out rooms bored from the side of a sandstone mountain on Spitsbergen (in the Svalbard archipelago). The seeds are stored at -18 Celsius, and the vault currently holds 825,000 crop varieties.
Fowler didn't design the vault as a time capsule, but rather a living institution, with seed samples going in and out to benefit agriculture. After it opened, the Svalbard Vault quickly gained media attention and was tagged the "doomsday vault," but Fowler is quick to shake the label: "It's not a doomsday vault in the sense that we believe the world is ending. That's not what we were thinking; it's actually a sign of hope."
What is it like to play a pivotal role in agriculture history? "I wouldn't describe my role as such; I'm a most unlikely character," says Fowler. "But I've never taken a single person into the vault – not even one – that hasn't been awe-stricken and in shock. Why? They're looking at the history of agriculture and history of human beings. The seeds are an unbroken history of survival."