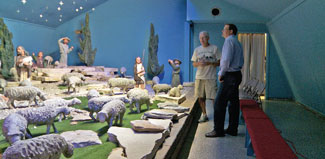 During World War II, more than 400,000 German prisoners of war were sent to the U.S., where they were held in more than 700 "camps." About 10,000 prisoners passed through Camp Algona, Iowa, and many of them were hired by area farmers. While the war raged in Europe, several Midwestern families became acquainted with the German soldiers now working in their fields. 

The bonds built between opposing sides produced unique stories of cooperation. For Christmas of 1944, 
German POW Eduard Kaib crafted a small Nativity scene for the camp mess hall. The U.S. camp commander, Arthur Lobdell, was impressed with Kaib's work and asked him to create a larger scene for Christmas the next year. 

Kaib and five other POWs took up the task at their own expense, using the small wages they earned at the POW camp to fund the project. 

"Kaib had a great idea that the figures be half life-sized and that there would be lots of them," says Marvin Chickering, who helps oversee today's nativity scene. The figures were made of cement with a plaster covering that is hand-painted. 

The war ended in 1945, and some of the German prisoners were sent back to Europe. However, many remained in Algona for Christmas. A community Christmas service was held at the POW camp.

"The scene was displayed for the first time, and it was an emotional experience," Chickering says. "Christmas carols were sung in German and English together. There wasn't a dry eye in the house." 

Those who attended the service that night knew it would likely be the last time many of the Germans and Americans saw each other. 

In 1946, the remainder of the German POWs went home. "The German prisoners left the Nativity scene for us on the condition that it never be sold, it never leave Algona and it always be displayed free of charge at Christmas," Marvin explains. 

This Christmas marks the 70th year the nativity has been displayed. It now has its own building at the county fairgrounds, where it is open to the public during the holiday season.

In fact, Marvin and other volunteers often open the building at other times of the year for visitors. It is a place that reminds us, even in the most difficult of times, friendships can impact the world for generations to come.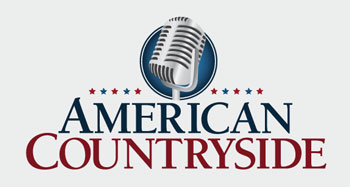 "American Countryside" is heard each weekday on a network of 100 radio stations and frequently on "U.S. Farm Report" TV. To find the station nearest you, visit www.American Countryside.com