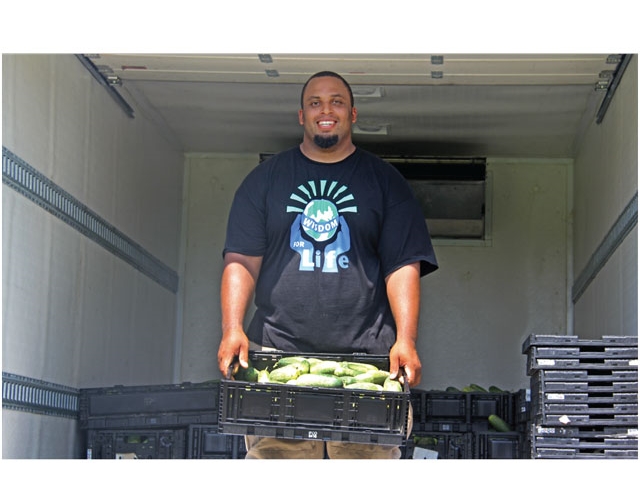 Jason Brown was one of the best players at his position in the NFL. He was a lineman for four years with the Baltimore Ravens and three years with the St. Louis Rams from 2005 to 2011. During that time he started more than 100 games between the two teams. In 2009, he signed a five-year contract for $37.5 million—a deal that made him the highest paid center in the NFL.

But at the height of his career, he decided to change professions, not because of an injury but a desire to help others. Brown says it's difficult for some people to understand. "It was really a higher calling. God made a farmer out of Jason Brown," he says.

But it wasn't as if he grew up on a farm or was headed back to a family business in agriculture. Far from it. His father owned a landscaping business. Planting flowers and shrubs was the extent of his experience tilling the ground. However, in 2012 he began farming near Louisburg, N.C.

Quickly Brown noticed something in his community. "We were surrounded by agriculture, but there were food-insecure families in our own backyard," he says. He felt God saying to him, "Sure you're living the American dream, but you're leaving behind all of the Americans."

Brown and his wife have 250 tillable acres, named First Fruits Farm. "We made a covenant with God. Whatever was harvested, the people of the community would receive the first fruits of the harvest," he says. 

The land is mostly used to raise sweet potatoes, with the entire crop going to local food banks. The vegetable is the perfect crop for his mission. "The sweet potato is resilient and easily harvested. It can be stored in warehouses up to eight months," he says. 

Individuals and groups join in. "We've had more than 1,000 people come to our farm and help us with harvest. We have no employees. It's all done through acts of service and love from our community." 

Some of Brown's former NFL teammates help from time to time, but they wonder why he'd trade the football field for farm fields. For Brown, it's God's calling for him to give his time and talents to help those in need. 
"American Countryside" is heard each weekday on a network of 100 radio stations, regularly on "U.S. Farm Report" TV and on demand via the Farm Journal Radio app. For details, visit www.American Countryside.com