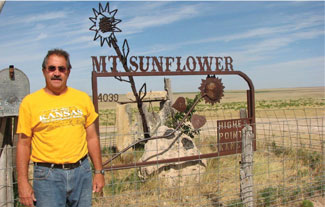 Every state has its high point. In the literal sense, it might be a summit such as Mount McKinley in Alaska or Mount Rainier in Washington.  

However, Mount Sunflower, the highest point in Kansas and one of the nation's most popular high points, checks in at a mere 4,039' in altitude.

"On a clear day, you can see all the way into Colorado, which is only a half a mile away," laughs Ed Harold, whose grandparents homesteaded this ranch in 1906, sight unseen. They built a sod house, dug a well and began planting corn and raising cattle.
"My grandfather loved to check cattle two or three times every day," Harold recalls. "He'd always go to the highest point in the pasture to see where the cattle were."

In 1961, in celebration of Kansas' centennial, a project was undertaken to determine the state's highest point. When the surveying was complete, the high point just happened to be the hill on which Harold's grandfather used to check cattle. Needing a name, it was dubbed Mount Sunflower.

Perhaps that would be the end of the story if not for the Harold family and their neighbors. Many "highpointers" try to reach the highest point in all 50 states, and Mount Sunflower is one of their favorites. "I think it's due to the reputation of Kansas being flat," Harold offers. It's the highest point, in the flattest state.
The Harold family has fun making it an experience to "climb" this peak. Many high points in the U.S. are on private property and only allow public access a few days per year.  

"Mount Sunflower is open 365 days a year," Harold says, "unless it snows." 

A gravel lane leads a half mile up the hill to a picnic shelter, a marker denoting the "summit" and a mailbox with a register inside. When Harold is checking cattle, he enjoys visiting with those who make the drive 20 miles south of Interstate 70 on the Kansas-Colorado line.  

Climbing Mount Sunflower will not earn you the accolades of summiting Mount Everest, but you will encounter a ranch family who simply likes to share their land and their story with folks looking for a view. 
---

"American Countryside" is heard each weekday on a network of 100 radio stations and frequently on "U.S. Farm Report" TV. To find the station nearest you, visit http://www.American Countryside.com