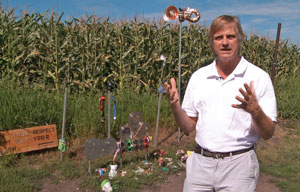 The lyrics "Something touched me deep inside the day the music died" have a special meaning for many, 
especially Iowa farmer Jeff Nicholas.   

The opening verse of "American Pie," written by Don McLean, pays respect to Feb. 3, 1959—the day the plane carrying Buddy Holly, Ritchie Valens and J.P. "the Big Bopper" Richardson went down. The crash site happens to be in the middle of one of Nicholas' corn fields. 

As the biggest stars of the time, their Winter Dance Party tour stop at the Surf Ballroom in Clear Lake, Iowa, was a huge deal. Teenagers crowded the dance floor under the watchful eyes of their parents.

According to drummer Carl Bunch, who didn't make it to the Clear Lake concert because he was in the hospital fighting frost bite, the frigid weather had taken a toll on the band members. Holly decided to charter a plane following the concert to avoid the cold and get to the next stop more quickly. Valens and Richardson boarded the plane as well. The flight crashed a few minutes after takeoff.

Nicholas' family did not own the property at the time of the crash; they purchased the farm in the early 1960s.  "I spent my high school summers picking up rocks on this farm and had no idea something of significance had happened here," he says.

In fact, there wasn't a memorial until 20 years after the crash, when tribute concerts began at the Surf. Today, a stainless steel monument adorned with flowers and mementoes marks the site.

"We've always allowed fans to come out here," Nicholas says. "We feel this spot is theirs rather than ours because it brings back a lot of memories. People remember this like they remember where they were when we landed on the moon." 

Despite McLean's lyrics and the tragedy, Nicholas says the memorial doesn't have to be a spot of sadness. "Because of the efforts of the people of Clear Lake and the Surf, the music has really never died. In fact, rock 'n' roll music has turned out to be the sound track of our lives." 

Nicholas' field is a place where the music still lives.
---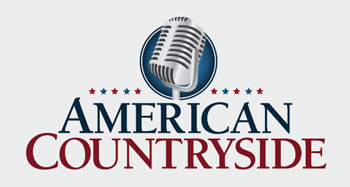 "American Countryside" is heard each weekday on a network of 100 radio stations and frequently on "U.S. Farm Report" TV. To find the station nearest you, visit http://www.American Countryside.com