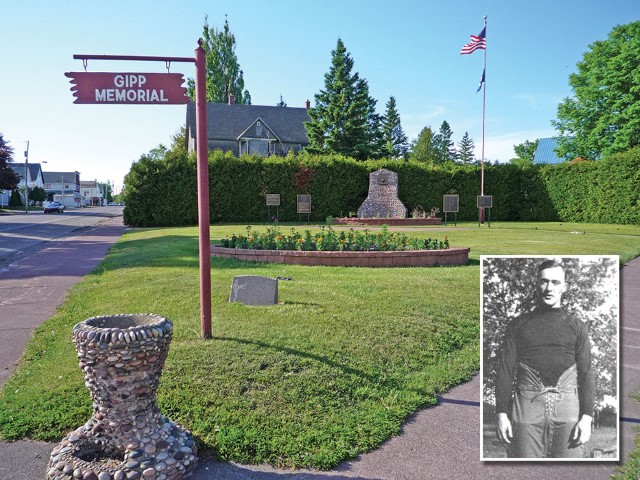 If you recognize the name George Gipp, you likely know about the famous line credited to the young man from Laurium, Mich., who died in 1920 at the age of 25.   
According to local historian Bob Erkkila, Gipp didn't spend much time at school, but he did enjoy playing basketball and baseball. Wilbur Grey, from nearby Calumet, recruited Gipp to play baseball at Notre Dame, despite the fact he was protestant and didn't have a high school diploma. While at Notre Dame, a chance encounter with Knute Rockne, the football coach, changed the history of that sport at the college.  
One day, while near the baseball field, Gipp kicked a wayward football back to the football team. Coach Rockne was so impressed by Gipp's kick he recruited him to play football, and the rest is history.
Gipp's career rushing total of 2,341 yards stood as a Notre Dame record for more than 50 years. His season rushing average of 8.1 yards per carry on more than 100 rushes in 1918 is still a record.  
During his senior year, Gipp came down with strep throat, and without modern drugs such as penicillin, his outlook was grim. It was a scene made famous by Ronald Reagan in the 1940 movie "Knute Rockne, All American." Reagan, portraying Gipp, said to Coach Rockne, "Someday when the team's up against it and the breaks are beatin' the boys, ask them to go in there with all they've got and win just one for the Gipper."
Eight years after Gipp's death, Notre Dame was losing to an undefeated Army team.  Rockne's halftime speech recalled Gipp's dying words and is credited with rallying Notre Dame's players, helping them come back to defeat Army 12-6.  
The line became bigger than football when President Reagan used it in 1988 to rally support for his vice president who was vying for the Oval Office. At the Republican National Convention, Reagan said, "George, just one personal request:  Go out there and win one for the Gipper!"
The 1940 movie and Reagan's use of the line during his presidency solidified the career of a football player who otherwise might have been forgotten.
---
"American Countryside" is heard each weekday on a network of 100 radio stations, regularly on "U.S. Farm Report" TV and on demand via the Farm Journal Radio app. For details, visit www.AmericanCountryside.com.