The U.S. Secret Service protects the President and high-ranking officials. The job might require
standing in the way of an assassin's bullet or thwarting a terror threat. In the spring of 1959, it was a swift kick from a prize-winning steer that had the Secret Service on high alert.

Dwight Eisenhower led U.S. armed forces in World War II, then served as president of Columbia University before being elected as the U.S. President in 1952. During his stint in New York City, Eisenhower and his wife Mamie purchased a farm near Gettysburg, Pa. By 1955, the farm, barns and home had been restored. Angus cattle grazed in the pastures. 

Because the farm was near Camp David, it became a favorite place for Eisenhower to bring world leaders, such as Charles De Gaulle, Nakita Khrushchev and Winston Churchill.  

Churchill's visit was friendly but nerve-racking for the Secret Service. Sir Winston delighted in seeing the cattle and made sure to slap each animal on the rump as he strolled through the pasture. Knowing that the 84-year-old former prime minister was tempting fate, the Secret Service didn't know whether they should step between Churchill and the steers or let him continue to enjoy himself. Fortunately, the steers remained calm and Churchill never got kicked.

French President Charles De Gaulle enjoyed seeing the many ribbons won by the show stock. Eisenhower never showed off his war medals, but he was quite happy to display his cattle awards.  
In September 1959, Soviet Premier Nakita Khrushchev met the President at Camp David. Eisenhower wanted the Soviets to repeal the Berlin Ultimatum. Talks were at a stalemate and Eisenhower decided the two men needed time to get away from their advisers.

They spent a day at the farm, visiting with Eisenhower's grandkids on the porch and touring the grounds and show barns. Herd manager Bob Hartley noted of all the world leaders who came to the farm, Khrushchev was the most knowledgeable about farming and cattle. Eisenhower and Lewis Strauss, head of the Atomic Energy Commission and a fellow Angus breeder, actually shipped three heifers to the Soviet leader.  

Perhaps it's a stretch to say a tour of the farm helped thaw the Cold War in 1959.  However, their time at the farm allowed both men to better understand each other away from politics. They agreed to continue discussions in order to reach a resolution.

Tensions would later rise, the Berlin Wall was built and the Cold War continued. But 55 years ago, this farm represented a place where world leaders could meet and find common ground.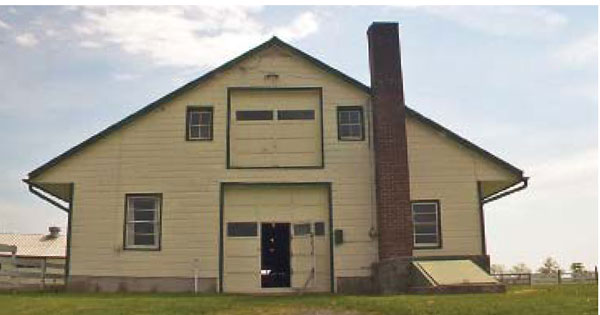 The show barn on President Eisenhower's Gettysburg, Pa., farm was a favorite place to bring world leaders. Today, the barn is open to the public.
---
"American Countryside" is heard Monday through Friday on a network of about 100 radio stations and frequently on "U.S. Farm Report" TV. To find the station nearest you, visit www.AmericanCountryside.com