Most folks have never heard of Dr. Brewster Higley. Yet everyone has heard of the home he built in north–central Kansas—a simple cabin on the banks of Beaver Creek.  

"Higley was a very talented doctor and surgeon," says El Dean Holthus, one of the trustees who cares for the old Higley homestead. "In fact, he taught surgery back in Indiana."  

In 1871, he headed west, homesteading a quarter section of land a few miles northwest of Smith Center.  The reason he came to Kansas remains a mystery, Holthus says.  

The doctor's cabin was isolated. He found comfort in the loneliness of the prairie. In his spare time, he wrote poetry, often penning verses about the world he saw around him.  

After completing one such poem, he simply put it between the pages of a book and didn't touch it again for more than a year. It was by pure chance the most popular cowboy song of all time was uncovered.

Neighbor Trube Reese brought a patient to the cabin in 1873. While there, the poem, "My Western Home," fell out of the book and onto the floor. Reese read it, told Higley it was his best work and encouraged him to set the poem to music.

Later that year, the newspaper in Smith Center printed the words,

"Oh, give me a home where the buffalo roam, where the deer and the antelope play. Where never is heard a discouraging word, and the sky is not clouded all day."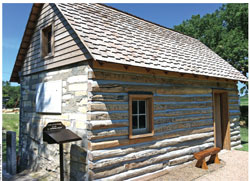 It's been 140 years since a famous cowboy song fell onto the floor of this cabin and into music history.

Local musician, Dan Kelley, put the words to music.  

In 1933, President Franklin D. Roosevelt proclaimed, " 'Home on the Range' is my favorite song." Following his comment, the tune started to get lots of radio air time. It later became the state song of Kansas.

Holthus and local volunteers have been working to restore the cabin to its original appearance. This year marks the 140th anniversary of the poem turned song. To celebrate, a two-day event will be held in October to rededicate the cabin. They are also pushing for the song to be sung prior to the National Anthem at Kansas sporting events.  

While you won't find any buffalo roaming or antelope playing today, some things on the range never change. The wide-open spaces are still a thing of beauty. The friendly neighbors who take pride in the rich history still love to share the story. It's a place that makes all of us appreciate the people and places we call home.
---
"American Countryside" is heard Monday through Friday on a network of about 100 radio stations and frequently on "U.S. Farm Report" TV. To find the station nearest you, visit www.AmericanCountryside.com