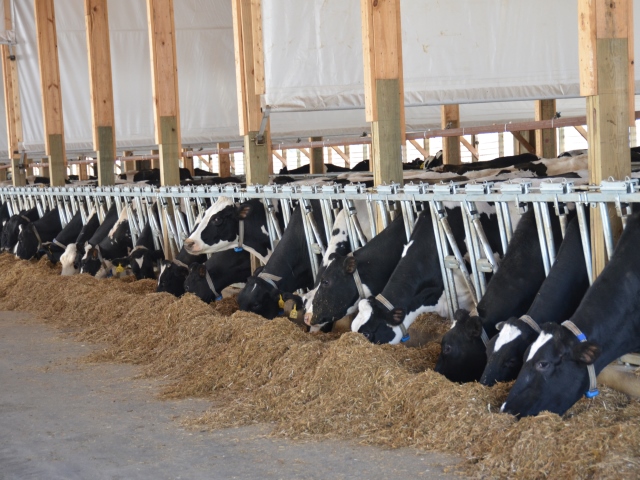 California might be the nation's top milk producer, but other states are eclipsing the western powerhouse in their pace of dairy growth.

Colorado, Kansas, Texas, Michigan and Indiana are among the leaders in milk output gains since 2010, a sign these heartland states could become more prominent players in the long-term future of the U.S. dairy industry. Although many fast-growing dairy states are small producers—for example, only Michigan and
Texas rank among the top 10—they are ramping up milk output and cow numbers as new milk-processing plants take root inside their borders. Aiding their growth are available water, sufficient land base for manure management, ready access to feed and states' business-friendly policies.
Colorado ranks just 16th in U.S. dairy production, but it has led all major dairy states with a 27.6% expansion in milk output over the past five years. Today, its 125 dairies milk 145,000 cows and produce more than 307 million pounds annually. Although those are small numbers compared to California's 1.78 million dairy cows and 42 billion pounds of milk, Colorado's increase is impressive.
"I'm glad to be in a region that offers such opportunity for long-term growth," says Michelle Dickinson, whose Mountain View Farm milks 2,500 cows near the city of Loveland, Colo.
The expansion is primarily tied to Leprino Foods' two new cheese manufacturing plants, explains William Wailes, Colorado State University Extension dairy specialist. The Denver-based company has a cheese facility in Fort Morgan and boosted its milk-processing capacity in 2011 with a $270 million cheese plant in Greeley.
"As the Greeley plant expands to capacity, Colorado will see additional growth with the need of 50,000-plus more cows," Wailes says.
Double-Digit Gains. In Texas, milk production has jumped more than 16% since 2010. That partly stems from the new Hilmar Cheese Co. processing plant, which went online in 2007 in Dalhart, located in the Panhandle. New local milk demand has pushed Panhandle dairy-cow numbers to some 300,000 head, up from just 20,000.
More recently, the state has rebounded from the damaging 2011/12 drought and accompanying high feed costs, boosting milk output in the Lone Star State, notes Ellen Jordon, dairy specialist with Texas A&M AgriLife Extension.
"Producers are expanding their herds and getting their operations up to capacity," Jordon says.
South Dakota has expanded nearly 12% since 2010 and is among the nation's fastest-growing dairy states. It's still a small milk producer, having turned out 2.1 million pounds in 2014, but it is trending upward. In the first quarter of 2015, the state reached No. 20 among U.S. dairy states and was on track to surpass its 2014 production.
Bolstered by Gov. Dennis Daugaard's hands-on support, South Dakota has recruited new processing plants and dairies.
"Our reasonable feed costs, favorable tax climate, strong demand for milk and unwavering support for agriculture make South Dakota a perfect place to expand the dairy industry," Daugaard says.
In the Southeast, Florida and Georgia have bucked the region's declining milk trend, with Florida climbing nearly 18% since 2010.
By contrast, California's milk output has barely budged in the past five years with stagnant growth of 0.5%. Increasing social, financial and regulatory pressures have pushed 16% of California's dairies out of business in the past five years.
Limiting Factors. Can dairy growth in the nation's midsection continue in the years ahead?
Most think the pace will slow but that dairies are here to stay. "Future growth will be impacted by increasing production costs and capital investment requirements," Dickinson says. "If the market understands and responds to those, Colorado dairy farmers will be successful."
Others wonder whether the accelerated depletion of the Ogallala Aquifer beneath the Great Plains will darken the outlook.
"It will be an issue for both dairies and crop producers," says commodity broker Robin Schmahl, owner of Wisconsin-based AgDairy LLC. "The states in those areas were not meant for row-crop production to the extent that it has been done. When groundwater is depleted faster than it can recharge, it will eventually become a large problem."