A lot of rain is needed to replenish the majority of farm country, according to a recent Farm Journal Pulse.
The drought of 2012 has blown into 2013. Exceptional and extreme drought conditions continue to plague much of the western Corn Belt, from the Dakotas to Texas.
Soil moisture levels will be watched closely and evaluated as spring draws near.
A recent Farm Journal Pulse asked: How many inches of rain are needed to fully recharge your soil moisture?
Here's a breakdown of the results:
1-2 inches: 6%
3-4 inches: 10%
5-6 inches: 16%
7-8 inches: 12%
9+ inches: 43%
None: 12%
See the results on an interactive map:
Just fewer than 50% of the 1,300 respondents reported needing 9" or more of rain to fully replenish soil moisture, while 12% need between 7" and 8". Only 12% responded that their soil moisture is adequate.
A quick glance at the interactive map shows the driest areas to be in the Midwest and West, while the eastern U.S.'s soil moisture has recharged.
Crop Comments Reports
A farmer from Buffalo County, Neb., reports that one year ago, the area had a full moisture profile. "Today we have nothing, even on the irrigated. It will be interesting to see how many wells go dry this year. You can't come out of a drought of this size in one year."
In Wallace County, Kan., a farmer shares photos to illustrate the dismal situation.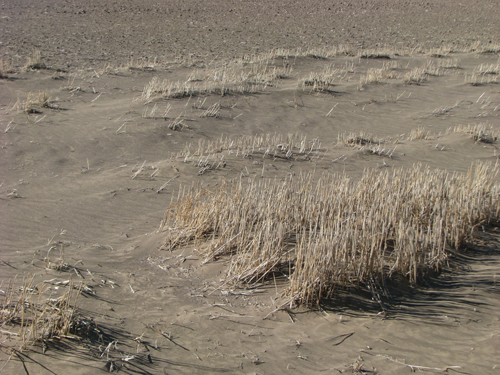 "I'm trying to avoid this by no-till farming and maintaining as much cover on the land as possible. It took centuries to get the topsoil we have and it takes only one day to lose it. February and March are normally our windiest months. God help us and pray for rain."
In Klickitat County, Wash., a farmer reports having some moisture in November and December, yet nothing recently. "Our soil probes indicate moisture only down 24 inches. The drought map may not show it, but a large part of Eastern Washington State is very dry with no relief on the horizon any time soon."
Luckily, some areas have seen considerable precipitation.
In Elkton, S.D., a farmer reports that fields are almost black. "We received about a foot of snow in December, maybe a couple inches since. One day we had freezing rain, very little moisture, evaporated before reaching the ground, still made roads a mess."
A Seneca County, Ohio, farmer says the area has seen substantial rain since early September. "Our soils are saturated and we have lots of standing water around. Just about the time we start to dry out another weather system moves in and dumps rain on us."
What About You?
How dry or wet is your soil? Submit your report to AgWeb Crop Comments.
 
Add Your Vote
You're invited to be part of the heartbeat of our new national producer panel that speaks up and speaks out. Participating is as easy as answering two quick poll questions per month via text message from your mobile phone
By partnering with
Commodity Update
, the leading provider of agricultural information to mobile phones, Farm Journal sends you the question via a text message on the first and third Wednesday of each month.   
---