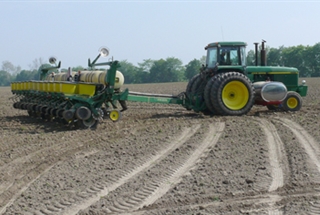 As planting season approaches, farmers and analysts are paying close attention to acreage questions and weather predictions.
"We already know that winter wheat acres are down 3 million … and our thought is that spring wheat will down about another million," said analyst Dustin Johnson of Ag Yield, speaking on U.S. Farm Report. "The acres that (have been) lost aren't great corn- and bean-growing ground, so we could see some of it go to corn and beans, but I think a lot of it will go to sorghum as well."
Another strong contender for those acres? Soybeans. "We're a part of the group that thinks corn and bean acres will be going up this year, and since it is a cost-cutting year, it should be going to beans," Johnson said.
Brian Splitt of Allendale said his firm also expects farmers to plant more corn and soybean acres. "We're looking at about 1.2 million acres above and beyond last year for corn and 800,000 acres for soybeans above and beyond last year," said Splitt, also speaking on U.S. Farm Report.
In 2015, farmers planted 88 million acres of corn, 82.7 million acres of soybeans, 54.6 million acres of wheat and 8.5 million acres of sorghum, according to annual crop production numbers from USDA.
Watch the U.S. Farm Report segment here:
Weather also represents a major source of uncertainty for farmers and traders right now.
"We've got several weather out fits that are calling for various things to happen whether it's a late planting or a possibility of a drought," said Splitt, who believes the "perception" of these threats could result in some spring volatility.
Such movements could deliver opportunities that farmers can't afford to miss right now, with profit margins expected to be razor thin.
"You have to be able to use the volatility to your advantage (so) keep your pencils sharp and know your cost of production," Splitt advised. "If you can do some marketing at profitable levels, you need to do that. But then find a way to open up the upside in case these weather forecasts are correct."
His suggestion: short-dated options. "I would advocate using September's short-dated options as a tool," he said. "You can probably buy those in late May (to) early June. Get yourself two months of coverage just in case the weather acts up."
And while you're at it, make sure your crop insurance coverage is updated for this growing season.
"Crop insurance is still the most important thing you can buy this year," said Johnson. "I've heard a lot of producers talk about lowering or even eliminating crop insurance because the prices are down this year. I think that's a mistake because that's our backbone to prevent financial catastrophe and something we have to be able to sell into through the year." 
Watch U.S. Farm Report's "Markets Now" segment here: