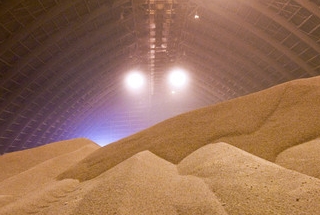 Uralkali will probably raise prices when it signs new deals with India and China this year.
A sinkhole almost the size of a soccer field near PAO Uralkali's potash mine in Siberia isn't scaring away Societe Generale SA or BCS Financial Group. They say the stock is a buy as it trades at half the valuation of its biggest peer and as the company is set to raise prices with Asian customers.
Uralkali, the world's biggest potash producer by volume, trades at 8.7 times estimated earnings, compared with 17.4 for Potash Corp. of Saskatchewan Inc., the second-biggest supplier, data compiled by Bloomberg show. Uralkali will probably raise prices when it signs new deals with India and China this year, SocGen and BCS say. That may be enough to offset the likelihood that a mine representing almost 18 percent of total capacity will be lost, forcing a writedown of as much as $1 billion.
Global depositary receipts of the fertilizer producer, which plunged 56 percent in 2014, have jumped 15 percent this year in London, while short interest on the GDR dropped to 1.8 percent of shares outstanding as of Feb. 20, from 2.7 percent on Feb. 9. The GDRs are still down 28 percent since Nov. 18, when the company closed its Solikamsk-2 mine after a sinkhole opened nearby and water flooded the site. Uralkali fell 4 percent to $13.60 on Monday, while the Bloomberg index of the most-traded Russian stocks in the U.S. dropped 3.7 percent, the most in a month.
"Demand for potash is quite robust and prices are going to be higher when the company signs contracts with China and India by end-March," Rajesh Singla, an analyst at SocGen in Bangalore, India, said by phone Monday. He's had a buy rating on the stock since the beginning of 2014. "The need for potash is there, it's just a matter of time for Uralkali to sign the contracts."
China Deal
Farmers apply potash to their fields to help boost plant resistance to drought and to strengthen root systems. It is mined deep underground, in areas where water from ancient seas dried up and disappeared, leaving behind potassium salts.
Uralkali's chief of sales said this month that a supply deal with India may take place before negotiations with China, which could lead to a price increase. China, the biggest consumer of potash, usually strikes a deal first, with India paying a premium on that benchmark contract. Only once, in 2008, a contract with India came first, and China paid the premium.
Uralkali, which had expected to complete a deal with China by the end of 2014, now projects negotiations to start in March. China last signed contracts at $305 per ton in January 2014 covering the first half of the year, later prolonging them to year-end. The new contract price could rise as much as 8 percent to $330, Singla said. Oleg Petropavlovskiy, an analyst at BCS in Moscow, predicted $315 per ton in a Feb. 19 interview.
'Screaming Buy'
"Uralkali is just a screaming buy and there is no doubt about it," Petropavlovskiy said by phone. "It can't be that cheap in the real world, even given the geological risk that still exists. Potash prices are rising and Uralkali is about to agree on supplies to China and India at new, higher prices."
The sinkhole opened up in November, swallowing summer homes, while water flooded the Solikamsk-2 site. Water is deadly for potash as it dissolves the mineral deposit. The event spurred analysts to cut their buy ratings on the GDR from six to two, data compiled by Bloomberg show. The buy total has since climbed to three, compared with two sell recommendations and 17 holds.
As of Feb. 6, the hole had widened to 87 meters (285 feet) by 58 meters, almost the dimensions of a soccer field, and was about 75 meters deep, Uralkali said in a statement. Average brine inflow to the Solikamsk-2 mine more than quadrupled since Jan. 22, the company also said. If the mine is lost, Uralkali may need to write down as much as $1 billion, mostly on lost reserves, Chief Financial Officer Anton Vishanenko said in December.
Lower Prices
Not everyone predicts that talks with China will yield higher prices.
"The fact that talks have been delayed shows that the negotiations are a bit tougher and China wants a lower price," John Klein, analyst at Berenberg Bank in London, said by phone on Feb. 23. "That is the primary driver for Uralkali and the risk is that the price will be lower this year."
Because the Berezniki, Russia-based company gets more than 80 percent of its annual revenue from exports according to data compiled by Bloomberg, it has benefited from the ruble's 46 percent decline last year and was unaffected by an economic slowdown spurred by sanctions linked to the crisis in Ukraine.
Uralkali gets a big boost from the currency's weakness, according to BCS, which estimates that production cash costs will decline to less than $40 per ton in 2015 compared with $57 in 2013 and $44 in 2014. While Russia's economy is forecast to shrink 4 percent in 2015, global growth will be 2.7 percent, a Bloomberg survey of economists shows.
"The weaker currency, coupled with higher export prices and strong global demand, should outweigh any potential concerns over the stock," Singla said.