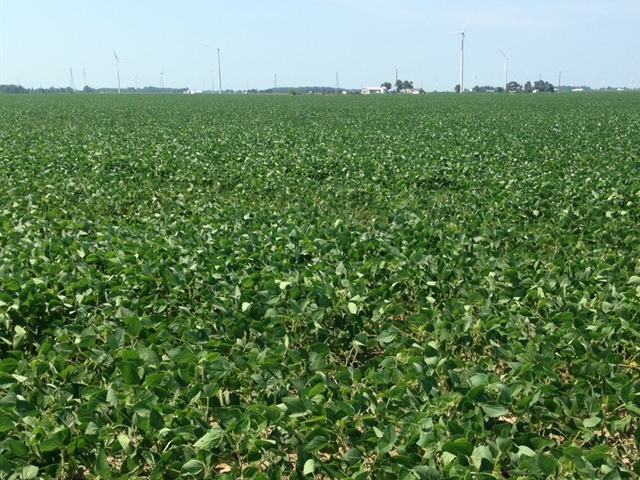 One of the biggest report days of the year is coming up on Friday, Aug. 12. Last year, grain prices took a dive after USDA upped its yield projections in its August release. In this report, we talk with farmers, meteorologists and traders about the role of weather in the 2016 crops and what they are expecting to see.
This year has been a challenge in many pockets of the Midwest.
"Michigan is dry. We're very, very dry," says Gary Hynes, who farms in Ingham County, Mich.
T-storm Weather Meteorologist Mike Tannura says June was one of the warmer and drier on record in the U.S. Corn Belt, but he adds that July was unofficially the fifth wettest of the last 121 years in the Corn Belt, with just more than 5.5 inches of rain. The official number comes out in a couple of days.
That's important because July rains pay back in bushels, with wet weather bringing bigger yields. 
"The historical data shows it's very difficult for the U.S. corn yield to be below trend by a significant amount (when the weather qualifies as some of the) wettest Julys on record in the Corn Belt," Tannura says. 
Temperatures Matter
Precipitation is just one component. Traders say they're looking at possible heat issues, even the impact of nighttime temperatures, since USDA's upcoming report is based on a field survey.
"I'm not overly confident we're going to see a bullish report on this August WASDE, but who knows?" Ted Seifried with Zaner Ag Hedge says. "When you have a field-based survey versus a statistical analysis, there's room for big surprises." 

"One of the issues that everyone is looking at is the ears: the weight of ears and number of rows on the ears because of the nighttime temperatures. They haven't come down as everyone wished," says Farr Financial's Gary Kozlowski.
Yield Estimates
While trade guesses vary, some analysts say they are expecting USDA's yield forecast of 168 bushels per acre to rise.
"In terms of corn, we are certainly looking at a national yield north of 170 bushels per acre. The previous record was 171. So, I think there's a good shot at this point that we exceed that. In the soybeans, we're looking at something potentially between 48 and 49 bushels per acre," says Joe Vaclavik with Standard Grain.
Seifried says if the increase is marginal and below what the market is expecting, it could offer a chance for markets to balance out. If it's larger, he thinks prices could be in trouble.

"If 168 bushels per acre is where we end up on the corn crop, that opens up the door for upside potential at some point. If it's bigger than 171, 172 or 173 bushels per acre, new record yields for corn, that makes it a lot more difficult to rally from current levels," says Seifried
While a hike is expected, some wonder if the increase in estimated yields could be significant. 
"I don't see a 176 (bushels per acre), although there is a lot of speculation we're hearing lately. I think 172 bushels per acre at most on the corn. I think maybe 48 bushels per acre, or possibly 50 bushels per acre, on the beans. Again, we need to watch how these next few weeks go on the beans," says Kozlowski.
If USDA ups its yield forecast, some analysts say we could see a harvest low earlier than normal.
"I think this could be a year where we put a bottom in these markets a little bit earlier than maybe we do in the normal years. If the market is thoroughly convinced--as it seems to be--that we have record crops, it's going to be quick to discount that news," says Vaclavik.
However, whether the report is feeding the bulls or the bears may all depend on ending stocks and demand.
"We're looking at the ethanol usage also. On it, we had a disappointing summer so far as drive season is concerned. That is something that is probably going to hold up some stocks a little bit higher and again, that could make it a bearish fall or months in contracts," says Kozlowski.
"On the other hand, if it's 174 or 175 bushels per acre, where we blow away the previous record by a long shot, that has negative implications for the balance sheet," Seifried says. "When you add that much to supply, we don't have the demand to offset that. I don't see how the USDA could come up with the demand to offset that large of an increase. We'd be looking at a large carryover that would justify lower prices."
That's why farmers in drought states are hoping demand picks up and rain clouds come their way.
Tannura says the map he showed us measures a seven-state region. That's Illinois, Indiana, Iowa, Ohio, Missouri and Minnesota. He says historically, seasonably wet Julys are rarely accompanied by poor corn crops. An exception was in 1993, when heavy rains before and after July hurt yield.