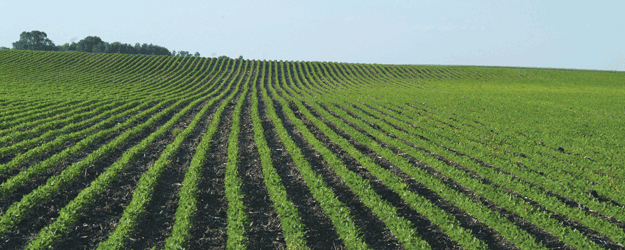 Corn and soybean prices this year will favor corn over soybeans as producers pencil out their enterprise budgets.
USDA projects growers will plant 75 million acres to soybeans this spring, unchanged from 2011 planted acreage but down 1.6 million from last year's planting intentions. Excessive soil moisture prevented producers from panting the extra acres last year, especially in the Upper Midwest.
"With forward price quotes for soybeans below year-earlier levels, relatively stronger returns for corn, and fewer winter wheat acres planted in traditional double-crop soybean states, incentives for expanding soybean planting in 2012 are limited," the department said in its
2012 Agricultural Outlook Forum Grains and Oilseeds Outlook
.
USDA expects the season-average farm price for 2012-13 soybeans to be $11.50 per bushel, down 30 cents from the current crop year. November soybean futures were more than $1.00 per bushel higher than on Friday, Feb. 24.
"I think a range of $11.00 to $13.00 for new-crop soybeans seems reasonable," says Ross Brainard, merchandizer with Commodity Specialists Co., Kansas City. Price volatility will likely persist well into the new-crop season as livestock producers worldwide continue to buy hand-to-mouth. "No one is booking six months out," Brainard says.
If growers plant all of USDA's projected acres, year-over-year soybean production would likely grow 6% to 3.25 billion bushels due to both increased harvested area and yield. USDA projects that the average soybean yield will rise 2.4 bushels per acre on average, returning to a trend line 43.9 bushels per acre, from 2011's weather-depressed yield. An average annual yield of 43.9 bushels per acre would be the second highest ever behind 2009's 44 bushels per acre.
"We are starting the year short of moisture," says Brainard. Even so, he says, an average soybean yield of 43.9 bushels per acre is very possible.
Ben Parks, risk management consultant with INTL FCStone, Kansas City, agrees. "It's plenty early to worry about drought," says Parks. "I don't see anything in the soy outlook that gets me too excited." Could acreage for soybeans come in under USDA's projection? Sure, he says, particularly with USDA predicting that total acreage for corn, soybeans and wheat will rise by 5.7 million acres. "If corn takes more than 2 million of the additional acres, we could see beans come in under 75 million acres," Parks notes.
The department expects domestic use for soybeans to reach 1.785 billion bushels, up 3% from the 2011-12 crop year due to increased crush. Soybean meal prices for 2012-13 are projected to average $295/ton, a $10/ton drop from the current crop year.
"The U.S. share of global trade is likely to rise partly supported by reduced competition from South American countries, where exportable supplies are impacted by drought-reduced crops expected to be harvested in 2012," said USDA. "Foreign demand growth will be driven by China, which accounts for more than half of world imports. Key factors supporting China's soybean imports for 2012-13 include strong demand for vegetable oil, growth in the livestock sector, expansion in the crushing sector, and government policies. In contrast, minimal increases are anticipated in soybean demand by other top importing countries—including the EU-27, Japan, and South Korea." U.S. exports of soybean meal are projected to grow 5% in 2012-13 to 9.2 million tons.
With substantial growth in soybean supply and continued demand from abroad, U.S. soybean exports are projected to hit a record 1.55 billion bushels in 2012-13, nearly half of the crop.
USDA predicts U.S. soybean ending stocks for 2012-13 will fall to 205 million bushels, down 70 million from 2011-12's estimated ending stocks. The ending stocks-to-use ratio of 6.1%—although below the previous two years—would be near the 5-year average of 6.3%.
For More Information
---