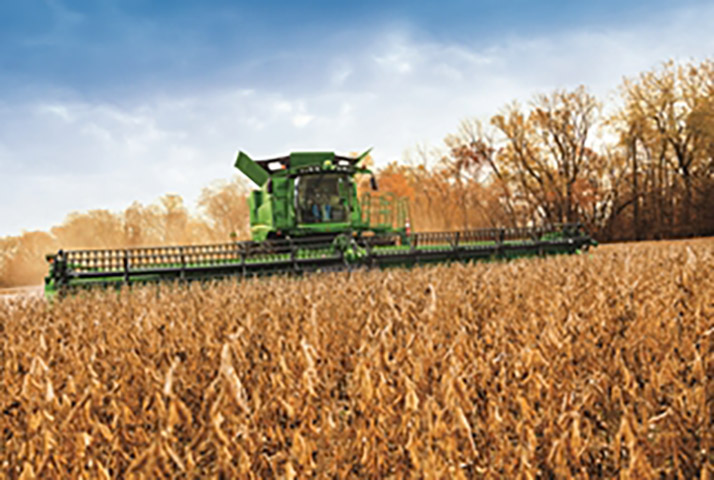 Harvest bounty will require producers to take smart action
With record production and high carryover, it will be tough to be bullish on corn and soybean prices for the next two years. That puts a higher-than-normal premium on astute marketing. In the following pages, 11 analysts provide their best estimates on price direction and market strategies you can employ to make the most of profit opportunities as they arise.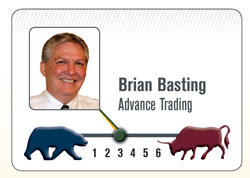 Even though record U.S. corn and soybean crops have pushed prices to their lowest levels in years, it's impossible to know if prices have bottomed out. A variety of marketing tools with options chief among them provide downside price protection. Buying a put option on stored grain or purchasing a call option after a sale is made establishes a price floor while also allowing participation in rallies. Producers who elect to store corn because of weak basis should strongly consider locking in the carry in the futures market.

Make sure all 2014 production is covered before moving forward with management of 2015 crops. Current fundamentals for next year suggest more soybeans and less corn acres should be planted. Still, the same risk management principles apply for both crops. Maintaining marketing flexibility that provides a price floor but enables participation in rallies is important to consider when implementing a plan this far ahead of planting.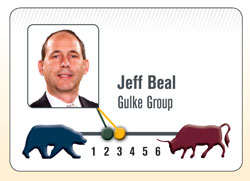 The market believes big crops get bigger, so subsequent USDA reports are assumed to show further increases in yields. Last year, the USDA missed demand considerably in corn, especially in exports and, to a great extent, for soybeans as well. This year, USDA is still suggesting less corn exports than last year but more in soybeans.  I am not in that camp yet. A demand surprise could be in the cards that reflects a reduction in current carryover projections for both corn and soybeans. This would help stop any price deterioration that might otherwise occur late this year or early next year. If you have storage, the best option for old crop is to either sell corn for the carry (March to May 2015) or hold it until we know more about 2015 acres. If you don't have adequate storage, make it part of your business plan to expand storage capability as we transition to a carry market. Hope for higher grain prices now rests on stronger demand, South American weather issues or row crop acre reductions in 2015.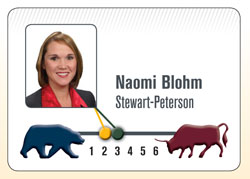 For old- or new-crop corn, take advantage of seasonal rallies this winter and spring to make cash sales. Supplies are plentiful, and unless 2015 has weather scares in both hemispheres, corn will likely trade in a maximum 50¢ to 75¢ range. Consider selling December 2015 corn calls this spring when, seasonally, the market might have seen a top.

In spite of the record global carryout, soybeans are a hot commodity. Cheap soybeans in the fall of 2014 have only spurred additional export demand. Historically, looking at continuous monthly soybean charts, anytime beans come off a major market high and sell into a harvest low trough, in the following spring and summer, the market has a 38% to 50% technical retracement. From that perspective, $11.50 is a realistic soybean futures target, with $12 as the optimistic target. Consider re-owning beans this winter, and be sure to sell the spring rally with cash sales.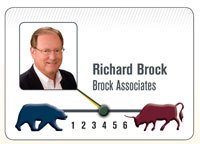 Marketing strategies that will work for the next two years will be entirely different than those that worked from 2009 to 2012. Carryover in corn is nearly double, and soybean carryover is going to be up four to five times from 2013/14. Other key factors affect-ing this year's market include rail limitations, a lack of storage both on- and off-farm, the largest amount of unpriced corn and soybean exits in history, and the limited need to sell right away because most producers are still in a good cash position. 

This creates two major market impacts: a wider basis in both corn and soybeans and one that will last longer than normal. Once harvest is complete, excess grain will limit price advances. 

Years like this one normally lead to long, flat bottoms in both corn and soybean prices. This will be a year when the most profitable strategy will likely be using futures to take advantage of the carry.

For example, if July 2015 corn futures rally to $4.25 per bushel, see this as a good hedging opportunity to lock in carry through late May or early June to merchandise your corn. At those price levels, consider being 75% priced. Also consider pricing one-third of new-crop 2015 corn if futures prices reach that level. 

For soybeans, if July futures can muster enough strength to get to $10.70 per bushel, sell futures contracts to lock in at least 75% of unpriced old-crop soybeans. Also lock in approximately one-third of your new crop. 

It takes a considerable amount of time to eat through the large quantities of corn and soybeans that were harvested this fall. The $5-per-bushel corn floor two years back now becomes a ceiling.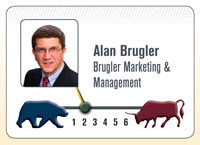 U.S. corn ending stocks topping 2 billion bushels will tend to cap rallies with producers needing to move record inventory. Most are well-financed and can wait for rallies to sell, particularly in the first half of the 2014/15 marketing year.  We are more bullish for the 2015 corn crop, but that is contingent on reducing planted acres below 87 million and reverting to trend-line yields. 

The U.S. soybean stocks-to-use ratio is no longer tight, so downside risk remains. In 2015, the projected global stocks-to-use ratio will be the worst in history if South America is anywhere close to projected production. World consumption will likely grow at an impressive 6% to 7% clip, yet that won't be enough to absorb the record 2014/15 crop without price pressure. Here are key marketing strategy elements for your big crops:
1. Try to control margin exposure.  Don't make big input cost commitments without offsetting forward sales or setting options price floors. 
2. Determine Price and Probability targets, and make scale-up sales once they have been hit.
3. Set a futures/options price to earn the carry and enjoy the returns of on-farm corn storage as the market distributes the big crop over the calendar year. 
4. Expect strong basis bids for both corn and soybeans only during weak futures price periods.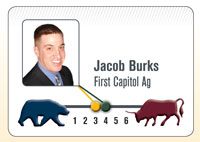 Given record yields, many producers have far more bushels to sell than they had planned.  What do we do with unpriced bushels? After seeing a 60¢-plus rally in the corn market in recent weeks, we encourage producers to sell right off the combine if basis levels are normal to good. Consider re-ownership strategies next May by purchasing a $4/$5 vertical call spread.  If storage space is readily available and basis is abnormally wide, use a March $3.80 put. 

In 2015, producers could be planting a crop at or below breakeven. The much-anticipated USDA Planting Intentions report could play a big role in market fluctuations. We advise selling a small portion of next year's anticipated corn production, then using May $4.10 short-dated, new-crop put options to protect against the March 30 report. All strike levels were derived based on market conditions at the time of this writing. If you prefer traditional options, consider both marginable and non-marginable call/put spreads.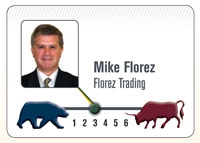 Given the huge drop in crop prices, planting doesn't offer much profitability. Because of that, something will have to give, and my guess is it will be input costs. I expect new lows into the first of the year for both corn and soybeans, but from farther out, I'm neutral on the market. 

Entering the end of October, the corn market rewarded us with a nice rally. My expectation is that the market will attempt to either test or make new lows in both corn and soybean futures by mid-winter. Looking father out to 2015 crops, the market is bearish. Right now, it looks like multi-year lows will probably be made by February. Markets will overshoot on the downside, so I would not be pricing 2015 crops just yet.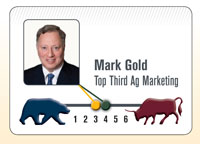 The past two grain marketing years once again prove the value of a successful marketing program. One of the most important marketing concepts for producers to understand is this: Crop insurance does not guarantee a price floor with above-average yields. This proved to be the case in 2013 and 2014. For those who haven't managed risk on 2014 crops, losses have been staggering. If you are storing unpriced grain, we suggest buying at-the-money March corn put options ($3.60 in late October) for 15¢ to protect against downside risk. The other strategy: Sell deferred contracts at the elevator to capture the carry, and replace those sales with call options.  

For soybeans in the bin, we recommend owning May put options to provide protection against the downside. For 2015 crops, make cash sales on 30¢ to 50¢ rallies, and own put options until those targets are reached. If you are storing corn or soybeans for basis appreciation, you still need to maintain put-option protection or use hedge-to-arrive contracts for deferred sales.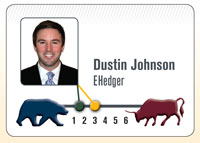 The problem with record crops is the time it takes to reduce carryout. Large stocks give the market no reason to stage a rally until the next weather scare or until we see a loss of too many corn acres next spring. We cannot produce enough demand in the short run to burn through the extra supply. That being the case, it's important to take advantage of the carry in the market with forward sales and hold out for better basis. This might prove challenging if your only option is commercial storage, but for on-farm storage, the opportunity cost looks like a no-brainer.

Soybeans are still overpriced to corn in our opinion, especially for 2015.  The pure economics of the price ratio suggests a large acreage swap from corn to soybeans. Producer cost-cutting also suggests more soybean acres because soybean production costs are much lower than corn. Add to that the likelihood of record soybean acres in South America, and the numbers suggest the world stocks-to-use ratio could grow to more than 35%. Producers should be well-hedged with sales or short-dated options to get through February, when federal crop insurance guarantees are set, and through the March 30 Planting Intentions report.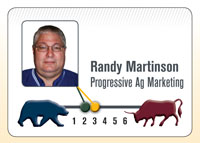 Corn has slipped almost $1.50 per bushel, and are down soybeans $3 from highs. The 2014/15 market has shown a different face than we've seen in the past five years. 

For the 2014 crop, soybean producers should consider selling the crop off the combine. Soybeans don't offer enough carry to pay for storage. Basis levels are better than expected, though. If you want to own soybeans, do it on paper with call options. 

Your corn strategy should be to store as you can but sell the carry. In late October, the market offered a 30¢ carry from the December 2014 to July 2015 contracts. That in itself is enough to pay to store corn, and an added bonus will occur if basis strengthens. The markets have stalled out, and many observers think corn harvest lows could be in. We think the corn market continues to have downside risk. Even so, we could see corn try to push higher in late winter or early spring as it tries to acquire acres. 

For the 2015 crop year, target $4.15 to $4.35 as targets to begin sales. Corn could experience a drop of between three million and five million acres next spring, which might help stabilize the market. The soybean outlook shifts to South America, where dry conditions in Brazil are causing concern. U.S. acreage is expected to increase. Ultimately, demand will be the driver. The soybean sell signal is anything higher than $10.15.  For the 2015 crop, do nothing with basis, as it is too early.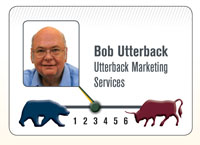 Will a two-year bear market be long enough to reduce supply and increase demand destroyed by exceptionally high prices? I don't believe production adjustments and demand creation are in place.

Lead-month corn futures will find it difficult to rise above $4. Corn producers will reduce production up to 5 million acres. With no weather event and strong yields, downside price risk will exceed 2014 lows going into the third quarter. Buy December 2015 calls of $4.50 or lower by mid-November for 100% of expected production to be sold. Sell December 2015 corn at $4.25 and be done by $4.50. If target prices are not achieved by April, sell in 25% increments of a normal year's production and be done by mid-July. Buy calls first, and sell forward cash on a spring or summer rally. 

For soybeans, any price outlook above $10 for November 2015 soybeans is dubious. Sell November 2015 in hedge-to-arrive contracts close to $10. Buy November calls on price weakness in January and February.


Disclaimer: This material has been prepared by a sales or trading employee or agent of these analysts and is, or is in the nature of, a solicitation. By accepting this communication, you agree that you are an experienced user of the futures markets, capable of making independent trading decisions, and agree  that  you  are  not, and  will not,  rely  solely  on  this  communication  in making  trading decisions. The risk of loss in trading futures and/or options is substantial and each investor and/or trader must consider whether this is a suitable investment.  Past performance, whether actual or indicated by simulated historical tests of strategies, is not indicative of future results. Trading advice is based on information taken from trades and statistical services and other sources that these analysts believe are reliable. Such information is not guaranteed to be accurate or complete and it should not be relied upon as such. Trading advice reflects good faith judgment at a specific time and is subject to change without notice. There is no guarantee that the advice provided will result in profitable trades.
 
For additional in-depth marketing perspective and insights from these analysts and others, visit www.TopProducer-Online.com.   
---

Top Producer has the solution to the afternoon doldrums. Each business day at noon central time, head online for intelligent news and videos on the biggest market stories. Power Hour delves into marketing, the economy, land, policy, agribusiness, weather and more. Just visit agweb.com/top-producer/power-hour/.