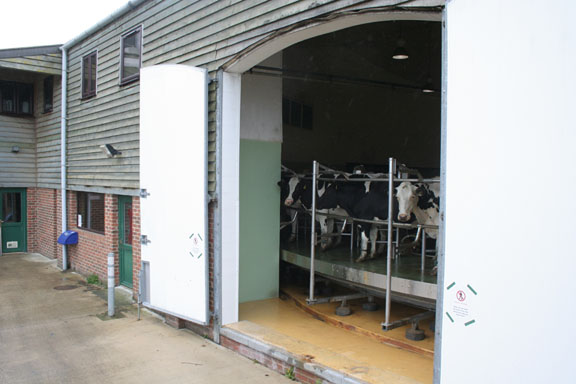 October 16, 2014
With prices slashed to below their cost of production, UK dairy producers fear for their future.
Angry over repeated cuts to their milk prices, British dairy producers continue to stage protests at their milk procurement centers, the latest coming this week at the Dairy Crest plant in Foston, England.
Hundreds of dairy farmers blockaded the Dairy Crest plant in a third demonstration there over milk prices, Farmers Weekly reported yesterday. Dairy Crest has slashed the prices it pays to dairies for three consecutive months, the publication said. The protesters, led by Farmers for Action (FFA), prevented milk trucks from entering or leaving the plant on Oct. 14.
The protests come as increasing global milk supplies outpace dairy demand, pressuring milk prices for Great Britain's dairy sector. The United Kingdom's dairy industry is heavily dependent on the domestic market and a handful of dairy processors, who began lowering prices paid to farmers earlier this year.
Last week, some 500 FFA-led protesters similarly blockaded the headquarters of processing giant Muller Wiseman Dairies in central England, the Shropshire Star reported.
Muller Wiseman processes and delivers more than 30% of the fresh milk consumed in Britain.
The FFA said last week's protest was a last resort since Muller refused to discuss its latest price drop with farmers, reported the Star. The processor cut the price paid to dairy producers to 27.1 pence per liter, a 1.9 pence reduction on top of two previous cuts since August.
FFA leaders say they are planning to target various dairy processors and retailers over the coming weeks, according to Farmers Weekly.
Dairy Crest is one of Britain's leading dairy companies, purchasing 1.8 billion liters of milk each year from 1,100 British dairy farmers. When it announced its milk-price cut for November on Sept. 30, Dairy Crest blamed the reduction on the "situation in global commodity markets, which directly impacts our domestic returns," and which "has not improved."
"We are very disappointed to have to make this further price announcement to our farmers," Dairy Crest's procurement director Mike Sheldon said, adding, "This is a challenging time for the dairy sector and all of us who work in it. We hope that the dairy markets will return to a steady footing soon."
Ongoing global market volatility has seen a 50% reduction in prices in recent months, resulting in a farmgate price drop for dairy farmers of between 20-30%, according to the National Farmers Union (NFU). The group represents more than 7,800 dairy farmers in England and Wales.
"It is undoubtedly a very frustrating and worrying time for British dairy farmers," NFU President Meurig Raymond said. 
Many dairy producers are not receiving prices that cover their cost of production, Raymond said, leaving many to fear for the future of their farm businesses.
"Understandably there is a strong feeling of concern amongst dairy farmers, with some feeling so exasperated they have decided that protesting is the only way forwards," said Raymond. "We share their concerns."