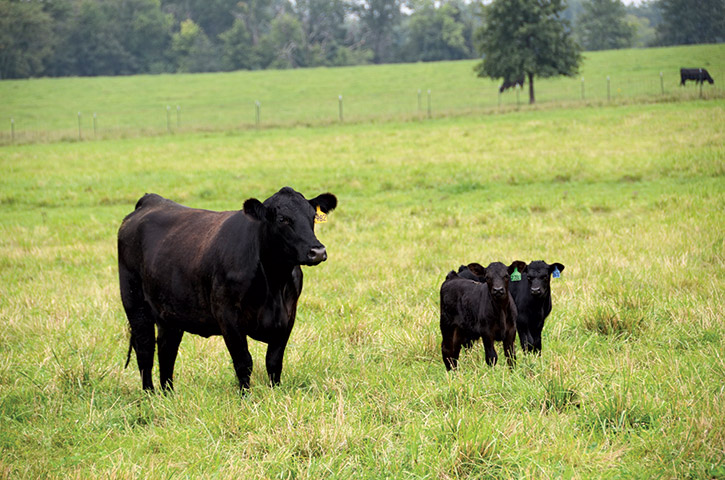 Upheaval gives pause to the industry
During her term as president of the American Angus Association in 2004, Minnie Lou Bradley often reminded the board of directors of decisions other breeds made. "I asked them, 'Are we gonna stay on top, or do something foolish?'"

Bradley, never one to shy away from speaking her mind, believes the Angus Association made a "horrible, horrible" mistake with the early April departure of 12 long-tenured and widely-respected employees. Indeed, their absence sent shock waves throughout the industry and the transition seems poised to ignite dynamic change to animal evaluation systems.
The strength of Angus, says
Minnie Lou Bradley, is cattle that "work for commercial ranchers."
---
Among those leaving the Angus Association in April were six of the breed's 12 regional managers—the boots-on-the-ground Angus ambassadors to breeders and commercial cattlemen. Also gone were two prominent leaders, Bill Bowman and Sally Northcutt. Bowman was president of Angus Genetics, Inc. Northcutt served as genetic research director. In all, the dismissed employees represented nearly 300 years of experience with the association.

Many breeders believe the Angus Association was crippled by the talent loss, but, more importantly, the event is expected to spur the privatization of genetic evaluation that made Angus so dominant the past quarter-century. In fact, Northcutt and Bowman have already launched Method Genetics, LLC, a consulting firm assisting seedstock and commercial breeders in genetic decisions.
Whether the dismissals are a speed bump or a train wreck for the breed remains to be seen. For now, many breeders say their confidence in the association is shaken.

Beef Today interviewed dozens of cattlemen and industry leaders for insight and perspective on this story. All of those contacted were willing to talk, but most didn't want their identity revealed. Some out of fear of reprisals from others breeders, but most due to the sensitive nature of the issues—chief among those were accusations of poor leadership at the highest level.
Industry buzz. Specifically, the 12 employees left following a letter of formal complaint they and three others sent to the association's board of directors citing their concern about association leadership. The dust-up brought a wagon load of scrutiny on the board, the association leadership and on the breed itself. How, many asked, could the association function effectively with so many vacancies in key positions?

In April 11th letter to Angus members, CEO Bryce Schumann sought to reassure members. "We fully understand [the employee dismissals] may create unexpected hardships," he wrote. "But the association will do everything in our power to alleviate or prevent any inconveniences or disruptions in services."
Disruptions didn't happen, says Eric Grant, general manager of Angus Productions, Inc. "Our goal was to maintain core services for members. We did that. There were no disruptions in our 24-hour turnaround on paperwork for registrations or our weekly recalibration of EPDs."

Not everyone was convinced. "It erodes the confidence breeders and my commercial customers have in the association," one Angus breeder told Beef Today under condition of anonymity.

That sentiment was pervasive for many, including 19 past association presidents. They wrote a letter to the board of directors stating concerns about the "arbitrary and capricious actions" that "disrupted services, destabilized the organization and resulted in the loss of confidence in leadership by the membership."

The departure of a dozen employees may have been the issue that ignited the firestorm this spring, but many sources told Beef Today there is an ongoing conflict among the breed's members. "Different members have different goals," says one long-time breeder. "Some of us are aggressively seeking to build better cattle and utilize the association's resources. Others are more interested in attending shows and the social scene around that."

Similar sentiments were repeated often by sources describing the conflict between "progressive breeders" and those who rely on pedigrees and outdated animal selection criteria, such as the show ring.

"What is more important, performance data or cow families and blue sky?" asked another Angus breeder who also wished to remain anonymous. He believes certain current board members resist the association's aggressive adoption of modern evaluation tools such as EPDs, DNA testing and calculations for $BEEF.

"We know agriculture can't go back to farming like we did in the 1960s," he said. "Neither can cattle evaluation and the Angus breed. My bull customers don't care about pedigrees. They care about performance."

Bradley echoes that sentiment. "If we retreat to (promoting Angus with) the show ring and family names we will see the Angus breed fall," she says. "We have to produce Angus bulls that work for commercial ranchers."

For a generation the Angus Association has led the charge toward modern cattle evaluation, spurred by the success of Certified Angus Beef (see sidebar). Seven years ago the breed launched Angus Genetics Inc. (AGI) to assist breeders in evaluation of economic important traits.

Leading that charge was Bowman, who says there is still tremendous confidence behind Angus genetics.

"Naturally, there is some question over change," he says, referring to the employee dismissals. "But Angus has been able to create cattle that function extremely well."
Moving forward. As spring turned to summer, the dust began to settle as the association aggressively filled vacancies. Grant says five of the six regional manager positions have been filled, and Dan Moser was hired as president of AGI and director of performance programs.

Moser has more than 15 years experience in genetic research and education, most recently as the faculty coordinator for Kansas State University's Purebred Beef Unit. By all accounts, he is not one to rely on pedigrees and blue sky.

"Dan is one of the industry's most respected geneticists, but also possesses a rare ability to communicate complex concepts," says Kevin Yon, AGI board chairman and breeder from Ridge Spring, S.C.

While Moser is a full-time Angus employee, he was granted a one-year, unpaid leave of absence from Kansas State but, he says "I'm not going back. I'm fully committed to Angus."

The change in regional managers has been welcomed by many breeders. Multiple sources told Beef Today the new regional managers have made a conscious effort to visit as many farms and breeders as possible, seeking to offer reassurance the breed was on track.

"I had not seen my previous regional manager in 10 years," one breeder said.

"We are moving forward and have hired some great people. Our performance programs continue to be the best in the industry," says Leo McDonnell, from Columbus, Mont.

Grant also emphasizes the breed's popularity remains high. "Our first-ever trade show in Kansas City (Nov. 4-6 at the KCI Expo Center) is sold out with more than 100 exhibitors, and we have more than 1,000 pre-registered for the event."

The wounds from April have not completely healed, however, and many disgruntled breeders vow to bring their grievances to the annual meeting, where at least four, possibly five, new board members will be elected. That would be a 30% to 38% turnover, and could swing the majority on several critical issues.

"This has encouraged the membership to more thoroughly evaluate who they are voting for and what they represent," says Ben Eggers, a former association president and general manager of Sydenstricker Genetics in Mexico, Mo. "The days of assuming we all have the same goals and priorities are over."

"Change is hard," adds Dave Nichols of Nichols Farms, Bridgewater, Iowa. "I think a lot of cattlemen have been overwhelmed with genomics and some of the technologies we use today. But we can't go back to simpler days. The cattlemen that will be successful in the future are those who adopt modern management and technologies. It's critical for a breed association to help them do that."
To contact Greg Henderson, email [email protected].
For more information on this story and a discussion forum, visit www.BeefToday.com/Angus