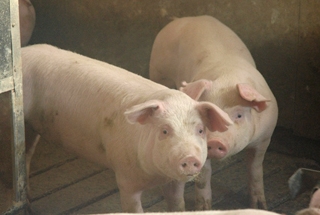 Nutreco NV, the Dutch maker of fish feed and animal-nutrition products, attracted a sweetened 2.99 billion euros ($3.7 billion) takeover bid from SHV Holdings NV as the local investment company fends off rival interest from Cargill Inc. and Permira Advisers LLP.
The maker of salmon feed is recommending the improved SHV offer equal to 44.50 euros a share after holding talks with the family-owned investment vehicle over the weekend, Chief Executive Officer Knut Nesse said on a call. Nutreco, based in Amersfoort, earlier rejected a preliminary approach of at least 43.20 euro-a-share from Cargill and Permira.
Nutreco shares rose 15 percent in Amsterdam to trade above the bid price, indicating some shareholders expect a further challenge to SHV's agreed deal. Nesse said he rejected Minneapolis-based Cargill and Permira's bid as it would involve breaking up the company into fish feed and animal nutrition businesses and the proposal wasn't as concrete as SHV's offer.
"Cargill's letter was an expression of interest, not an offer," said Nesse on the call. "That's what was on the table and we had to take a stance based on that."
Nutreco shares rose as much as 5.88 euros to 45.27 euros, and traded at 45.12 as of 11:15 a.m.
The maker of Trouw livestock-nutrition products is attracting takeover interest after the failed disposal in June of its compound-feed and meat business in Spain and Portugal. Prior to SHV's first offer, announced Oct. 20, Nutreco shares had dropped 22 percent this year.
Animal nutrition is a current hotspot for mergers and acquisitions, drawing on growing global needs for foods amid limited resources such as water. Mitsubishi Corp. offered $1.4 billion for Norwegian salmon farmer Cermaq ASA earlier this year and German chemicals maker Evonik Industries AG explored an acquisition of Nutreco competitor Royal DSM NV, mostly because of the company's nutrition division, Bloomberg reported two weeks ago.
DSM shares rose as much as 2 percent, the most in a week. Shares were 1.9 percent higher at 50.96 euros as of 11:33 a.m. in the Dutch capital, valuing the company at 9.3 billion euros.
'Superior Price'
"We took comments from various Nutreco shareholders into account, both the SHV side and the Nutreco side, and we now arrived at a new superior price," Nesse said on a call.
Any suitor will have to overcome local shareholder resistance to a takeover. APG Groep NV, among the vocal investors to reject any takeover, said the improved bid from SHV shows more investors are realizing the value of Nutreco. Both it and NN Group NV had said the initial 40-euro a share offer was too low.
"We won't comment on the price of the offer," Harmen Geers, spokesman of APG said by phone. "As far as we're concerned there was no need for an offer on Nutreco. We had over 10 percent with the intention to hold this long term."
"What is striking is that we didn't want to part with Nutreco and most certainly not for the 40 euros SHV offered, but now it seems SHV also thinks it's worth more," Geers said, adding that other parties have supported this vision. "Now another offerer has come, you could say there's a bidding war, which is digested in the share price."
Nutreco hasn't been in talks with any other potential bidders, the CEO said.