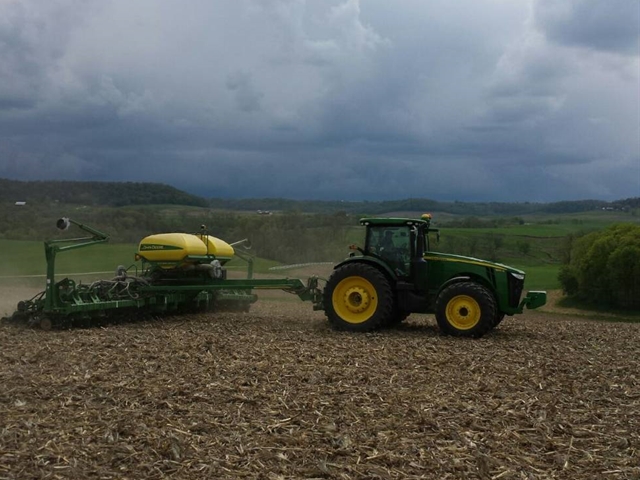 For a second year, tight margins could delay planting decisions
Planted acreage informs your marketing decisions. It gives you a read on relative supply to potential demand. It tips the market's hand to reveal what you might do to be more competitive. 

Yet unless fundamentals for major row crops such as corn and soybeans change—which experts acknowledge could happen—acreage might not shift as much in 2016 as it has in the recent past. That means producers will need to pay even more attention than in 2015 to issues such as agronomy, input purchasing, commodity futures and global production to decide what to plant.

"Prices and projected net returns for the different commodities will drive planted acres in 2016," explains Aaron Smith, an agricultural economist at the University of Tennessee. "Additional concerns will include input costs, access to capital and crop rotation."

For a second year, a sizeable group of farmers will sit on the edge of their seats waiting to pounce. 
Planted Acreage Trends For Five Major Crops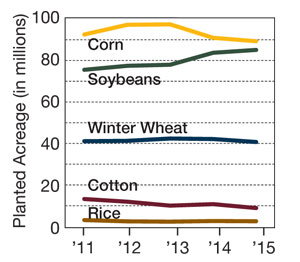 Factors such as commodity prices have shifted acreage of top crops in the past five years.
"Farmers will push back planting decision until spring as they did this year," predicts Brian Grete, editor of the Pro Farmer newsletter, part of the Farm Journal Media family. "Normally, farmers delay planting decisions on 5% to 10% of acres. For the 2015 crop, it was around one-quarter of acres that were undecided until spring. I anticipate that much or more for next year."
Corn Maintains Edge. Corn appears to be the favorite for picking up acres from soybeans. 

"We do have a big shift in the relative prices of corn and soybeans [compared] to what we've seen the last couple of years," says Pat Westhoff, director of the Food and Agricultural Policy Research Institute (FAPRI) at the University of Missouri. "We would expect that to result in a little more acreage back to corn in 2016."

Crop rotations also support a shift in that direction. 

"Land that was planted to soybeans could go back to corn simply because of best agronomic practices," Grete points out. He predicts corn plantings will range from steady to up to 2 million additional acres.

For the 2015/16 corn crop harvested this year, USDA has projected a price midpoint of about $3.80, Westhoff says. "We don't see a lot of reason to expect much change in 2016/17 given what we know today," he says.
What Does It Mean To Me?
Corn looks to encroach on soybean acreage in 2016.

Economics suggest farmers will wait until spring to commit 25% of acres.

Soybeans are at the mercy of global demand and production.
Soybean Wild Card. Of all the major row crops, soybeans are the most uncertain heading into the new year. There's a case to be made that acreage could stay level with 2015, increase 1 million acres or decrease 
1 million acres, Grete says. "We don't need more acres, but from an agronomics viewpoint, they're less costly to produce," he says.

The global market is also an important part of the soybean outlook for U.S. farmers, more than half of whose soybeans are shipped to buyers in overseas markets. 

Export demand, for example, is lagging year-ago levels.

"Tremendous attention will be paid to the South American crop," Smith explains. "Brazil is expected 
to plant record soybean acreage this fall. As such, a production failure could provide a price increase that would increase U.S. acreage in spring 2016. If record production from South America is achieved in early 2016, it could trigger a reduction in soybean acres."