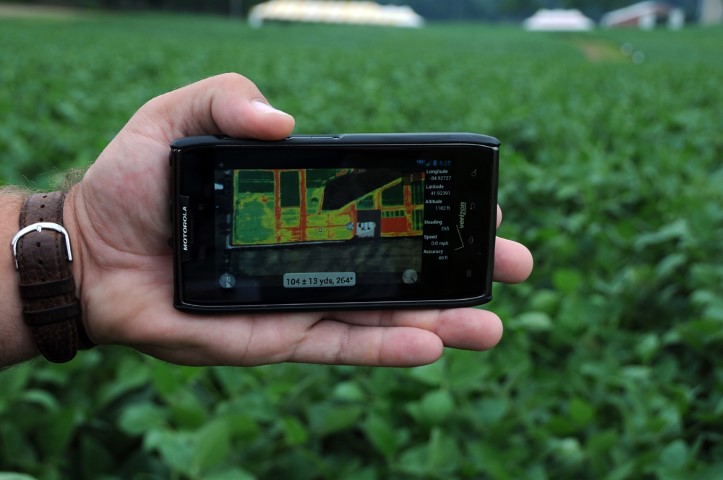 Apps allowing growers to scout acreage at friendly price – free.
Producers now have the tools to carry imagery, mapping, and production data directly into the field. Cutting-edge apps are allowing growers to scout their acreage at a very farmer-friendly price – free.

It's been expensive for farmers to combine GPS, imagery and scouting, but the days of a required desktop computer and software to go with it (in addition to a field computer) are done. No more equipment set-ups costing $4,000 to $5,000: New mobile device apps are available with no download charge for Android phones, iPhones and iPads.

The apps basically allow a grower to geo-reference any image using Google satellite imagery. Essentially, a farmer overlays an image on Google Maps or Google Earth and then uses that image to scout.

At Corn College 2014, Brad Beutke, Crop-Tech Consulting, Heyworth, Ill., offered key app information to growers. "The three apps that we use are Custom Maps which is an Android app to reference images; ACRE Crop Scouts which is an IOS app to reference images; and we also use PDF Maps," he says.

The two apps that reference images (Custom Maps and Acre Crop Scouts) are good for growers that don't have a lot of technology experience and aren't operating advanced GIS systems.

"You can actually take a picture of a paper map or a picture from a monitor," Beutke says. "The apps reference the image to a geo-location, and that gives farmers a GPS point to walk across that map or drive across that map to do scouting."

The PDF Maps app is for images that are already referenced using GIS equipment. They use either a GeoTiff or a GeoPDF that needs to be exported out of GIS software like SMS or MapShots.

The arrival of app technology offers a grower mapping capabilities, allowing him to measure distances, run boundaries, take geo-tagged photos and scout. Producers are now able to use all the mapping data they're already collecting for scouting purposes.

For the Android versions of these apps, most Android devices will work, even the old ones. The Apple versions require an iPhone or an iPad with data capability. "The devices need an internal GPS receiver. They can do their referencing using Wi-Fi, but they have to have GPS capability when they get out in the field," Beutke says.

And how user-friendly are the new apps? Beutke says: "On Acre Scouts and Custom Maps, those are about as simple as it gets because there is no need for desktop software to go with them -- basically an all-in-one app. We find that farmers catch on to all of this very fast."
Thank you to the 2014 Corn College sponsors:
AgriGold, BASF, Chevrolet, Cover Crop Solutions, FMC, Great Plains Mfg., Precision Planting, SFP, Top Third, Yetter Mfg.