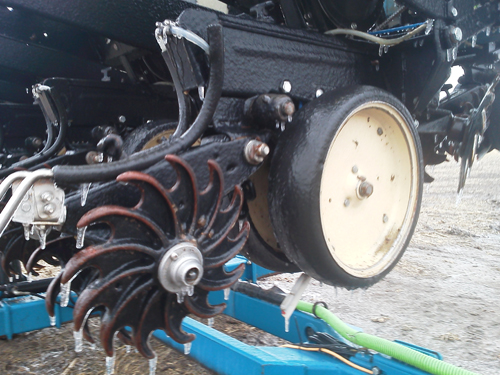 This year's planting season has been slow and spotty. Jerry Gulke explains the market impact and what's ahead in Friday's USDA reports.
The 2013 planting season has been downright wacky. The calendar has flipped to May, but snow, freeze warnings and excessive rain broke weather records in many areas.
These rare weather occurrences kept many planters parked across the country. As of April 28, USDA estimates only 5% of the U.S. corn crop is planted. The five-year average for this time is 31%. Last year, nearly half of the corn crop had been planted.
Jerry Gulke, farmer and president of the Gulke Group, was able to get some of his corn planted earlier this week, as parts of Illinois enjoyed back-to-back 80-degree days.
"With the weather we've had recently, I think I'll be done planting by May 10, like normal," he says.
Yet, he knows, many farmers haven't been able to get in the field at all, which is understandable. For some farmers, it looked ridiculous to plant, Gulke says, for others it was right on time.
He believes that as the major weather system that delivered multiple inches of snow to parts of Kansas, Missouri and Iowa, dies out, farmers will have a good opportunity to hit the fields next week.
"The snow is gone in North Dakota, and they are supposed to see 70 degrees this week," he says. "We have clients in Indiana and Ohio who started running today."
The good news, Gulke says, is farmers have known for a month now that planting would be delayed and rushed when the window opened. "So, they are rested up and will likely run 24 hours a day," he says. "There will be a lot done next week."
Market traders have been extremely focused on planting progress. Following Monday's Crop Progress reports, the corn market saw limit gains.
For the coming week, USDA will not only release its weekly planting progress report, on Friday, May 10 it will release this month's monthly World Agricultural Supply and Demand Estimates and Crop Production reports.
Gulke says USDA has a history of lowering yield expectations if the corn crop is not 40% planted by their May reports.
Currently USDA's national corn yield estimate is 163.6 bu. per acre. "I wouldn't be surprised to see them drop it a bushel or a bushel and a half. But, it is really too early."
He also thinks it is too early to say with any certainty farmers will change their crop mix. "Nobody has done any concrete changes yet," he says.
What he will be watching closely is old-crop corn demand. Will USDA reduce exports more or increase feed usage? "What I would look for is if they don't raise feed usage, it kind of tells us that we'll import corn, feed more wheat or do something else to not tighten up that feed supply more than it already is," Gulke says.
Hear Gulke's full audio analysis:
Have a question for Jerry? Contact him at 815-721-4705 or jerry@gulkegroup.com.
For More Information
See current market prices in AgWeb's Market Center
Have you started planting? When will you hit the fields? Submit your report to AgWeb Crop Comments!
 
---