Conserve water with 'pipes and pads' engineering
The term "black gold" has been synonymous with oil, but farmers in the Mississippi Delta have reason to feel that way about their soil, too. Mississippi alluvial silt is very productive—with access to a constant supply of irrigation water, yields can be hard to beat. There's just one problem: The source of that irrigation water, the Mississippi River Valley alluvial aquifer, is being depleted at an unsustainable rate.

No one knows more about local water use and what it's doing to the aquifer supply than Buddy Allen. A grain, cotton and rice grower in Tunica County and an officer of the Mississippi Soil and Water Conservation Commission, he says 80% of 3 million crop acres in the Delta are irrigated.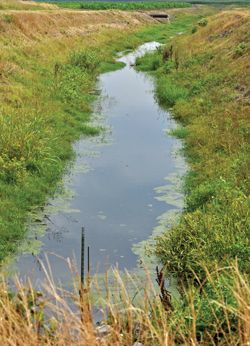 The pipes and pads system culminates with outflows pouring into a drainage ditch, with intermittent low-grade weirs to trap sediment and nutrient runoff.
---
"Of those acres, 15% are in rice production. This [rice] uses 60% of the groundwater."

In the Delta—which has a sandy soil profile, large expanses of flat ground and an unpredictable amount and frequency of rainfall—irrigation and soil conservation can be a challenge. Delta farmers have reacted by adopting a simple field engineering technique known as "pipes and pads" to slow field runoff and the resulting erosion and soil nutrient loss.

Robbie Kroger, a farm water-quality specialist with Mississippi State University, champions the use of pipes and pads as well as best management practices such as land leveling, which creates efficiencies in fuel use and irrigation.

In the pipes and pads system, the pad is a raised turn-row all around the field that helps to retain water. Water control pipes called flashboard risers are installed perpendicular to the pad to drain the field overflow and slow the pace of water drainage to retain sediment and the associated high levels of free phosphorus. Drainage water flows from the outflow pipe into a drainage ditch that is intersected periodically with low-grade weirs, which further slow water drainage and retain sediment and nutrients.

Water is retained in a holding pond, or tailwater recovery system, where it can be returned to an on-farm storage pond. "By using a suite of practices, we're controlling runoff and on-farm storage," says Paul Rodrigue, Natural Resources Conservation Service (NRCS) area engineer. "We can reduce groundwater use by 75% and runoff by 50%."

Irrigated land outflow can be monitored by an adjustable water control structure to seasonally flood fields for sediment retention while providing waterfowl habitat benefits.

Local NRCS offices have received funding for practices such as pipes and pads through the National Water Quality Initiative, a Mississippi River Basin federal mandate. Unfortunately, "there's more demand for pads and pipes than there are cost-share dollars for the program," Kroger says. "Check with your NRCS office for cost-share opportunities."

Travis Satterfield, a rice and soybean grower from Benoit, Miss., says that since Delta farmers have become totally dependent on irrigation, "we have to be willing to take the steps necessary to conserve our water resources."