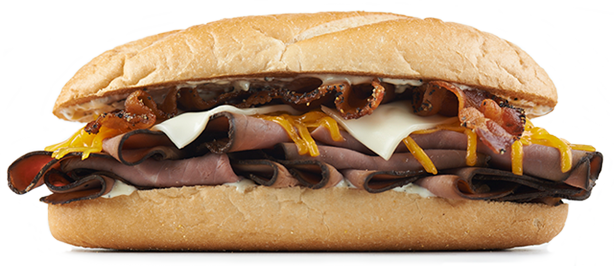 Arby's Restaurant Group Inc., which struggled through the recession and was taken private by Roark Capital Group Inc. in 2011, said U.S. same-store sales rose 5.7 percent last year as a national advertising push that focused on meat sandwiches helped bring in more customers.
Arby's, with more than 3,300 restaurants in the U.S., posted 2014 revenue of $3.26 billion, up 4.7 percent from the previous year, the Atlanta-based company said Monday in a statement. It was the third straight year that the chain reported a sales increase and the second straight year of same- store sales gains, which include U.S. locations open at least 13 months.
Chief Executive Officer Paul Brown, a former hotel executive, joined the company in 2013 and has been remodeling restaurants, closing underperforming outlets and pushing new special-offer menu items as Arby's seeks to rebound from the recession. It released national television advertisements for the first time in at least five years in 2014 and increased its ad budget for 2015 by 35 percent, Brown said in an interview.
"We've really crystallized around a more compelling message," he said. "What we're increasingly being known for is high-quality proteins, crafted in a way that you can't get in other places and you can't make at home."
Beef Sandwiches
Arby's was founded by brothers Leroy and Forrest Raffel in 1964 and grew to 1,000 restaurants known for their roast beef sandwiches by 1980. After being acquired by the parent of Wendy's in 2008, the chain was sold in 2011 to Roark for $320 million in cash and assumed debt. Brown said there are no current plans to take the company public.
Arby's and other fast-food companies have struggled amid flat restaurant traffic and growing competition from fast-casual chains such as Chipotle Mexican Grill Inc. and Panera Bread Co.
Brown said the 5.7 percent same-store sales increase was driven by growth in customer traffic and higher average checks as diners traded up for more expensive items. His goal is to generate $4 billion in sales by the end of 2018.
As part of his push to invigorate the brand, Brown tested 20 menu items in 2014 on a part-time basis, including a Smokehouse Turkey sandwich, gyros and Mega Meat Stack sandwiches. Another 20 items will be tested this year, he said.
Fewer Locations
Last year, Arby's closed a net of about 40 restaurants as Brown tried to weed out weaker performers and attract potential franchisees. He plans to close more this year, with an expansion of the restaurant count slated to begin in 2016.
After remodeling 30 company-owned stores last year at an average cost of $300,000 each, Arby's has plans to revamp another 80 in 2015. Brown said sales at the remodeled stores grew at least 15 percent from a year earlier after the work was completed. He also wants about 100 franchised stores to get a face-lift in 2015.
Still, the key to boosting sales over the long term will be Arby's food, and convincing customers that its sandwich offering are worth a visit, said Malcolm Knapp, a restaurant industry consultant in New York.
"A good remodel will give you a nice lift, but you have to get the food right," he said. "Otherwise, you waste the impact of the remodel."