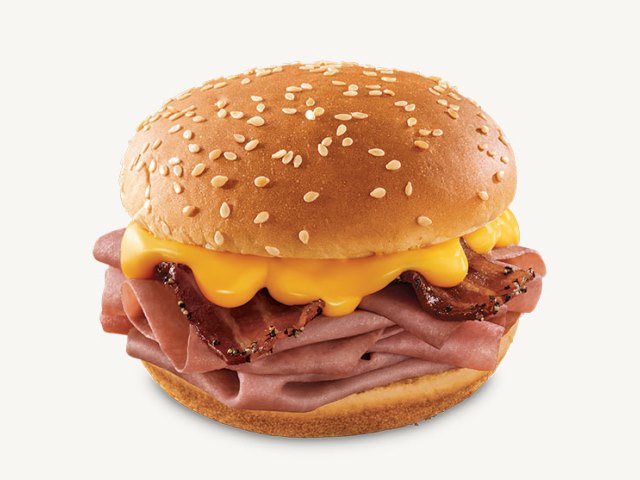 Arby's Restaurant Group Inc., controlled by private equity firm Roark Capital Group Inc., is planning to open 25 locations in Kuwait and Saudi Arabia over the next seven years.
The expansion marks the first international push for Arby's since 2010, when it agreed to open 100 restaurants in Turkey. The Middle East locations, the first of which will open in Kuwait this year, will be owned and operated by Kharafi Global, which also runs Johnny Rockets restaurants in the region.
"U.S. brands do very well in the Middle East," Chief Executive Officer Paul Brown said during an interview in Chicago. "It's a very meat-oriented culture."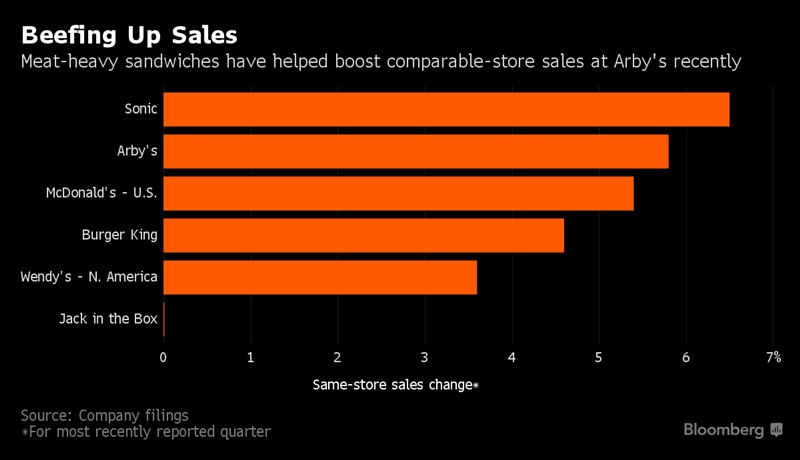 The new restaurants, which are planning to substitute beef for pork in bacon, will also sell chicken, Brown said. The units will be mostly stand-alone, with many located on the bottom floor of urban office buildings.
Still, the Atlanta-based chain, which began in the 1960s selling roast-beef sandwiches, is mostly focused on growth in the U.S., where it has about 96 percent of its 3,322 restaurants.
"There's room for well over 6,000 in the U.S. -- we have a huge potential," Brown said. "That's our primary focus, but we do think there's the potential to grow internationally."
Arby's also is in discussions about opening in Asia and other Middle East countries, Brown said. Latin America is a priority as well, he said.
Protein Push
Since 2014, Arby's has been advertising protein-heavy foods, such as deli sandwiches with double meat, to help it stand out among U.S. fast-food chains. More recently, it's touted bourbon-bacon sandwiches and buffalo-chicken sliders. The new marketing has helped boost Arby's sales and attract younger customers. First-quarter same-store sales rose 5.8 percent, outpacing that of McDonald's Corp., Wendy's Co. and Jack in the Box Inc.
Roark bought Arby's from Wendy's in 2011 for $130 million in cash, including debt. The buyout firm got about 82 percent of the company, giving it control of more than 3,600 stores at the time. Since then, Arby's has been remodeling locations and closing underperforming ones. It's also revamped its marketing and website, and in 2013 named former hotel executive Brown as CEO. About 70 percent of Arby's restaurants are franchised.
Urban Push
Now, the chain is looking to smaller, urban locations to help fuel domestic growth. A second unit in New York will open before the end of the summer, and the chain is also planning its first store in the city of Los Angeles.
Because rents are typically higher in cities, urban stores may sell breakfast fare to help offset the increased expenses. About 225 restaurants already sell some morning foods such as sausage gravy biscuits and French-toast sticks, giving Arby's an entry into the crowded U.S. fast-food breakfast space. McDonald's last year started selling breakfast items all day, while Burger King just introduced a new breakfast burrito and Dunkin' Donuts is touting new croissant sandwiches.
Arby's is considering selling beer and wine in some of its urban locations and will probably test it this year, Brown said. It's a move similar to one made by Taco Bell, which recently began offering alcoholic drinks at a Cantina location in Chicago's Wicker Park neighborhood.
"There's maybe opportunity in certain areas," Brown said. "We're always trying things."