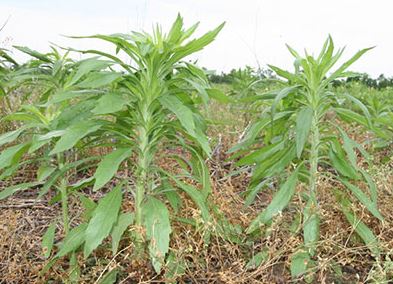 Could a fall-applied herbicide bring benefits next spring? Maybe – especially when considering the field's mix of weeds present plus tillage practices. For example, one troublesome combination is marestail in a no-till field, according to Purdue weed scientists Travis Legleiter and Bill Johnson.
"The use of a fall application, regardless or not if it includes a residual, is a must if you are trying to control marestail in no-till soybean," they write in the latest edition of Purdue Weed Science.
Specifically, the researchers recommend a fall application that focuses primarily on controlling marestail rosettes that emerge in the fall, with a low-cost residual component added to the foliar product. A program like this will make next spring's burndown more effective – with fewer, smaller plants to deal with, they argue.
Still, the researchers admit that the necessity of a residual herbicide is consistently under debate. That's because the effectiveness hinges largely on what weather the winter brings. For example, warm winter and early spring weather break down herbicides more quickly while also slowing winter annuals to emerge more quickly. But colder-than-normal winter weather persist for a longer amount of time. In fact, some residuals can almost work too well, Legleiter and Johnson say.
"There were several cases this year where residuals persisted too long, and soybean injury occurred because of additive effects from the remnant fall residual and a spring residual that was applied," they say.
Farmers should know what they plan to plant next year before making fall herbicide applications, says Curtis Thompson, weed management specialist with Kansas State University. That's because some herbicides, such as atrazine, can limit next year's rotational choices, he says.
"Atrazine is among the lowest-priced [residual] herbicides," he says. "However, if atrazine is used, that will lock the grower into planting corn or sorghum the following spring, or leave the land fallow during the summer and come back to winter wheat in the fall."
If the anticipated spring crop will be corn, Thompson says other residual herbicide options include ALS herbicides such as Autumn Super or Basis Blend. But ALS-resistant marestail can survive these products if they are applied without an additional herbicide in the tankmix. Farmers could mix in another product such as 2,4-D, dicamba and/or glyphosate, he adds.
Sometimes, it's not just about the weeds, but also about the number of workable days in the spring, says University of Missouri Extension weed scientist Kevin Bradley. In Missouri, for example, March and April typically have fewer suitable field workdays that in October and November, when fall herbicide applications could be made.
"This is largely due to the excessive rainfall that we usually receive in the spring versus the fall, which often makes timely applications of preplant burndown herbicides very challenging during this time of year," he says.
Bradley also notes that winter weed populations can negatively affect soil conditions and play as host to soybean cyst nematodes or certain insect pests. For a more detailed look at his findings, click here.
Visit http://www.agweb.com/farmjournal/weed_warriors.aspx for more timely weed-control advice. Have a weed-related question or concern? Get fresh farmer insights on the AgWeb crop production discussion forums.