By Sally Behringer, Farm Journal Content Services Contributor
Are you still using old-fashioned corn headers with hydraulic deck plates? New research shows corn heads with this feature have become inefficient, obsolete, and downright costly to own in terms of lost yield and potential profit. 
Why so much lost yield, you ask? Because Mother Nature likes variety. Walk your corn fields, and you'll see the proof. Corn stalks vary in thickness significantly from acre to acre, row to row and even plant to plant. A 2014 study out of Oklahoma State University showed that corn stalk variability can be as much as 1 inch in fields. That variability can cost valuable yield at harvest time. 

A recent multiyear study by Dragotec® USA proves that using hydraulic deck plates at harvest can lead to substantial yield loss for growers. The study measured the stalk thickness of plants as they entered the corn head during harvest. Data from the study show there can be a one-half inch difference or more in stalk thickness from one row to another at any given time. Even more striking, the data revealed that row-to-row differences of 1/8 inch or more occurred 57% of the time; differences of 1/4 inch or more were observed 40% of the time in higher-yielding areas. 
According to a study by Graeme Quick out of Iowa State University, a deck plate-to-stalk gap as small as small as 1/8 inch can lead to a yield loss of 1 to 4 bu/A.
How does stalk variability equate to yield loss? Simple mechanics. 
Hydraulic plates have to be manually adjusted by the combine operator. One setting applies to all of the row units on the corn head – there is no way to adjust settings for individual rows. Therefore, hydraulic deck plates don't have the ability to compensate for ongoing differences in stalk thickness in the row or across the rows of the corn head. That inability leaves corn kernels in the dirt year after year. 
"Hydraulic deck plates were a great improvement over fixed plates when they were introduced nearly four decades ago," said Dustin Bollig, farmer and North American marketing director for Drago. "Our research demonstrates the inability of hydraulically-controlled deck plates to accommodate natural row-to-row stalk variability, and it's causing growers to lose yield. It also means larger corn heads using hydraulic plates will have even more gaps and thus greater yield loss.
"Corn growers need better technology to maximize their yield capture at harvest," said Bollig. "That's why Dragotec USA offers Drago corn heads."

Drago corn heads include unique features and technology that help optimize kernel capture and profit potential. These include: 
Automatic self-adjusting deck plates: The industry's first and only corn header with this feature. The self-adjusting deck plates adjust to corn stalk variability on the fly, making hundreds or even thousands of adjustments per acre to optimize small ear and kernel capture. 
QuadSuspension™: QuadSuspension deck plate shocks reduce butt shelling and ear bounce, a significant cause of yield loss during harvest. 
The longest knife roller of any corn header available: These longer rollers also have a smaller diameter, meaning they provide added plant processing time. That extra time means that the roller tips can run more slowly, which reduces ear bounce and ear loss, without having to reduce combine speed. 
The industry's largest auger: The 20-inch auger in the Drago GT corn header is partnered with a 28-inch pitch fin. This moves corn faster, but more gently, than competitive corn heads. It also handles more trash to keep your harvest moving through tough conditions.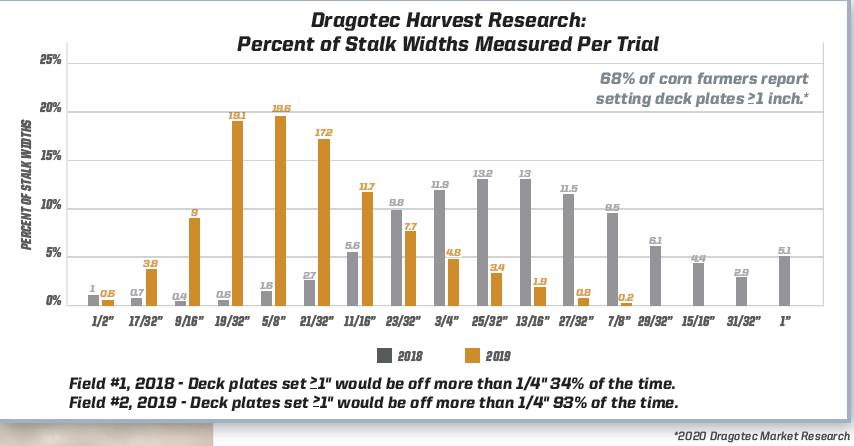 "Bushels matter. We know that 60% of harvest loss occurs at the corn head," said Bollig. "The row-to-row stalk variability seen in the Dragotec study proves the need for better technology that can adapt to changing field conditions. Dragotec's superior corn head technology, with automatic self-adjusting deck plates, offers a clear, proven solution to this problem and offers significantly improved profitability for growers currently using fixed or hydraulic deck plates." 
Other data from the study only highlight how much corn stalk variability occurs in corn fields from acre to acre and row to row: 
Stalk widths in adjacent rows were just as varied as rows on opposite ends of the corn head. 
Spacing differences of 1/4 inch or more were detected 373 times in adjacent rows during one three-minute pass during the harvest study. 
Forty percent of the time, stalk diameter difference in high-yielding areas, across the head, was greater than 1/4 inch. 
As the combine moved through the field, row-to-row deck plate gaps differed by 1/8 inch or more nearly 60% of the time. 
In the 2018 harvest study, on a per-acre basis, the automatic deck plates made approximately 5,400 adjustments of 1/8 inch or more and approximately 1,600 adjustments of 1/4 inch or more. 
In the 2019 harvest study, 6,130 deck plate adjustments of 1/8 inch or more were made per acre. There were 1,293 adjustments of 1/4 inch or more per acre.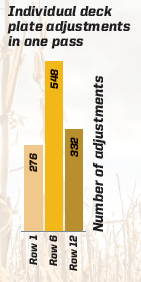 Combine these study findings with those of a farmer survey that Dragotec conducted in March. Seventy-four percent of respondents shared that in actual "on-farm" practice, they only adjust their deck plates "a couple of times per field" or less. 
"The study showed that operators adjusting their own deck plates with a hydraulic control can't possibly react to the level of variability that's out in the corn field," says Bollig. "Our studies clearly demonstrate the need for technologies capable of adapting to changing field conditions. Hydraulic deck plates have become obsolete technology compared to the automatic self-adjusting deck plate technology available on Drago corn heads today." 
Drago Customers Agree

Farmers who use Drago corn heads with the self-adjusting deck plates agree with Bollig. Josh Koehn farms near
Montezuma, Kansas, and was named a No-Till Yield Champion by the National Corn Growers Association. He knows a thing or two about wanting to optimize yield and profits and is a firm believer in Drago's technology. 
"As a kid and growing up, we always had manual hydraulic deck plates," he says. "You just get accustomed to the 'ping' off of the windshield or off of the handrails of those corn kernels flying off of the corn head. Most people just accept that they're going to lose that amount of corn every year. I wasn't happy about that.
"When I saw the design of the Drago GT, I said, 'Here's the answer.' We ran that Drago in the same field at the same time as another combine with a competitor's corn heads. We immediately noticed that we had a reduction in our kernel loss and ear loss from the Drago head. The Drago head sells itself because of the quality in harvesting ability of your corn and the efficiency of the corn head. Once I ran my Drago GT, I knew it was a smart decision." 
To view more results from the Drago harvest study or to see Drago automatic self-adjusting deck plates in action, visit  www.dragotec.com/fieldstudy20. 


Sponsored by Dragotec USA