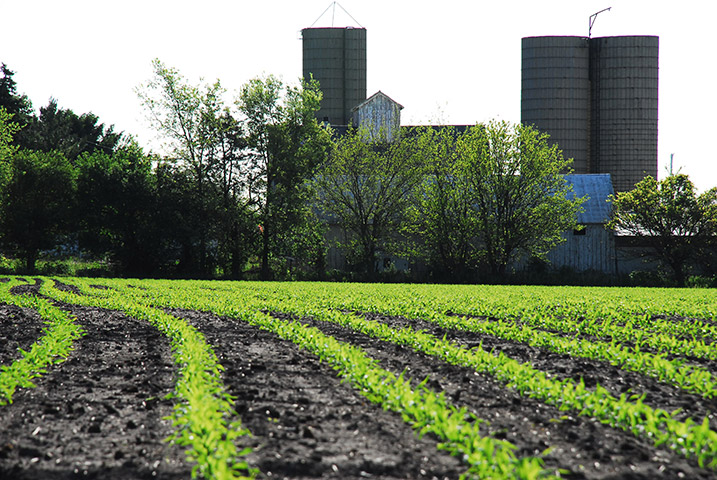 There's no denying that corn below $4 will affect the price of land. "How much?" is the question more and more people have been asking, including Landowner newsletter editor Mike Walsten and Purdue professor of ag economics Jim Mintert. These two experts recently met up with U.S. Farm Report for a roundtable discussion on where land values may be headed.
Walsten says 2014 land sales brought some mixed results so far.
"You can find instances where there's no sales at auctions," he says. "But, I've also seen top-quality ground bring new highs in an area where you have very aggressive farmers who happen to be cattle and pork producers. They have money right now, and they need a place to put manure on the ground, and they need more corn."
Overall, Walsten says he has seen a 10% slide in land sale prices for 2014.
Mintert says lower prices are an indication of an adjustment, but not necessarily a signal of a collapse similar crashing land values in the 1980s.
"The 1980s was a much more significant decline," he says. "We had a greater number of factors influencing land prices that were negative in the 1980s than what we see right now. Looking out three to five years, I think we'll probably see prices decline in the ballpark of 20% to perhaps 30% here in the corn belt."
Walsten says "two key shocks" hit unexpectedly – a 40% reduction in farm incomes, coupled with a doubling of interest rates.
"This time, we've had more warning," he says.
Walsten and Mintert both agree that farmers should be cautious when looking at land acquisition, especially in the short term.
"Unless you're looking at a special situation, expanding an operation, a farm with very close proximity to headquarters, that kind of thing – I would be very cautious about investing in farmland this winter," Mintert says.
Walsten suggests avoiding areas that are heavy in livestock concentration because bidding could be more aggressive. Some areas outside of the corn belt still may prove lucrative, including Georgia and the Delta.
Watch the video below for the entire discussion.
For more top headlines and groundbreaking news coverage from U.S. Farm Report, visit http://www.agweb.com/usfr/. To share thoughts on land price trends in your area, visit the AgWeb discussion boards.